Springfield College Communications/Sports Journalism Program Celebrates 20th Anniversary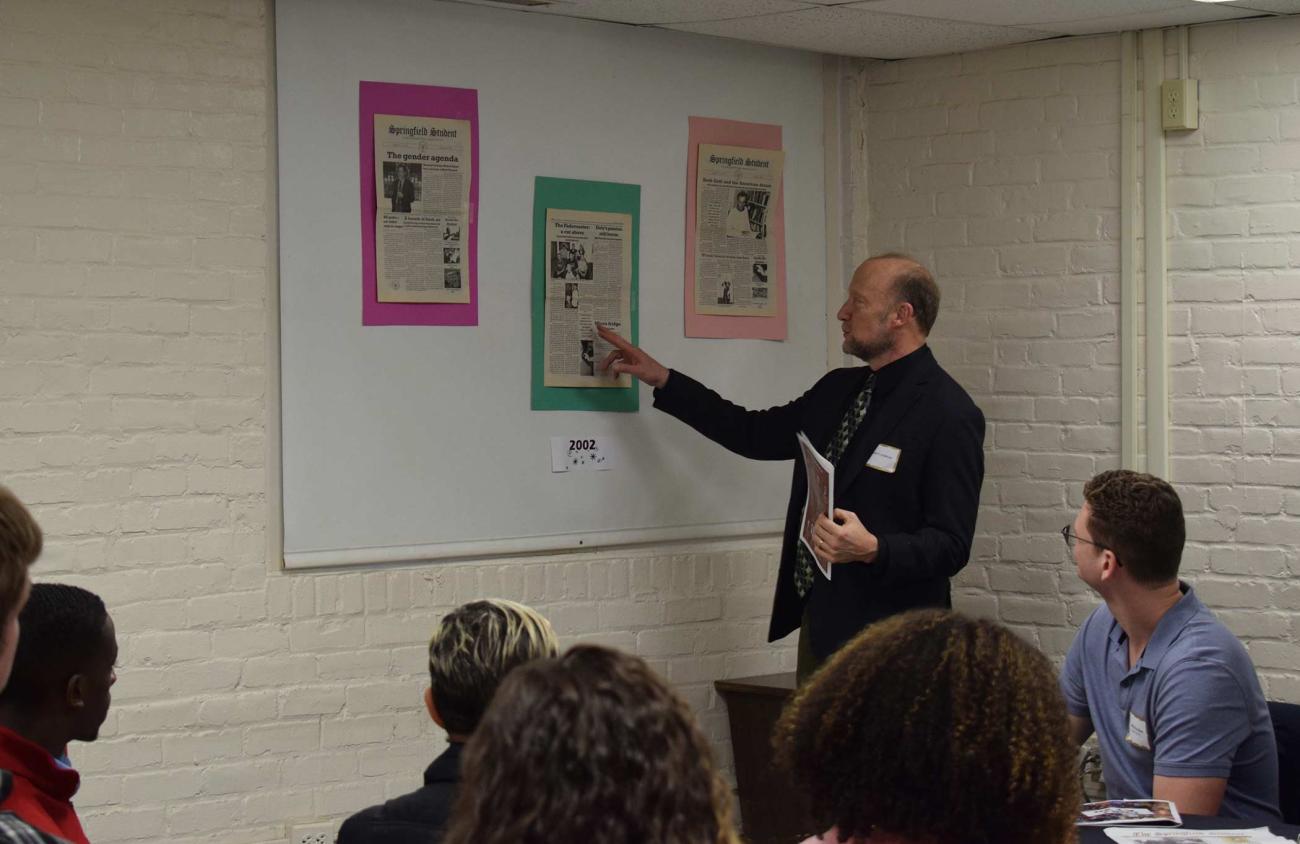 The Springfield College Communications/Sports Journalism (COSJ) program celebrated its 20th anniversary with more than 40 COSJ alumni returning to the campus to lead multiple workshops with current and prospective students on Monday, Nov. 11.
As part of the celebration, there were a total of nine different networking opportunities and workshops led by COSJ alumni who represent current communications professionals working for television stations, radio stations, newspapers, magazines, professional sports organizations, and more. Culminating the event was keynote speaker Nick Carboni '08, who is the sports director for the NBC station in Charlotte, N.C.
"All of the journalistic principles I carry with me every day, I learned from my time with the COSJ program at Springfield College," said Carboni, who was covering a National Football League game between the Carolina Panthers and Green Bay Packers at historic Lambeau Field just 24 hours prior to his return to Springfield College. "The faculty members in the COSJ program do such a good job preparing students for future opportunities in all media fields. When I graduated from Springfield College, I knew I was a prepared journalist."
At Springfield College, students have the opportunity to gain experience in real journalism situations in the classroom, and strengthen their skills through campus media clubs such as the Springfield Student newspaper, Springfield College Television (SCTV3), and 89.9 radio.
"My first day at Springfield College was the first day of the Communications/Sports Journalism major, and it has been amazing to watch this program grow," said Springfield College Professor of Communications Marty Dobrow. "I have been fortunate to work with so many talented colleagues. We are all so proud of the students and alumni in the program. They have made teaching here a joy. It was such a great day celebrating two decades of the journalistic journey at Springfield College with our students: past, present, and future."
Dobrow, along with current faculty members Kyle Belanger, Laura Dubowski, and Dennis Gildea, and staff member Ray Laferriere, have created a culture within the COSJ program that is built on student support, and real-world experiences.
"The COSJ program provides in-depth learning with professors who not only teach it, but live the life they are teaching you," said Dave Seronick '12, content associate for ESPN Outside the Lines.
For Springfield College graduate Joe Brown '14, the leadership skills he gained from his COSJ experience prepared him in a big way for professional journalism. Brown was one of 10 former editor-in-chiefs of the Springfield Student newspaper at the celebration.
"What I experienced at Springfield College was how to work within a team of reporters at the Springfield Student newspaper, but I also learned how to lead a team," said Brown, who is the digital sales manager at 99.9 FM in Easton, Pa.
One of the common themes that was echoed during the workshops throughout the day was the feeling that not only does the COSJ program prepare students with the journalistic skills to be successful, but the major is also filled with students, staff, and faculty who truly help each other fulfill their full potential as people.
"I have the opportunity to work with SCTV3 every Thursday night and not only do I get to work with some very talented students, but I also have the opportunity to work with some of the best people I have ever met in my life," said Springfield College senior Cameron Smith.
That sentiment was also stressed by the current editor-in-chief of the Springfield Student newspaper Gabby Guerard.
"Overall, we are just one big family and we all support each other," said Guerard, who is currently doing an internship with Masslive.com and has written columns for WEEI.com. "I have been able to experience first-hand that graduates of the program are always willing to help the current students, and the next generation of COSJ majors. That is what the program represents, and that is what makes it special."
Springfield College is an independent, nonprofit, coeducational institution founded in 1885. Approximately 4,100 students, including 2,500 full-time undergraduate students, study at its main campus in Springfield, Mass., and at its regional campuses across the country. Springfield College inspires students through the guiding principles of its Humanics philosophy – educating in spirit, mind, and body for leadership in service to others.