Springfield College Connections to the 2021 Summer Olympic Games in Tokyo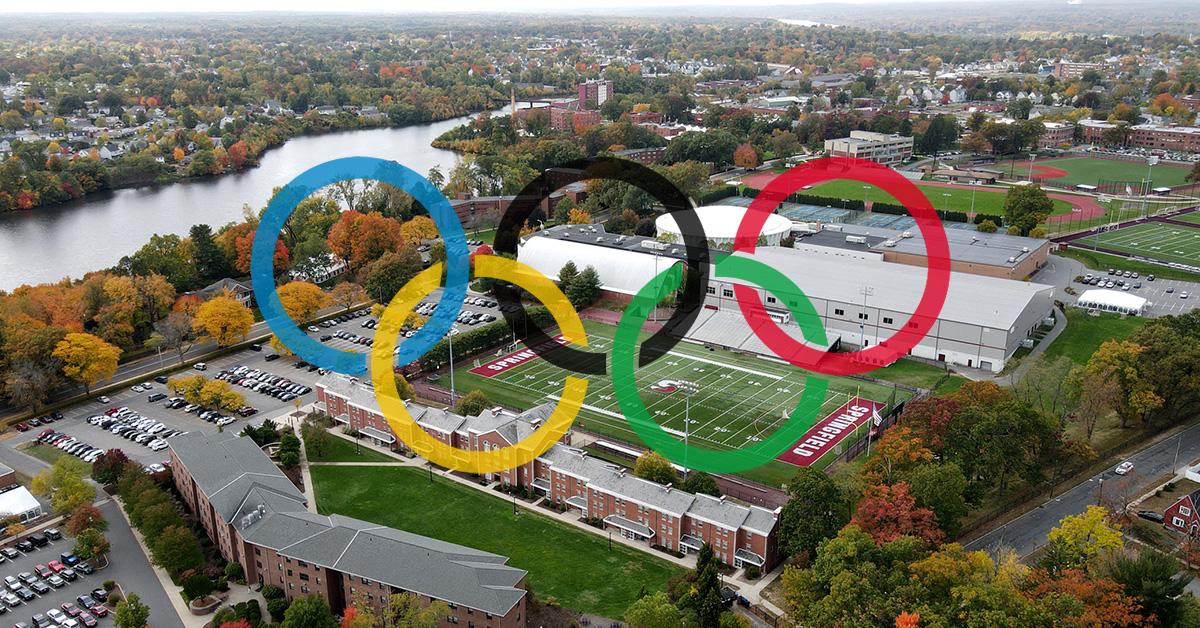 Springfield College has a long and storied history of Olympic and Paralympic connections. The College is encouraging alumni who are involved with either the 2021 Tokyo Summer Games or the 2022 Beijing Winter Games, to please e-mail the Office of Alumni Relations at alumni@springfield.edu with a brief description. 
To date, the following members of the Springfield College family have shared with us their connections to the Tokyo 2021 Summer Olympics:
Mikaili Charlemagne '23, scheduled to swim the 50-meter freestyle representing her home country of Saint Lucia on July 30 – The Springfield College Health Science major and student-athlete will represent her home country of Saint Lucia in the swimming 50-meter freestyle. Mikaili has earned dean's list for her academic excellence in each of her four semesters on the campus.
Entering her junior year at Springfield College, the 18-year old is no stranger to competing on the international stage.  Previously, she raced in the 100 free at the 2017 FINA World Championships in Hungary and traveled to South Korea in 2019 for the World Aquatics Championship where she represented Saint Lucia in the 100 free and 50 fly.
Aboshioma "Sho" Obemeata G'21, International Teams Coordinator, USA Track & Field – In his role, Sho supports and manages all logistics regarding international teams. During his time as a graduate assistant coach at Springfield College, both the men's (#16) and women's (#1) high jumpers were nationally ranked according to USTFCCCA's Division III event-by-event rankings. Sho was named the Outstanding Graduate Student for his efforts in and beyond the local community.
Gabby Guerard '20, Sports News Desk Editor at NBC Sports Group - Gabby has published, optimized, and distributed video tailored for nbcsports.com, the NBC Sports app, YouTube and Peacock. She also has distributed NBC Sports written and video content via app notifications, YouTube and external partners.
Stuart Sokoloff '17, Operations, Israeli Baseball Team – Residing in Phoenix, Arizona, Stuart served as an account executive in business development for the National Basketball Association's Phoenix Suns from 2017 to 2020.
Elizabeth Sottile '14, Manager, Member and Event Services, USA National Karate-do Federation - Elizabeth runs the National Office in Colorado Springs and she has worked the past five years as Team Leader bringing the National Teams to Pan American Championships, World Championships, Pan American Games and now the Olympics.
Chris Quetant '11, Manager, Anti-Doping, USA Track & Field – Chris began his career with USATF as the Sanctions Program Coordinator in October 2015. Prior to his role with USATF, he worked as an Operations Coordinator at the Lake Placid Olympic Training Center. In July 2015, Chris was selected to serve as a member of the United States Olympic Committee delegation for the Pan American Games in Toronto, Canada. 
Stacy Michael Miller G'98, Director of National Team Support and Services for USA Swimming – Stacy has been with USA Swimming for more than 20 years, and she has been in her current role since 2014. She creates and maintains the National Team roster and National Team Coaches roster, and works with the USOPC regarding athlete transition and mentorship programs. She also oversees all anti-doping efforts, ensuring that USA Swimming is well versed on NCAA rules, and establishes effective communication with Compliance Officers at all Universities that have a National Team or National Junior Team Member in their program.
Keith Bryant '92, Executive Director, USA Judo – Since 2016, Keith has served as Executive Director of the USA Judo office, bringing in a wealth of knowledge in the Olympic Movement. He has been involved in the sports industry since 1992, spending 17 of those years with the United States Olympic Committee. Having risen through the ranks from coordinator to director, Keith has interacted with all departments within the USOC, the International Olympic Committee, all NGBs (including USA Judo), all Olympic Training Centers, the Athlete Ombudsman's Office, USADA, the Athletes' Advisory Council and the 34 Multi-Sport Organizations.
Jim Ronai '88 G'89, Physical Therapist, Strength & Conditioning Coach, Assistant Athletic Trainer, USA Baseball – Jim has been in practice as a licensed physical therapist for 30 years. He has served as a consultant for the USA Baseball Medical & Safety Advisory Committee since 2000, and has been a consultant for the Colorado Rockies Baseball Club. Jim served as an athletic trainer for the 2002 and 2006 Winter Olympic Teams where his bobsled and skeleton athletes brought home gold and silver medals. His Olympic path also included work with athletes from the USA hockey, skating, and skiing teams.
Branwen Smith-King '78 G'79, Secretary General, Bermuda Olympic Association– After 18 years as the head women's track and field coach and 15 years as assistant director of athletics at Tufts University, Smith-King moved back to Bermuda to work for the Bermuda Olympic Association as the secretary general. She was a member of the Bermuda national track and field junior and senior teams from 1971 to 1979 and won gold for Bermuda at the 1971 Caribbean Free Trade Association Games.
Barry Weinberg '73, Athletic Trainer, Israeli Baseball Team – Barry has over 40 years of experience as a trainer and has served as the head athletic trainer for the Israeli Baseball Team at the World Baseball Classic. In addition, he has served as assistant trainer of the New York Yankees, as head trainer for the Oakland Athletics, and spent 13 years as head trainer for the St. Louis Cardinals. Barry has been fortunate in being part of seven World Series, and he was selected as the athletic trainer for four Major League All Star games in 1987, 1993, 2005, and 2009. 
Springfield College Historic Olympic Connections
Springfield College has made indelible marks on the modern Olympics. More than 120 of its students, faculty, staff, and alumni have participated as inventors of sports, athletes, coaches, sport psychologists, trainers, judges, officials, administrators, researchers, reporters, volunteers, and more.
Since the first U.S. Olympic Committee (now USOC) in 1894, Springfield College's Humanics philosophy has been symbiotic with the Olympics. Serving on that committee was the director of the College's Physical Department, Dr. Luther Halsey Gulick. The Olympic Charter defines Olympism as "a philosophy of life exalting and combining in a balanced whole the qualities of body, will, and mind..."
Springfield College is the only college to receive the Olympic Cup, which was created by Modern Olympics Founder Baron de Coubertin to honor an institution for furthering the Olympics through merit, integrity, and ideals.
Long noted as an international pioneer in the field of athletics, Springfield College Professor of Exercise Science and Sport Studies Mimi Murray, Ph.D., worked with students and athletes as a sport psychologist and a coach, in the collegiate and international arenas, including as a coach of the U.S. Women's gymnastics team. 
During her six years as head coach of Springfield College women's gymnastics, Dr. Murray's teams were undefeated in dual meet competition, won five Eastern Championships, and three Division I National Championships. Murray coached the USA Team for the World University Games, was named National Gymnastics Coach of the Year, and has been a commentator for ABC's Wide World of Sports and NBC's Sportsworld.
She has been recognized by the Women's Sports Foundation as one of five "pioneers" in women's athletics. During the efforts to secure passage of the landmark Title IX legislation, Dr. Murray was a prime mover. Her textbook, Gymnastics for Women, is considered an authoritative source in sport. She appeared on The Jane Pauley Show in 2005 to discuss what has become a prevalent topic in today's news: harassment of athletes by coaches.
As a sport psychology consultant, Murray has served with the USA Equestrian Team at the Los Angeles Olympic Games, the USA Field Hockey Team at the Atlanta Olympic Games, and worked with many professional, collegiate, and high school athletes and coaches. 
In addition to the Women's Sport Foundation, she has been honored by numerous regional, national, and international organizations for her contributions to the field of physical education and women's athletics, including with the Luther Halsey Gulick Award and the R. Tait McKenzie Award from the American Alliance of Health, Physical Education, Recreation, and Dance (AAHPERD, now known as SHAPE America). The Gulick Award honors an individual who exemplifies the highest standards in accomplishment, innovation, and leadership. She also has been recognized by the International Council of Health, Physical Education, Recreation, Sport and Dance; and as an Ethics Fellow of the International Institute for the Study of Sport. She was elected president of AAHPERD and elected president of the National Association for Girls and Women in Sport.  She was inducted into the inaugural class of the New Agenda: Northeast Women's Hall of Fame, and is an inductee in the Springfield College Athletic Hall of Fame.  She is the 2017 recipient of the Springfield College President's Humanics Achievement Award. 
Following is a partial compilation of Springfield College alumni who have showcased their talent and shared their expertise during the Olympic Games.
Inventors of Olympic Sports
The College's most famous connection to the Olympics is the invention of two Olympic sports, basketball and volleyball, by alumni James Naismith and William Morgan. Basketball became an Olympic sport in 1936, volleyball in 1964.
Athletes
Athletes from Springfield College have competed in the Olympic Games since 1936 in a wide range of sports including crew, wrestling, swimming, canoeing, basketball, track and field, soccer, and badminton.
Robert P. Adams '66
Canadian Crew Team, 1960
William D. Baille '51
Canadian Super Heavyweight-Unlimited Weightlifting Team, 1952, 1956, 1960
Jeffrey C. Blatnick '79
USA Wrestling Team, 1980; U.S. Olympic Gold Medalist, Greco-Roman Wrestling, 1984; Olympic Wrestling Commentator, NBC, 1996; Torch Relay Team, 1996
Roy Burch '08
Bermuda Men's Swimming Team, 2008
Geoffrey A. Cardinali '61
USA Men's Gymnastics Team, 1960
Amy Lim Chee Chan '91
Hong Kong Badminton Team, 1988; Olympic Badminton Commentator, 1992
Morgan "Phil" Conway G'73
Ireland Track and Field Team, 1972
Louis M. Cotton G'74
USA Modern Pentathlon Team, 1976
Samuel J. Coursen '53
USA Wrestling Team, 1952
Anthony Davis '05
Jamaican National Team, 1980
Denise M. Desautels '77
USA Field Hockey Team, 1980
Kathy Corrigan Ekas '66
USA Gymnastics Team, 1964
Abdelhadi A. Halawa G'89
Captain, Egyptian Soccer Team, 1972
Howard Hinds '00
Curacao Swim Team, 1996
Nell Jackson Ph.D., G'53
USA Track and Field Team, 1948; Head Coach, USA Track and Field Team, 1956 and 1972
John Lysak '41
USA Canoe Team, 1936
Stephen I. Moldovani G'63
Hungarian Track and Field Team, 1936
Ivan J. Olivares '86
Venezuelan Basketball Team, 1992
Erin Pac '03
USA Olympic Bronze Medalist, Women's Bobsled Team, 2010
Paula Deubel Phillips '57
USA Track and Field Team, 1956
Orlando Rosa '91
Puerto Rico Wrestling Team, 1996
Michael W. Sokolowski '84
Canadian Track and Field Team, 1984
Neil J. Stam '64
Co-captain, USA Soccer Team, 1964
Thomas F. Waddell '59
USA Track and Field Team, 1968; Founder, Gay Games
William A. Yorzyk '54
USA Olympic Gold Medalist, 200m Butterfly, Swimming, 1956
Justin Zook '08
USA Olympic Gold Medalist, Paralympic Games, Swimming, 2004, 2008, 2012
Coaches
Springfield College alumni have been well represented as coaches of the world's finest athletes. Of particular note are Pam Hixon '73, who coached the USA Field Hockey Team in 1996, Nancy Darsch '73, who served as assistant coach for the gold-medal-winning Women's USA Basketball Team in 1996, and Anthony DiCicco Jr. '70, head coach of the USA Women's Soccer gold medal teamin 1996.
In 2016, men's volleyball coach Charlie Sullivan '91, G'97 served as USA's men's volleyball assistant coach earning a Bronze Medal in Rio.
With multiple connections to the Olympic Games, head swimming coach John Taffe served as the head coach for the Netherlands-Antilles squad at the 2000 Olympic Games in Sydney, Australia.
Paul D. Balsom '88
Assistant Coach, Swedish Olympic Women's Soccer Team, 1966
Mary Melinda Bishop '72
USA Modern Pentathlon Team, Individual Coach, 1976
Harry Crowe Buck, Class of 1910, Graduate Class of 1917
Coach, India Olympic Team, 1924
Renato Cunha G'56
Coach, Brazilian Men's Basketball Team, 1960, 1964, 1968, 1984
Domingo Los Banos Jr. '49
Coach, Thailand Basketball Team, 1960
Steve Matthew '75
Assistant Coach, Netherlands Baseball Team, 1996; Advance Scout, Netherlands Baseball Team, 1996
Edward W. Reed Jr. '65
Assistant Coach, USA Water Polo Team, 1996
Alberto Regina '31
Coach, Argentine Water Polo Team, 1928
Edward J. Shea '41
Associate Coach, USA Men's Swimming Team, 1948
Charles E. Silvia '34
Assistant Coach, USA Men's Swimming Team, 1956
Amos Alonzo Stagg, Class of 1891
Coach, USA Men's Track and Field Team, 1924
Updates from Tokyo 
Mikaili Charlemagne '23 is scheduled to swim the 50-meter freestyle representing her home country of Saint Lucia on July 30. The Springfield College Health Science major is settling into the Olympic Village and is cherishing this special moment in Tokyo.
Keith Bryant '92, Executive Director, USA Judo - "Springfield College has had significant representation in the US Olympic and Paralympic Movement over the years. I am grateful that SC instilled in me the Humanics philosophy modeled after the Greek ideal of balanced life with leadership in service to others."
Stuart Sokoloff '17, Operations, Israeli Baseball Team has documented his Olympic experience through a blog on JNF.org. Read Stuart's experience in helping prepare the Israeli baseball team for the Olympic Games.
Aboshioma "Sho" Obemeata G'21, International Teams Coordinator, USA Track & Field, officially has his Olympic profile photo taken as the competition begins in Tokyo.