Springfield College Current Students and Alumni Recognized at Massachusetts Association for Health, Physical Education, Recreation, and Dance Awards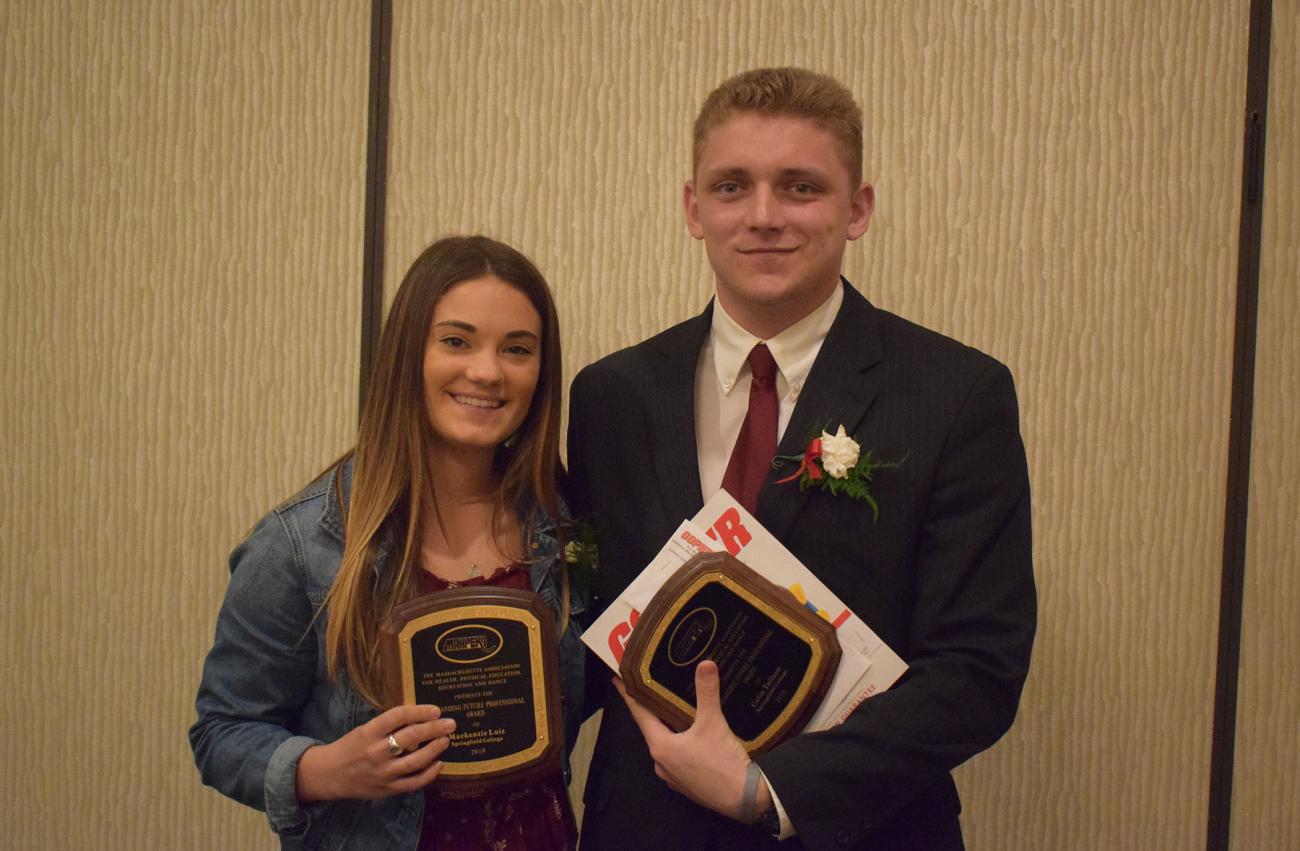 Springfield College was well represented at the recent 26th annual Massachusetts Association for Health, Physical Education, Recreation and Dance (MAHPERD) Awards banquet. Springfield College Physical Education and Health Education students Mackenzie Luiz and Colin Tullson each were named as Outstanding Future Professional Award recipients.
Also part of the awards presentations, two Springfield College graduates were recognized including: Ellen Margiotta G'07 earning the MAHPERD Elementary Physical Education Teacher of the Year honor, as well as Ben Goodhue G'02 earning the MAHPERD High School Physical Education Teacher of the Year award.
Luiz has been named to the dean's list all four semesters that she has attended Springfield College and is also a member of the physical education and health education club. Luiz is a forward on the women's soccer team and has achieved Academic All-Conference awards each season of eligibility. She is a team leader for the Team Impact player that joined the Pride last year. During the summer she is a camp counselor for middle school students in Connecticut.
Balancing his major with four seasons of football at Springfield College, Tullson has applied what he learned from college to real world experiences of full time student teaching. As a future professional, he wants his students to learn about and love sports, maintain a healthy and physically active lifestyle, and most importantly know how to be good citizens.
Margiotta has been the physical education teacher at Mary E. Stapleton School for the past 11 years. She has also proudly served on the MAHPERD board as Vice President Elect, Vice President and Past Vice President of Physical Education from 2009 to 2011. Margiotta uses her personal experiences, passion for children and life-long love of physical activity to find creative ways to help all students find success in physical education. Her energy and positive growth mindset has been fundamental to the number of awesome and diverse opportunities that she has created and made available for her students.
Goodhue is a model example of a dedicated, passionate, and driven physical educator who is always striving to refine instruction, assessment, pedagogy, and provide the best developmentally appropriate physical education and health lessons to the student body at Beverly High School. He is an active member of the professional development, standards-based teaching, advisory, school wide grading system committees as he embraces the role of contributor to make BHS Wellness Department a model educational forum for all students to learn and master skills.
Springfield College is an independent, nonprofit, coeducational institution founded in 1885. Nearly 5,000 students, including 2,500 full-time undergraduate students, study at its main campus in Springfield, Mass., and at its regional campuses across the country. Springfield College inspires students through the guiding principles of its Humanics philosophy – educating in spirit, mind, and body for leadership in service to others.