Springfield College Dean Brooke Hallowell Continues Work with the Global Rehabilitation Alliance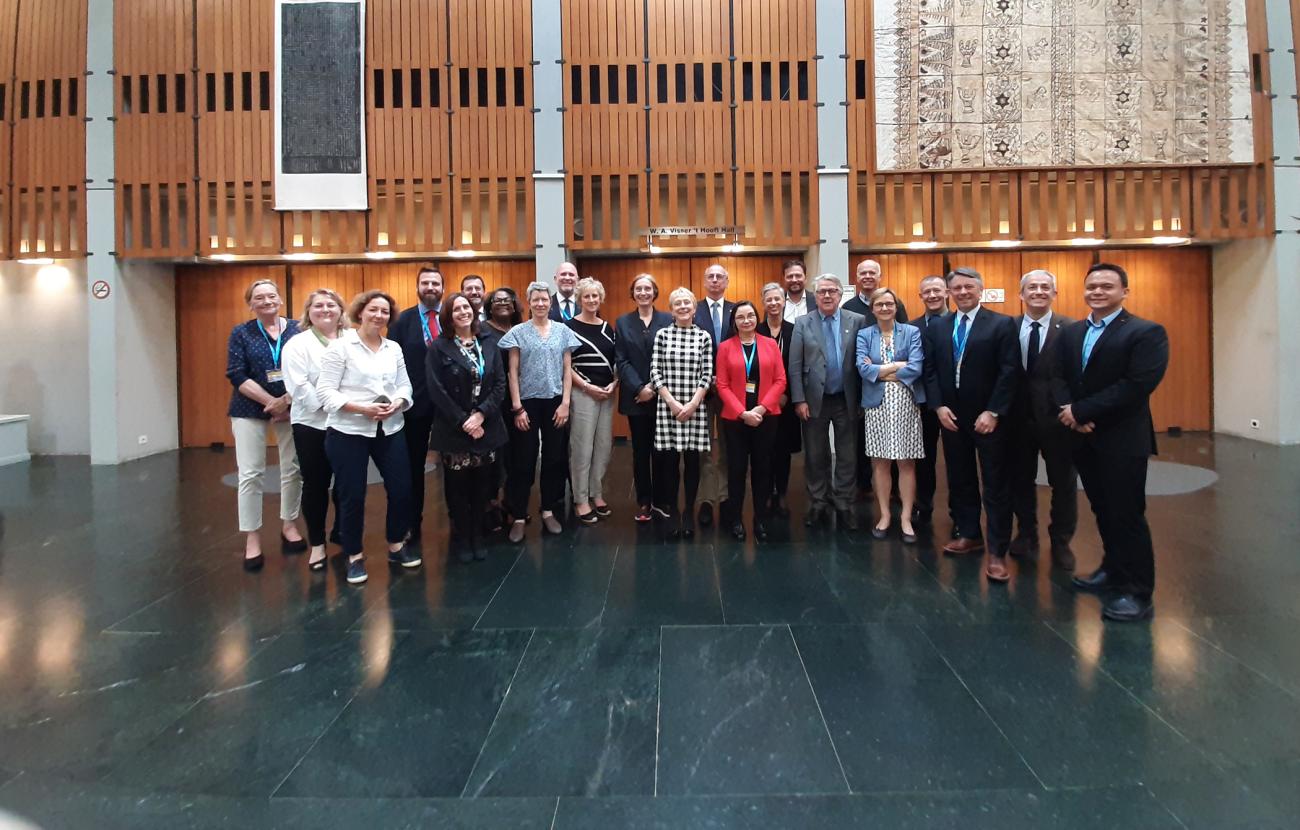 Springfield College Dean of the School of Health Sciences Brooke Hallowell recently returned from Geneva, Switzerland, where she participated in a meeting of the Global Rehabilitation Alliance (GRA), an initiative of the World Health Organization (WHO). The GRA mission is to advocate for the availability of quality, coordinated, and affordable rehabilitation through system strengthening according to population needs.
Hallowell was one of 14 initial signatories for international associations that founded the initiative of the GRA on May 22, 2018 at the World Health Assembly, hosted by the World Health Organization in Geneva. She serves as the official representative of the American Speech-Language-Hearing Association. The meeting last week was the first in-person GRA work session since the group's foundation. Twenty-five representatives of international organizations from around the world participated.
The GRA is a platform for united advocacy and awareness raising to strengthen rehabilitation in health and social systems around the world. Many organizations help serve this goal through working to improve accessibility to services, quality of care, the building of rehabilitation workforce capacity, and strengthening of data collection. The GRA aims to further these efforts through raising the profile of rehabilitation and strengthening networks and partnerships.
Hallowell has an international reputation in collaborative development of rehabilitation services and frameworks, especially in under-resourced regions. She is involved in research, educational, and clinical program collaboration in Cambodia, China, Ghana, Honduras, India, Japan, Korea, Malaysia, Russia, and Vietnam.
"My previous global experience toward similar goals has been primarily at grass-roots community levels in areas of high need, focusing on interprofessional service, community-based rehabilitation, and transnational research to promote rehabilitation. The GRA has set important goals at a higher level, especially in terms of linking collective action to policies internationally. It is a tremendous honor to help facilitate action as a founding member of the GRA," said Hallowell.
For the past 20 years, Hallowell has been engaged in helping develop new academic and clinical programs, and has served as the chair of the International Issues Board for the American Speech-Language-Hearing Association; chair of the first-ever Global Summit on Higher Education in Communication Sciences and Disorders; and chair of the Global Engagement Committee for the Council of Academic Programs in Communications Sciences and Disorders. Hallowell also is the international coordinator for the Aging, Disability, and Access to Care Project, which includes academic and clinical experts from several countries.
As dean, Hallowell collaborates with leadership of other divisions and units of Springfield College to participate in strategic planning and implementation activities that further the overall mission of the institution. She oversees academic areas within her School, including physical and occupational therapy, physician assistant, health science, emergency medical services management, communication sciences and disorders.
Springfield College is an independent, nonprofit, coeducational institution founded in 1885. Nearly 5,000 students, including 2,500 full-time undergraduate students, study at its main campus in Springfield, Mass., and at its regional campuses across the country. Springfield College inspires students through the guiding principles of its Humanics philosophy – educating in spirit, mind, and body for leadership in service to others.