Springfield College Faculty Members Debut Their Original Plays in Fall Theater Production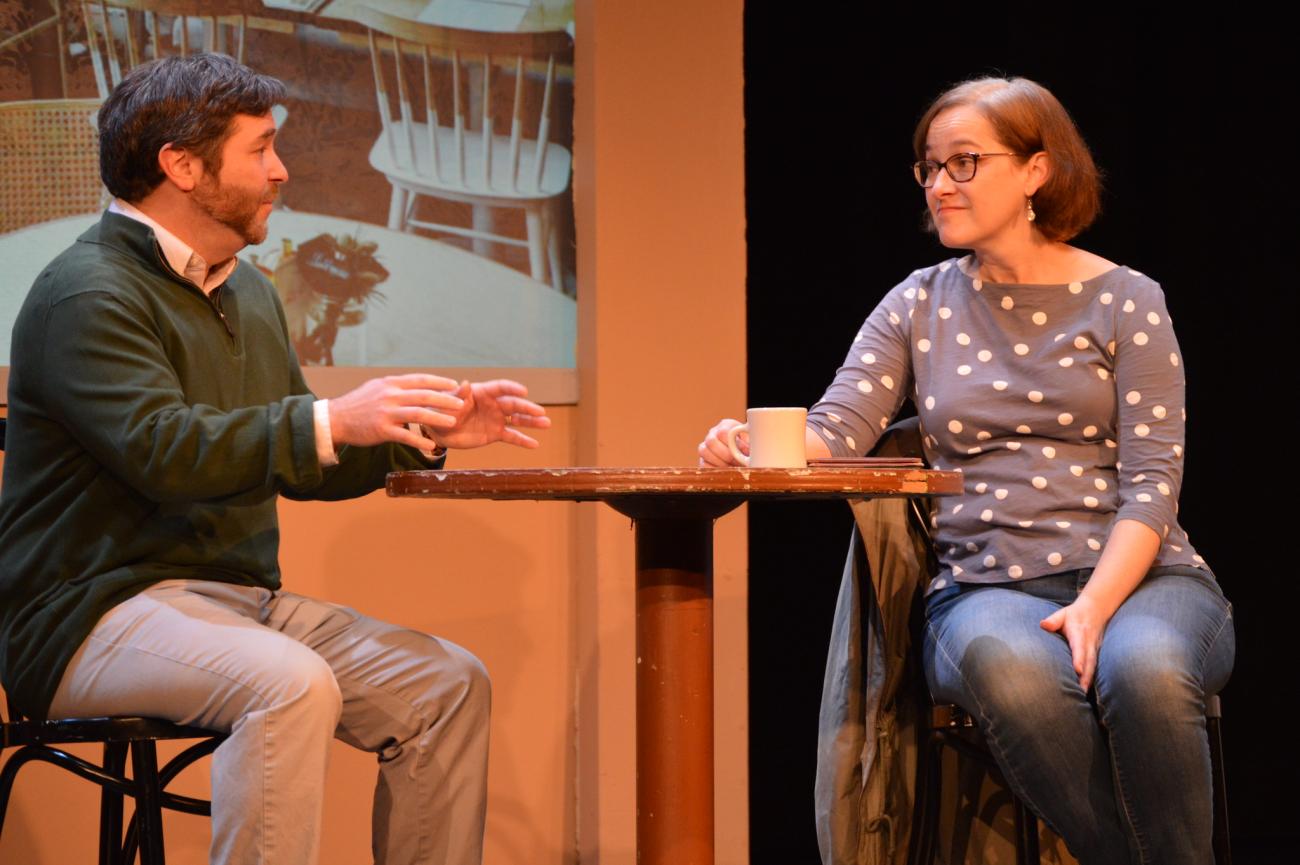 For the first time, the annual Springfield College fall theater production included three premieres of original plays written by Springfield College faculty members.
"These three new plays saw their very first audiences at our shows. The campus has seen short stories, poems, and novels produced by our faculty before, but this was the first time we've ever publicly shared the creative work of our faculty as playwrights," said Martin Shell, professor of theater arts and director of Springfield College Theater.
Professor Anne Wheeler's "The Bucket Brigade" and professor Rebecca Lartigue's "Sure" and "Not-So-Brightspace" were performed as part of "Shorts & Briefs: A Selection of 10-Minute Plays," produced and directed by Shell.
Wheeler, who has been with Springfield College since 2015, is currently an associate professor of composition and rhetoric, as well as chair of the College's department of literature, writing, and journalism. When she saw the call for plays that Shell put out, she knew she had to get involved. "I took the opportunity to adapt a short story that I was working on," Wheeler shared in an email interview with The Springfield Republican Newspaper.
"(The Bucket Brigade) takes place during the height of COVID lockdown," Wheeler said of her play. "Eddie, who is a long term survivor of HIV/AIDS, is living with his niece, Divine, a history professor struggling to engage her students through remote learning. Eddie has begun to experience memory issues that bring him back to the 1980s, the height of the AIDS pandemic. He becomes fixated on finding/remembering an old acquaintance."
"Ultimately, this play is about parallels across time, as well as the challenges of intergenerational memory," Wheeler added.
There are no students cast in Wheeler's play. Uncle Eddie was played by Shell and Divine was played by Chelsea Corr-Ligomes, assistant professor of environmental science and a veteran of remote teaching during the pandemic.
"Seeing these two talented individuals bring these characters to life is a huge honor for me," Wheeler said.
Lartigue, who has been teaching at Springfield College for 20 years, was approached by Shell over the summer about the opportunity to bring her scripts to life.
"I had been working on writing some comic ten-minute plays, and I had performed in some of Martin's past theater productions, so I trusted he would know as a director how to bring my scripts to life," Lartigue, who is a professor of English literature and director of the Springfield College Honors Program. Both of Lartigue's pieces were comedies, and each featured two actors.
In "Sure," a couple's first meet after "matching" on a dating app goes wrong. "The play is a comic take on dating in midlife after divorce," Lartigue said.
Meanwhile, in "Not-So-Brightspace," "a seemingly well-meaning college student wonders with her professor over the mystery of a lost assignment in order to persuade the professor to accept the assignment late," Lartigue shared.
Lartigue acted with a student performer in "Not-So-Brightspace," and "it's a lot of fun collaborating with them on productions like this," she shared.
In "Sure," Lartigue took the stage with a Springfield College colleague, professor Paul Thifault.
Lartigue's fiction and poetry has appeared in Caroline Quarterly Review, First-Class Lit, and The Massachusetts Review. In 2012, she was awarded a Springfield Cultural Council Artist Fellowship for fiction. In 2015, with another Springfield Cultural Council grant, she organized and performed in "Springfield Stories: A Showcase of Writing about Springfield."