Springfield College Graduate Rob Kearney Earns Heroes Among Us Award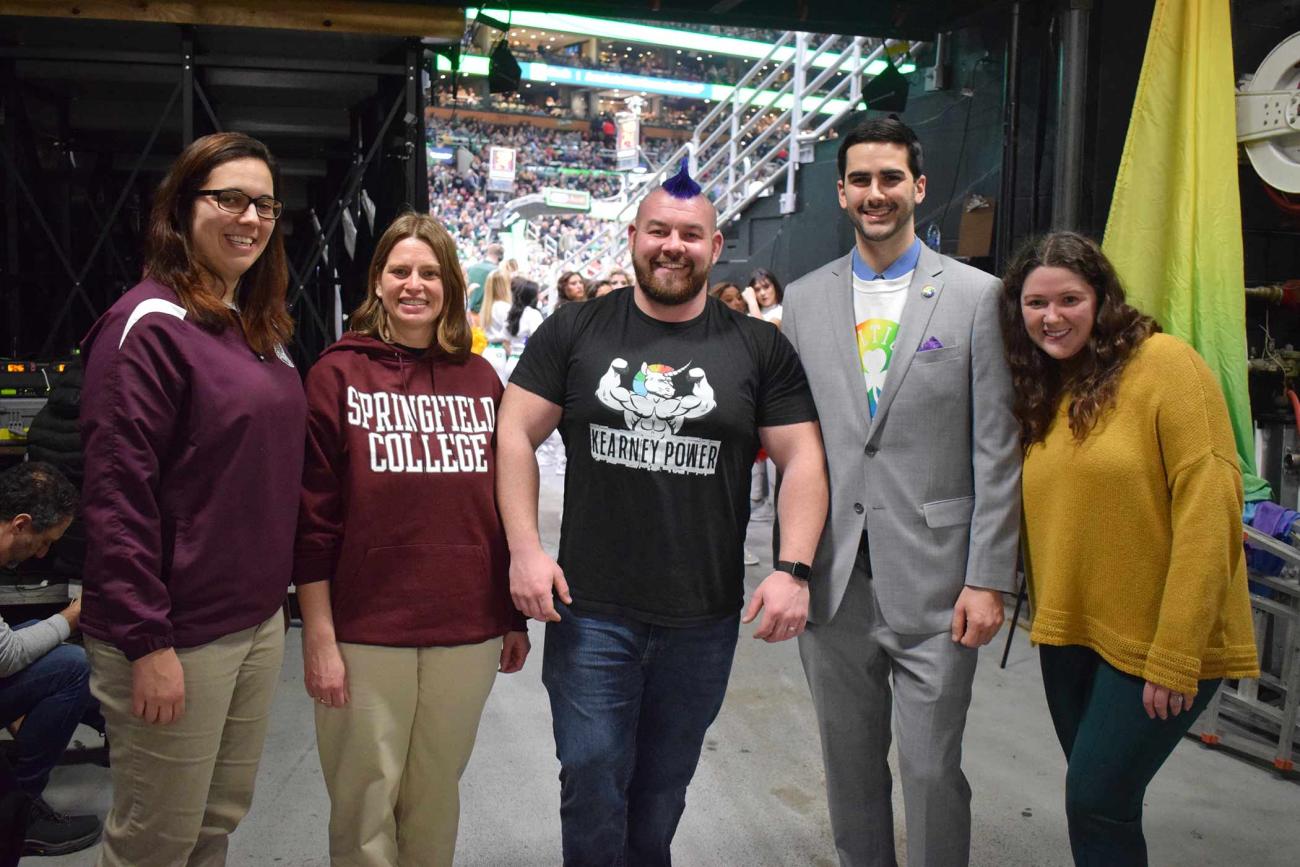 Springfield College graduate Rob Kearney '13, G'15 was recognized with the Heroes Among Us Award on Friday, Feb. 7 at the Boston Celtics Pride Night Celebration at TD Garden in Boston. Kearney was recognized for his overwhelming impact on the lives of others. Kearney is the first openly-gay man to actively compete in a Strongman competition at the professional and international level, and he is the current American Log Lift record holder.
At the game, Kearney was joined by members of the campus community, including Boston Celtics Senior Group Sales Account Executive and fellow Springfield College graduate Marc Rogers '12. Springfield College Associate Director of Alumni Relations Maria D'Agostino Crawford '91 and Springfield College Assistant Director of Alumni Relations Samantha Morris-Avery G'14, and Springfield College Director of Annual Giving for Leadership Gifts and Athletics Kylie Martin '13, G'16 presented Kearney with a special gift from the College.
In April 2015, Kearney was the keynote speaker at the first Springfield College "Tom Waddell Day" celebration, which has become an annual event paying homage to Springfield College graduate Tom Waddell '59 for his life and commitment to Humanics and diversity. Kearney also served as the Springfield College student trustee in 2013.
The Heroes Among Us program is one of the premier community outreach programs in professional sports. Established as an initiative of the Boston Celtics in 1997, Heroes Among Us honors individuals who have made an overwhelming impact on the lives of others.
The Heroes Among Us Award is presented to an individual or individuals who, through their unique commitment and humanitarian spirit, have made exceptional and lasting contributions to our community. At every home game, the Celtics and their fans have saluted the exemplary efforts of these citizens during a special in-game presentation on the legendary parquet floor.