Springfield College Holds 131st Commencement Ceremony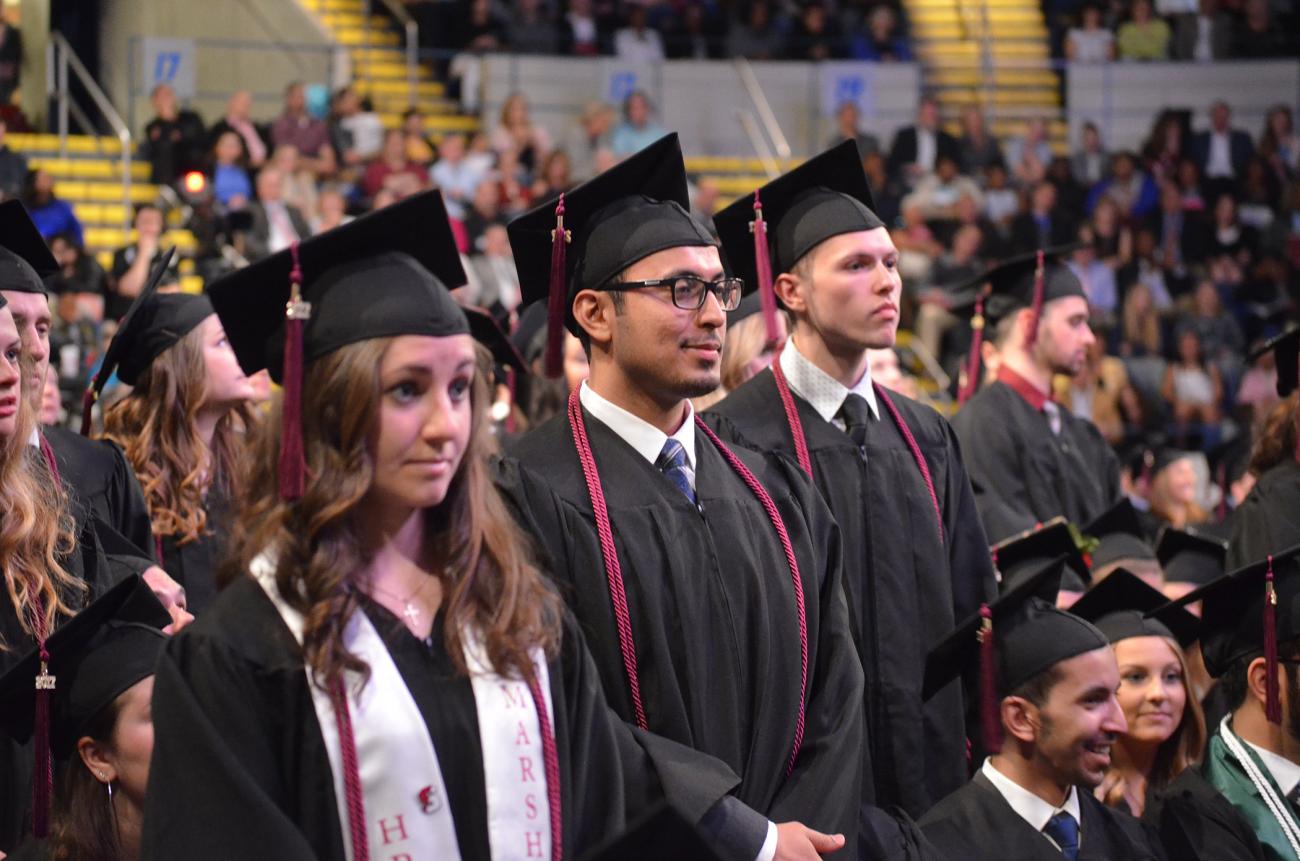 Springfield College hosted its 131st undergraduate commencement ceremony on Sunday, May 14, at the MassMutual Center in Springfield. The Honorable Gale D. Candaras, long-standing member of the Commonwealth of Massachusetts General Court where she served in both the House and the Senate, provided the keynote address.
"You are not only the 'light[s] of our lives' on this Mother's Day, you are the 'points of light' our 41st President, George Herbert Walker Bush, talked about when, in 1989, he urged the Nation to take action through service to others and asked us to help our neighbors," said Candaras. "You have heard that charge. You have embraced that call to service. You embody the spirit of Humanics, which drives Springfield College and which impels you to reach out to a waiting world. You are our very own 873 points of light and we could not be more proud of you than we are today."
Senator Candaras spent 18 years in the Massachusetts legislature, serving as a member of the Massachusetts House of Representatives from 1997 to 2006, before being elected to the Massachusetts Senate where she served from 2007 to 2015. Candaras represented both the First Hampden and Hampshire districts.
"The days I treasured most during my life of public service were the days when I was able to really make a difference in someone's life," said Candaras. "Helping others is what we do. We walk a mile in the other guy's shoes, we treat others the way we would like to be treated, we serve our country here and abroad and we volunteer and reach out a hand of hope and love in the darkest hours." 
During her time in the Senate in 2012, Candaras chaired the Joint Committee on Economic Development and Emerging Technologies, and also served as vice chair of the Joint Committee on the Judiciary.
"I urge you to share with others the blessings of liberty and life in these United States," said Candaras. "Do what you can for people in need and try to make every interaction with others positive and life affirming; wherever you find them, whatever their race, ethnicity, religion, culture and circumstance. Greet them with open hearts and open arms."
Additionally, Springfield College recognized Elizabeth A. Davison, of Wilbraham, Mass., with the Springfield College Humanics Achievement Award. This award recognizes an individual or group who has exhibited courage in the face of adversity, demonstrated leadership in service to others, advanced diversity and inclusion, served as a champion for the oppressed, furthered education in spirit, mind, and body, or contributed significantly to the understanding of the universe.
Senator Candaras helped establish a deaf community home on the campus of Springfield College, a project that Davison co-founded and led, and for which Candaras secured funding.
"And, there's one special mom I want to congratulate today, my dear friend, Elizabeth "Betsy" Davison," said Candaras. "Mrs. Davison conceived of an innovative program for individuals, like her own son, Andrew, who are deaf and developmentally delayed. Her idea lead to a great partnership with Springfield College and the Commonwealth of Massachusetts to create a pilot program to include deaf individuals in campus life." 
Candaras went on to add, "Mrs. Davison's idea was to help youngsters all over the Commonwealth who are deaf and have intellectual challenges and who, at 22 years old, had "aged out" of the state education system. When Mrs. Davison came to me for help and told me these older youngsters faced a lifetime of isolation, I knew my legislative colleagues would respond favorably and they did by funding a pilot project."
"When Mrs. Davison and I approached Springfield College with our plan, President Cooper, the Trustees and the staff all recognized immediately its unique opportunity for diversity and inclusion and were "all in" from the beginning and, today, we have the first in the Commonwealth interactive, residential, group deaf program right on the Springfield College campus, where students are taught sign language and their deaf colleagues are a welcome addition to the campus community," said Candaras.
Convening the ceremony was Springfield College Board of Trustees chair, Gregory C. Toczydlowski, who introduced the 13th president of Springfield College, Mary-Beth Cooper.
"To the Class of 2017, I say congratulations and thank you," said Cooper. "You have made us proud in more ways than we can count. Please remember to stay connected to us and to each other. Through the Springfield College network, great things can be accomplished. All the best as you continue your journeys."
Springfield College School of Professional and Continuing Studies student, Manuel Sandoval, was the student speaker at the undergraduate ceremony.
"As students we have completed a journey that was long in the making but worth every minute. For the knowledge and skills we have gained are invaluable. Many of us will continue on to explore higher education. While others will take what we have been provided and set out to change the world as we know it," said Sandoval.
Sandoval went on to express how the Humanics philosophy has had an impact on the graduating class, and how it played a part in preparing the graduating students for the future.
"The path we have chosen has not been an easy one," Sandoval said. "There have been a road full of trials and tribulations as well as some triumphs and gains. Today, the culmination of all those sleepless nights give way to the fruition of our efforts. As we complete this era of our lives I ask us to commit to one thing. I ask that we commit to aspire to inspire. That we motivate and encourage those who need assistance. Choose to lead the way by being amazing individuals."
"Today we pledge to be and do more than just maintain the status quo," he added. "Today we are gladiators, we are architects of a future informed by the guiding philosophy that love, empathy and understanding can conquer hate."
At the graduate commencement, 658 master's degrees, six certificates of advanced graduate study, 15 Doctor of Philosophy degrees, 34 Doctor of Physical Therapy degrees, and five Doctor of Psychology degrees were awarded. At the undergraduate commencement on Sunday, May 14 at the MassMutual Center, 873 bachelor's degrees were awarded for a two-day total of 1591 degrees.