Springfield College Holds 133rd Commencement Ceremony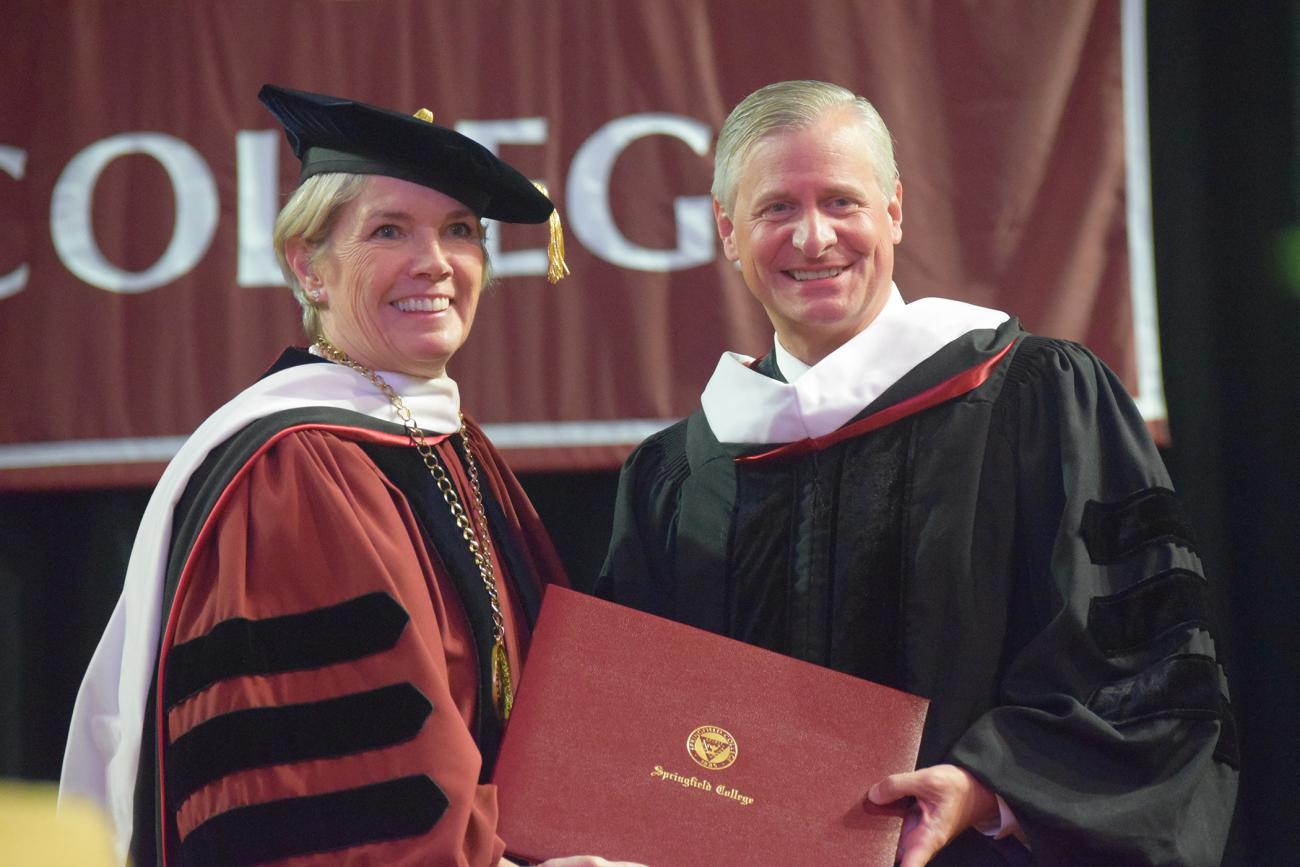 Springfield College hosted its 133rd undergraduate commencement ceremony on Sunday, May 19, at the MassMutual Center in Springfield. Pulitzer Prize-winning author and presidential historian Jon Meacham provided the keynote address.
VIEW FULL UNDERGRADUATE COMMENCEMENT CEREMONY VIDEO
"Be curious, be gracious, and be hopeful," said Meacham, who is a former editor of Newsweek and a contributor to the New York Times Book Review as well as a former executive editor and executive vice president at Random House. "Above all, remember in hours of joy and darkness, that a life well lived is judged not by the bottom line, but by the big picture."
Meacham went on to add, "History, I would argue, has the capacity to bring us together. The story of the American journey, for all its sins and omissions, is ultimately the story of obstacles overcome, crises resolved, freedom expanded."
Meacham's most recent New York Times bestselling book, The Soul of America: The Battle for Our Better Angels, helps readers understand the current moment in American politics and life by looking back at critical times in the country's history when hope overcame division and fear.
"Our common welfare depends not on what separates us, but what unifies us," said Meacham, who also has produced bestsellers that include: Thomas Jefferson: The Art of Power and American Lion: Andrew Jackson in the White House. "We've always grown in strength the more widely we've opened our arms and the more we've opened our hearts."
Meacham reminded the graduates that the world has already turned over many times since they have been a part of it, and offered some sound advice as they get set for the next chapter of their lives.
"You're going to encounter an infinity of joys and sorrows, but one thing is certain, you're going to carry everything you've learned here through all the length of days," said Meacham.
Humanics Achievement Award
Additionally, Springfield College recognized Jimmy Carter, 39th President of the United States, and former First Lady Rosalynn Carter, founders of The Carter Center, with the 2019 Springfield College Humanics Achievement Award. This award recognizes an individual or group who has exhibited courage in the face of adversity, demonstrated leadership in service to others, advanced diversity and inclusion, served as a champion for the oppressed, furthered education in spirit, mind, and body, or contributed significantly to the understanding of the universe.
President Carter was responsible for significant foreign policy accomplishments during his administration, including the Panama Canal treaties, the Camp David Accords, the treaty of peace between Egypt and Israel, the SALT II treaty with the Soviet Union, and the establishment of U.S. diplomatic relations with the People's Republic of China.
Former First Lady Rosalynn Carter has worked for more than four decades to improve the quality of life for people around the world. She is the author of five books, including her autobiography, First Lady from Plains. Today, she is a leading advocate for mental health, caregiving, early childhood immunization, human rights, and conflict resolution through her work at The Carter Center in Atlanta, Ga., which she and President Carter founded together in 1982.
Convening the ceremony was Springfield College Board of Trustees Vice Chair Michele A. Megas-Ditomassi, who introduced the 13th president of Springfield College, Mary-Beth A. Cooper.
"To the Class of 2019, I say congratulations and thank you," said Cooper. "You have made us proud in more ways than we can count. Please remember to stay connected to us and to each other. Through the Springfield College network, great things can be accomplished. All the best as you continue your journeys.
Springfield College History major Kathleen Morris of Springfield, Mass., was the student speaker at the undergraduate ceremony. Morris was a constant member of the dean's list during her academic career, and was a 2019 recipient of the Diversity, Equity, and Inclusion Award during this year's annual Martin Luther King Jr. Lecture on the campus.
"As we depart on the paths laid before us, whether it's the classrooms to teach, or the hospitals to heal, courtrooms to right wrongs, or fields to lead teams to victory, we go knowing this home away from home will always be here for us, " said Morris. "We move forward with the confidence that can only be created at Springfield College."
At the undergraduate commencement, 695 bachelor's degrees were awarded. Including the degrees awarded at the graduate ceremony, a total of 1,265 degrees were awarded over the two days. At the graduate commencement on Saturday, 522 master's degrees, one certificate of advanced graduate study, five Doctor of Philosophy degrees, 36 Doctor of Physical Therapy degrees, and six Doctor of Psychology degrees were awarded.
Springfield College is an independent, nonprofit, coeducational institution founded in 1885. Nearly 5,000 students, including 2,500 full-time undergraduate students, study at its main campus in Springfield, Mass., and at its regional campuses across the country. Springfield College inspires students through the guiding principles of our Humanics philosophy – educating in spirit, mind, and body for leadership in service to others.