Springfield College Honored with Don Dowd Spirit of Special Olympics Award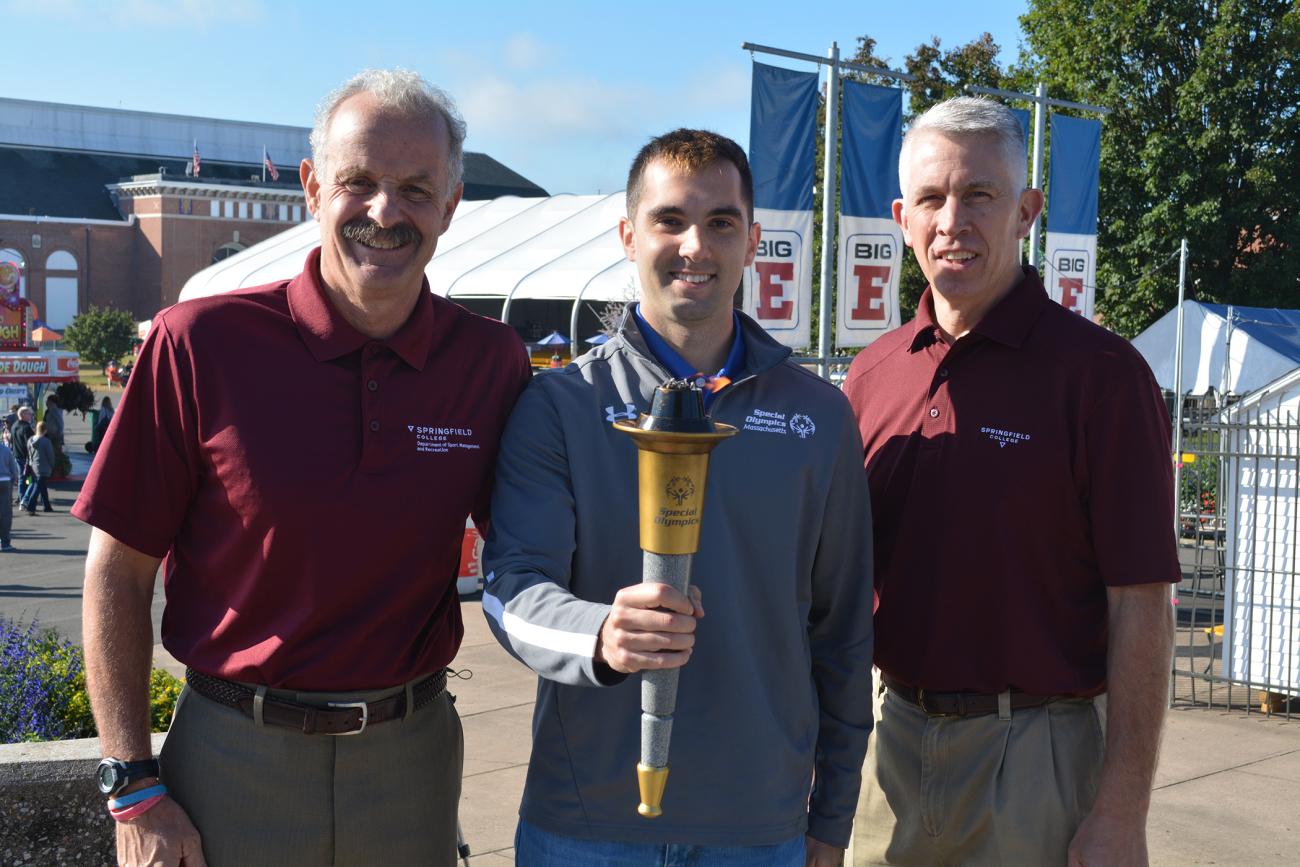 The Springfield College Department of Sport Management and Recreation was presented with the Don Dowd Spirit of Special Olympics Award, which recognizes a person or organization for its commitment in supporting the Special Olympics. Receiving the honor were Springfield College Department of Sport Management and Recreation Chair Kevin McAllister and Springfield College Associate Professor of Sport Management and Recreation Robert Accorsi.  
For the six-consecutive years, the Springfield College Department of Sport Management and Recreation has assisted the Special Olympics of Massachusetts in hosting a volleyball tournament on the campus for Special Olympic athletes. More than 30 teams and 400 participants from throughout New England have taken part in this tournament each year, which is usually held in the spring. Springfield College graduate students in the sport management program assist with handling the operations of the tournament, in conjunction with Jon Scully, the sports manager for Special Olympics Massachusetts and Springfield College graduate.
"This is truly a great partnership between Springfield College and the Special Olympics because it gives our students an opportunity to gain some valuable experience with running an event, and the Special Olympics are always in need of volunteers," said McAllister. "It's in our mission at the College to give back and serve others, so there is no better way than to assist the Special Olympics with all of the great things they do all year."
Special Olympics Massachusetts provides year-round sports training, athletic competition, and other health-related programming to 12,168 children and adults with and without intellectual disabilities. Special Olympics Athletes are given continuing opportunities to develop physical fitness, demonstrate courage, experience joy and participate in a sharing of gifts, skills and friendship with their families, other Special Olympics Athletes and the community. More information is available at specialolympicsma.org.
Founded in 1885, Springfield College is known worldwide for the guiding principles of its Humanics philosophy—educating students in spirit, mind and body for leadership in service to others. With its foundation of academic excellence and rich athletic heritage, Springfield College prepares students with real-world leadership skills for careers that transform lives and communities. The college offers a range of undergraduate and graduate degree programs in the fields of health sciences, human and social services, sport management and movement studies, education, business, and the arts and sciences. It also offers doctoral programs in physical education, physical therapy, and counseling psychology. The college is ranked in the top 25 in the 2018 edition of "Best Colleges" in the top tier of "Best Regional Universities – North Region" by U.S.News. In addition, the College is ranked one of the top 17 in the North Region of the U.S.News Best Values report. It is also designated as a College of Distinction and a premier Leadership Development Center by the YMCA of the USA. Nearly 5,000 traditional, nontraditional and international students study at its main campus in Springfield, Mass., and at its School of Professional and Continuing Studies across the country.