Springfield College Honored as Recipient of Highest President's Higher Education Community Service Honor Roll in Education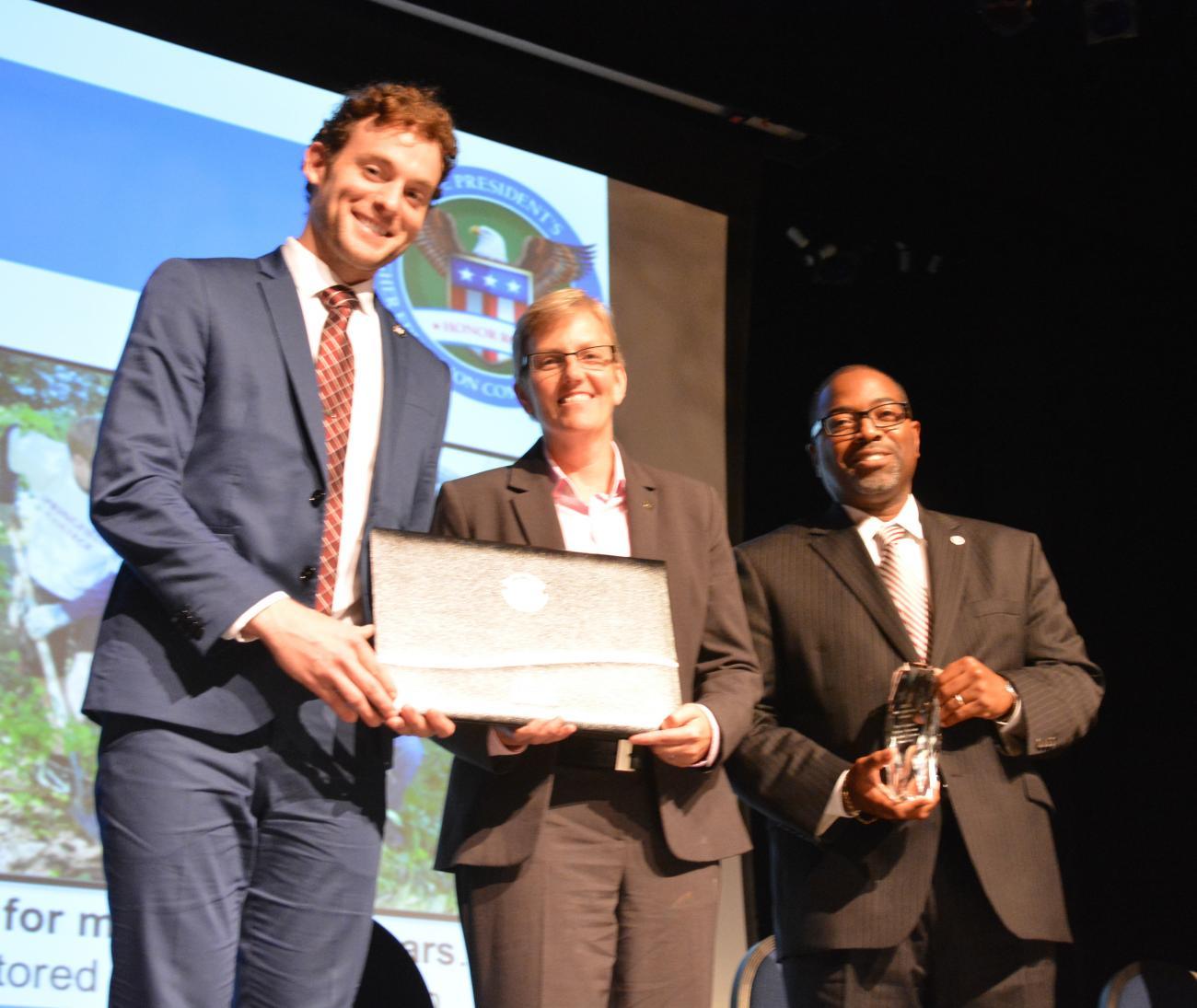 Springfield College is the recipient of the Presidential Award in the Education category of the President's Higher Education Community Service Honor Roll. This honor is the highest federal recognition a college or university can receive for its commitment to volunteering, service-learning, and civic engagement. This marks the seventh-consecutive year that Springfield College has been part of the President's Higher Education Community Service Honor Roll. This year, over 500 colleges applied for this prestigious award. The College received the award at the Sixth Annual Presidents' Interfaith and Community Service Campus Challenge fall gathering on September 23 in Washington, D.C. 
The Community Service Honor Roll was launched in 2006 to highlight the role colleges and universities play in solving community challenges. Honorees for the award were chosen based on a series of selection factors, including scope and innovation of service projects, percentage of student participation in service activities, incentives for service, and the extent to which the school offers academic service-learning courses.
"Community service programs are an integral part of campus life at Springfield College, to prepare students for lives as active citizens and community leaders in service to humanity," said Springfield College President Mary-Beth Cooper.  "To be named a Presidential Award winner is a tremendous honor, and it's a reflection of our entire campus community demonstrating a commitment to service learning. Students, faculty, and staff participate in service during annual projects, alternative spring breaks, and numerous events organized by the College. We appreciate all of the support from our community partners, who have helped Springfield College achieve this exciting accomplishment."
Springfield College offers several majors and 36 courses with service-learning components, many of which aim to improve conditions for the City of Springfield. Overall, Springfield College students perform more than 120,000 community service hours during an academic year. Among the examples that Springfield College cited were:
• AmeriCorps School Turnaround Initiative:  Springfield College provided holistic support to turnaround schools in the Springfield area, with AmeriCorps staff at the College providing over 39,000 hours of service to more than 500 at-risk students.
• Massachusetts Reading Corps:  AmeriCorps staff at Springfield College collaborated with local literacy champions to help children gain the early literacy skills needed to become strong readers, beginning in PreK.
• Partners Program:  For more than 20 years, the Partners Program at Springfield College has paired College mentors with elementary and middle school students from neighborhood schools. The program facilitates 100 student pairs, with Springfield students dedicating more than 600 hours of their time.
Moving forward, Springfield College is renovating the former Holy Family Rectory located at 235 Eastern Avenue into a Center for Leadership and Civic Engagement, scheduled to open in the fall of 2017. The center will match the needs of the community with areas that are most aligned with institutional priorities, skills and talents – predominantly around the themes of education and health/wellness. Perhaps mostly importantly, this center will link the issues that Springfield College students care about with the things they believe they can change, providing a platform to develop students as leaders in service to humanity.
The Center will provide an environment where the community can participate as equals in the creation and development of strong community bonds. The Center also has the potential to provide the resources for students to take action on the issues they care about, providing a platform to develop students as leaders in service to humanity. Groundbreaking for this unique Center will happen later this month.
The Corporation for National and Community Service oversees the honor roll in collaboration with the U.S. Department of Education, the Department of Housing and Urban Development, Campus Compact, and the American Council on Education.
Founded in 1885, Springfield College is known worldwide for the guiding principles of its Humanics philosophy—educating students in spirit, mind and body for leadership in service to others. With its foundation of academic excellence and rich athletic heritage, Springfield College prepares students with real-world leadership skills for careers that transform lives and communities. The college offers a range of undergraduate and graduate degree programs in the fields of health sciences, human and social services, sport management and movement studies, education, business, and the arts and sciences. It also offers doctoral programs in physical education, physical therapy, and counseling psychology. The college is ranked in the 2017 edition of "Best Colleges" in the top tier of "Best Regional Universities – North Region" by U.S.News & World Report, and as ranked one of the top 12 in the North Region of the U.S.News Best Values report. It is also designated as a College of Distinction and a premier Leadership Development Center by the YMCA of the USA. Nearly 5,000 traditional, nontraditional and international students study at its main campus in Springfield, Mass., and at its School of Professional and Continuing Studies across the country.