Springfield College Hosts 2019 Greene Memorial Lecture in Physical Therapy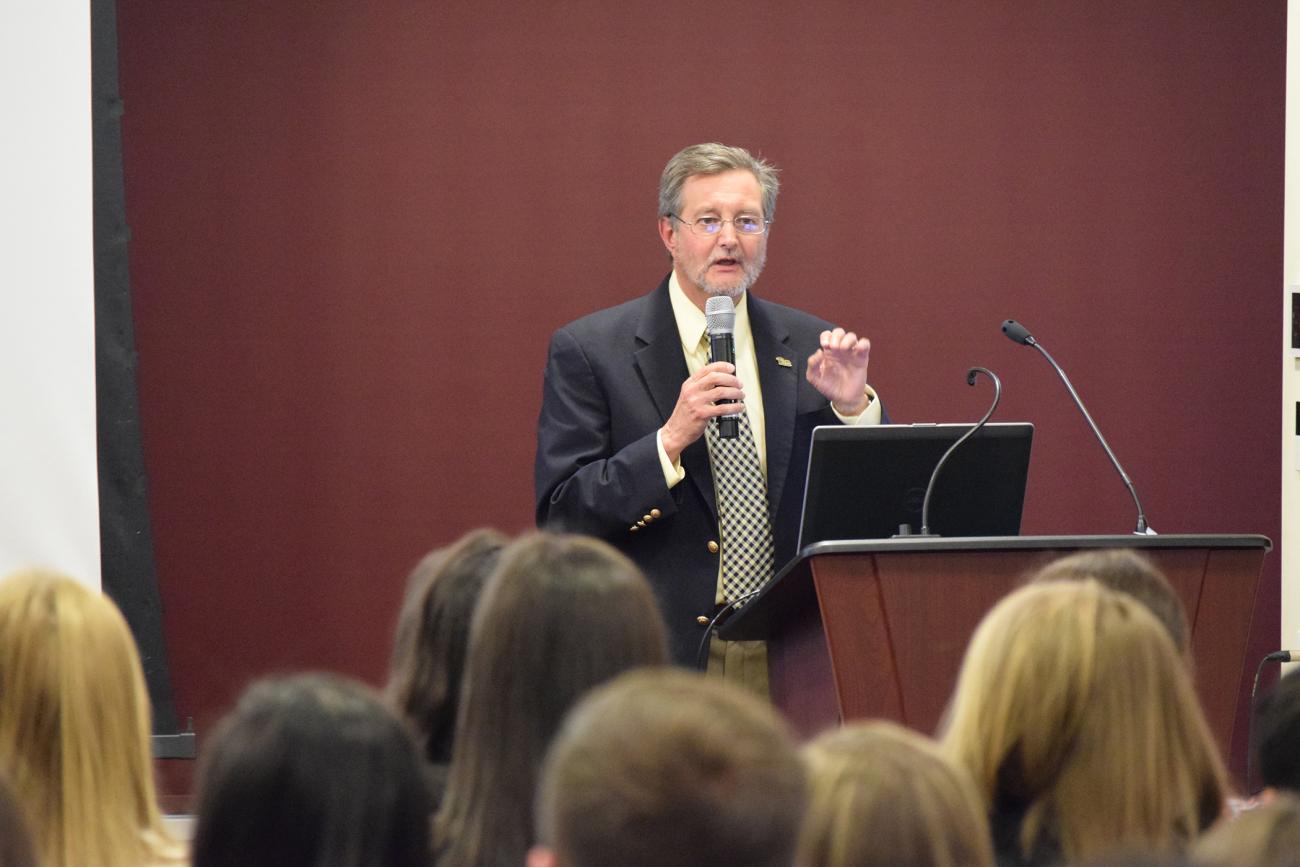 The Springfield College Department of Physical Therapy hosted the 23rd annual Greene Memorial Lecture featuring James J. Irrgang, PT, PhD, FAPTA, on Thursday, April 11, in the Cleveland E. and Phyllis B. Dodge Room in the Flynn Campus Union.
Irrgang is a professor and chair of the Department of Physical Therapy at the University of Pittsburgh. He has a secondary appointment in the Department of Orthopedic Surgery as vice chair for clinical research. Currently, Irrgang serves as the scientific director of the American Physical Therapy Association Physical Therapy Outcomes Registry.
His research interests include development and validation of patient-reported outcome measures as well as clinical research related to the knee and shoulder. Current active studies include: multicenter randomized clinical trial to determine the effects of timing of surgery (early vs. delayed) and post-operative rehabilitation (early vs. delayed) for the treatment of multiple ligament knee injuries on time to return to pre-injury activity; prospective observational study to determine the outcome and factors influencing the effects of exercise therapy for individuals with a full-thickness supraspinatus tear; and  randomized clinical trial to examine four methods of exercise for treatment of degenerative meniscus tears.
His areas of clinical expertise are related to evaluation and treatment of the knee and shoulder. Irrgang is one of the Catherine Worthingham Fellows of the American Physical Therapy Association.
Irrgang served as president of the Academy of Orthopaedic Physical Therapy from 2007-13 and was presented with its Paris Distinguished Service Award in 2015.
The Greene Memorial Lecture was initiated by Edwin Greene, a member of the Springfield College Class of 1935, in memory of his wife, Jean Greene. It is the premiere scholarly event of the Springfield College Department of Physical Therapy.
Springfield College is an independent, nonprofit, coeducational institution founded in 1885. Nearly 5,000 students, including 2,500 full-time undergraduate students, study at its main campus in Springfield, Mass., and at its regional campuses across the country. Springfield College inspires students through the guiding principles of its Humanics philosophy – educating in spirit, mind, and body for leadership in service to others.