Springfield College Hosts Arts and Humanities Speaker Series as Culmination of A Day to Confront Racism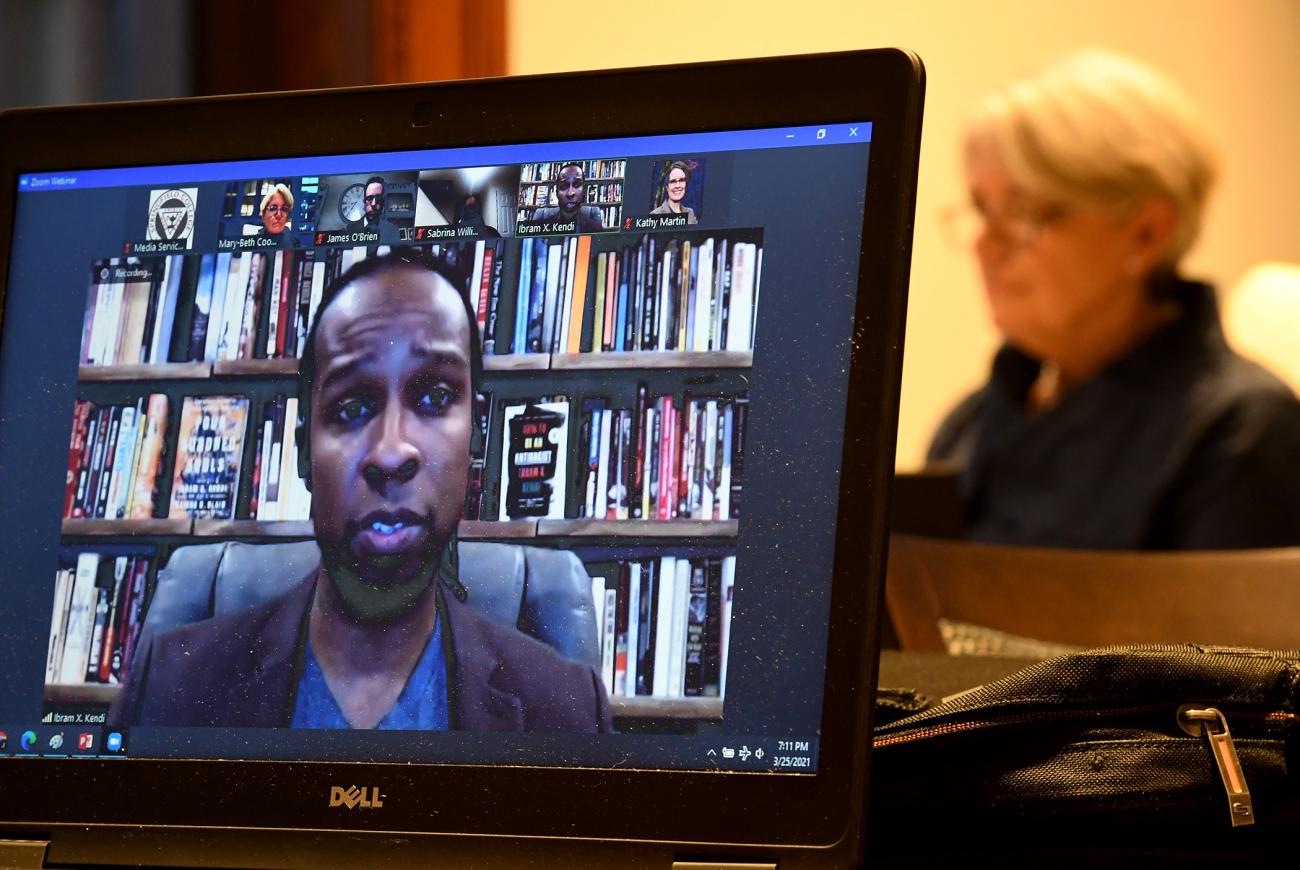 Springfield College welcomed noted antiracist scholar and bestselling author Ibram X. Kendi, and heard about his antiracism work as the featured speaker at the 2021 Springfield College Arts & Humanities Speaker Series lecture, the annual endowed Arts & Humanities Speaker Series made possible through the generosity of Carlton '63 and Lucille Sedgeley.
Following a welcome from Springfield College School of Arts and Sciences Interim Dean James O'Brien, and Springfield College Student Trustee-Elect Sabrina Williams, Springfield College President Mary-Beth Cooper and Kendi engaged in a 45-minute discussion about Kendi's work as a No. 1 New York Times bestselling author and his commitment to antiracist research.
"We were honored to have Professor Kendi as our featured speaker for this year's Arts & Humanities Speaker Series," said President Cooper. "Springfield College is committed to social justice for all, and Professor Kendi has shaped and changed the conversation around actively fighting racism."
Kendi is the Andrew W. Mellon Professor in the Humanities at Boston University, and the founding director of the Boston University Center for Antiracist Research. A contributing writer at The Atlantic and a CBS News correspondent, he also is the 2020-21 Frances B. Cashin Fellow at the Radcliffe Institute for the Advanced Study at Harvard University.
In 2019, Kendi authored the No. 1 New York Times bestselling book, How to Be an Antiracist and Stamped: Racism, Antiracism, and You, a young adult remix of Stamped from the Beginning, co-authored with Jason Reynolds. Most recently, Kendi authored the No. 1 Indie bestseller, Antiracist Baby, available as a board book and picture book for caretakers and little ones.   
Kendi's presentation was the culmination of full day of antiracist workshops and virtual seminars at Springfield College.
President Cooper asked Kendi what advice he would give to Springfield College, or any college, when striving to initiate programs that strive for equality for all.
"The advice I would give is, for the College to set the stage and truly show how deep the issues are that we are trying to fix as a campus community," added Kendi. "And, have the treatments based on exactly what the college is trying to improve, so everyone is clear on what the issues are that are trying to be fixed."
In 2016, Kendi authored Stamped from the Beginning: The Definitive History of Racist Ideas in America, which won the National Book Award for Nonfiction, and The Black Campus Movement, which won the W.E.B. Du Bois Book Prize.
"Kendi's work and his presence only strengthens our actions moving forward at Springfield College in our commitment to social justice for all," added Cooper.
Prior to Kendi's presentation, and in conjunction with the Springfield College Legacy Alumni of Color, the Springfield College community hosted A Day to Confront Racism, which featured workshops and conversations to confront racism, power, privilege, and prejudice. This date also represented the International Day of Remembrance of the Victims of Slavery and Transatlantic Slave Trade, the impetus for this daylong event.
The following is the breakdown of the four webinars that took place throughout the campus community during A Day to Confront Racism.
Discussion One Included:
The Past is Present: How the historical legacies revealed by the 1619 Project impact our professions and communities

Panelists: Keisha Green, Samantha Hamilton, and Kareem White
Springfield College Moderator: Rebecca Lartigue, PhD, Professor of English, Director of the Honors Program
The 1619 Project (texts and a podcast series published at the end of 2019), powerfully demonstrated the painful legacies of our country's "defining contradiction" that the freedom of some was built upon the enslavement of others. In this panel discussion, professionals in the fields of education, journalism, and the environment and healthcare will speak about the long-lasting legacies of white supremacy and racial disparities uncovered in the 1619 Project in their disciplines and in our communities, and how we can work to overthrow those legacies. The presentation will include time for a moderated question-and-answer session.
Green is a community-engaged scholar and critical teacher educator with research interests in English education, youth literacy practices, critical literacy, and critical pedagogy. She currently serves as an assistant professor of Teacher Education and Curriculum Studies at the UMass Amherst College of Education, where she is the co-founder and co-director of the Center of Racial Justice and Youth Engaged Research and co-editor of the highly acclaimed journal of Equity & Excellence in Education.  
Hamilton manages the Public Health Institute of the Western Massachusetts Live Well Springfield Coalition. Through this initiative, she leads the Climate Change and Health Equity Initiative, which engages policy and advocacy to create strategies that will reduce greenhouse gas emissions, improve health outcomes for those of marginalized communities based in cities and towns directly impacted by climate change, and to dismantle systemic racism.
White has worked as talent producer at ESPN for eight years specializing in the NBA, music, and entertainment. His responsibilities include booking the guests for all 27 studio shows. Previously, he worked as part of the ESPN production research staff, and in media relations/community relations for the Denver Broncos and Jacksonville Jaguars. 
John Brown: The City of Springfield Connection to this Abolitionist and Accomplice
Panelists: Joseph Carvalho III, Daryll Moss, and William Nash
Springfield College Moderator: Ian Delahanty, Assistant Professor of History
Carvalho is co-editor of the Springfield Republican newspaper Heritage Book Series. He is retired president and executive director (1994–2010) of the Springfield Museums in Springfield. Carvalho is the author of Black Families in Hampden County, Massachusetts: 1650-1865 (2011), and Struggle for Freedom: The History of African Americans in Western Massachusetts (2013). He served as writer and editor of 22 other titles in the Heritage Book Series of the Republican.
Moss currently serves as the executive director of the Afro Renaissance Arts Society in Springfield, Mass. He is responsible for overseeing the administration, programs, and strategic plan of the organization as well as fundraising, marketing, and community outreach. Moss worked as director of Constituent Services for the city of Springfield for 12 years and was involved in a broad range of day-to-operations and activities. Moss acted as liaison to residents, elected officials, local businesses, community groups and organizations, and federal and state agencies.
Nash is professor of American Studies and English and American Literatures at Middlebury College. He is the author of Charles Johnson's Fiction (2002) and co-author and co-editor of Charles Johnson: The Novelist as Philosopher (2007). The recipient of three grants from the National Endowment for the Humanities, Nash's current research focuses on representations of "the Holy Trinity of abolition:" Frederick Douglass, Harriet Tubman, and John Brown.
A Moderated Dialogue with Members of the Legacy Alumni: Moving the Needle
Panelists: Donald Brown '69, EdD; Teresa Burr '70, G'73; and Richard Griffin '73
Springfield College Moderator: Ian Delahanty, Assistant Professor of History
Brown brings nearly 50 years of experience conceptualizing, developing, and implementing comprehensive academic support programs aimed at student retention. He is adept at developing mentoring opportunities to increase student and staff satisfaction. Brown is the founder and CEO of Brown and Associates Education & Diversity Consulting. His firm focuses on assisting middle schools, high schools, and two- and four-year colleges and universities in efforts to create welcoming environments aimed at ensuring the enrollment, retention, and graduation of first-generation, low-income students of color.
Burr spent most of her career in education. She served as director of Continuing Education (Evening College) at Springfield College for four years. From there she went from serving 300 students to 3,000 students at Springfield Technical Community College (STCC) where her jobs over 36 years included as academic dean in the School of Liberal Arts Transfer and General Studies until her retirement in 2012. Her responsibilities at STCC allowed her to work directly with the urban community and to assist Greater Springfield residents reach their educational goals.
Griffin has more than 45 years of experience in the human relations field, including in program development, community relations, leadership development, family resources programming, higher educational preparation, and employment skills training. Griffin's other work included as program director and recreation coordinator with After School College Access Programs, and as a parent coordinator for Gramercy Arts High School.
Campus Climate: A Moderated Conversation with Students
Springfield College Moderators: Felicia Lundquist, Director of Multicultural Affairs, and Stephanie Logan, EdD, Associate Professor of Education and Chair of the Department of Education
During this webinar, student panelists addressed the following questions:
How can we find more ways to engage students in these discussions about race when so many students are feeling Zoom fatigue?

What is necessary to keep the conversation and actions going when we return to campus in the fall?

What makes someone a good ally?

  

What are the necessary steps needed to reduce racial injustice on campus?

What keeps Springfield College students from truly listening to their BIPOC colleagues and believing their experiences with racism on campus? 

  
Springfield College is an independent, nonprofit, coeducational institution founded in 1885. Approximately 4,100 students, including 2,500 full-time undergraduate students, study at its main campus in Springfield, Mass., and at its regional campuses across the country. Springfield College inspires students through the guiding principles of its Humanics philosophy – educating in spirit, mind, and body for leadership in service to others.