Springfield College Hosts Athletic Administration Leadership Series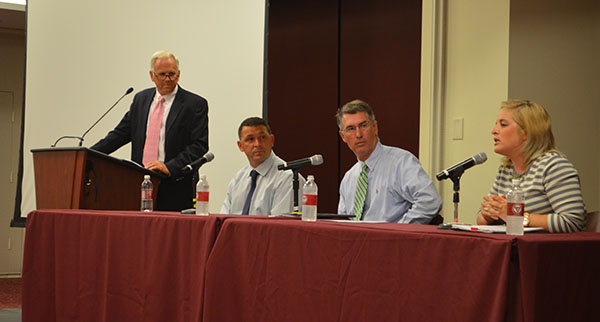 The Springfield College Athletic Administration Graduate Program hosted its leadership series titled, "High School Athletics: A Changing Frontier," on Wednesday, Sept. 23, in the Cleveland E. and Phyllis B. Dodge Room located in the Flynn Campus Union.
The event featured panelists Kacey Scroggins, Watertown (CT) High School Athletic Director, Jim Blain, Coordinator of Athletics for Chicopee and Chicopee Comprehensive high schools, and Mark Conroy, Williston Northampton School Director of Athletics.
The trio navigated the changing field of high school athletics and shared tips for a successful career in high school athletics. The discussion also offered insight on the differences between working in public and private schools, how the field has changed, and the future of high school athletics.
Moderated by Lou Conte, executive secretary for the Pioneer Valley Interscholastic Athletic Conference and former director of athletics at Agawam High School, the evening also touched upon topics such as dealing with parents, social media issues, and assisting student-athletes with injuries.
Launched in the spring of 2011, the Athletic Administration Leadership Series is held each semester and alternates a focus between high school and intercollegiate athletics.
Founded in 1885, Springfield College is known worldwide for the guiding principles of its Humanics philosophy—educating students in spirit, mind and body for leadership in service to others. With its foundation of academic excellence and rich athletic heritage, Springfield College prepares students with real-world leadership skills for careers that transform lives and communities. The college offers a range of undergraduate and graduate degree programs in the fields of health sciences, human and social services, sport management and movement studies, education, business, and the arts and sciences. It also offers doctoral programs in physical education, physical therapy, and counseling psychology. The college is ranked in the 2016 edition of "Best Colleges" in the top tier of "Best Regional Universities – North Region" by U.S.News & World Report, and is designated as a premier Leadership Development Center by the YMCA of the USA. More than 5,000 traditional, nontraditional and international students study at its main campus in Springfield, Mass., and at its School of Professional and Continuing Studies across the country.