Springfield College Hosts Dedication Ceremony for Harold C. Smith Learning Commons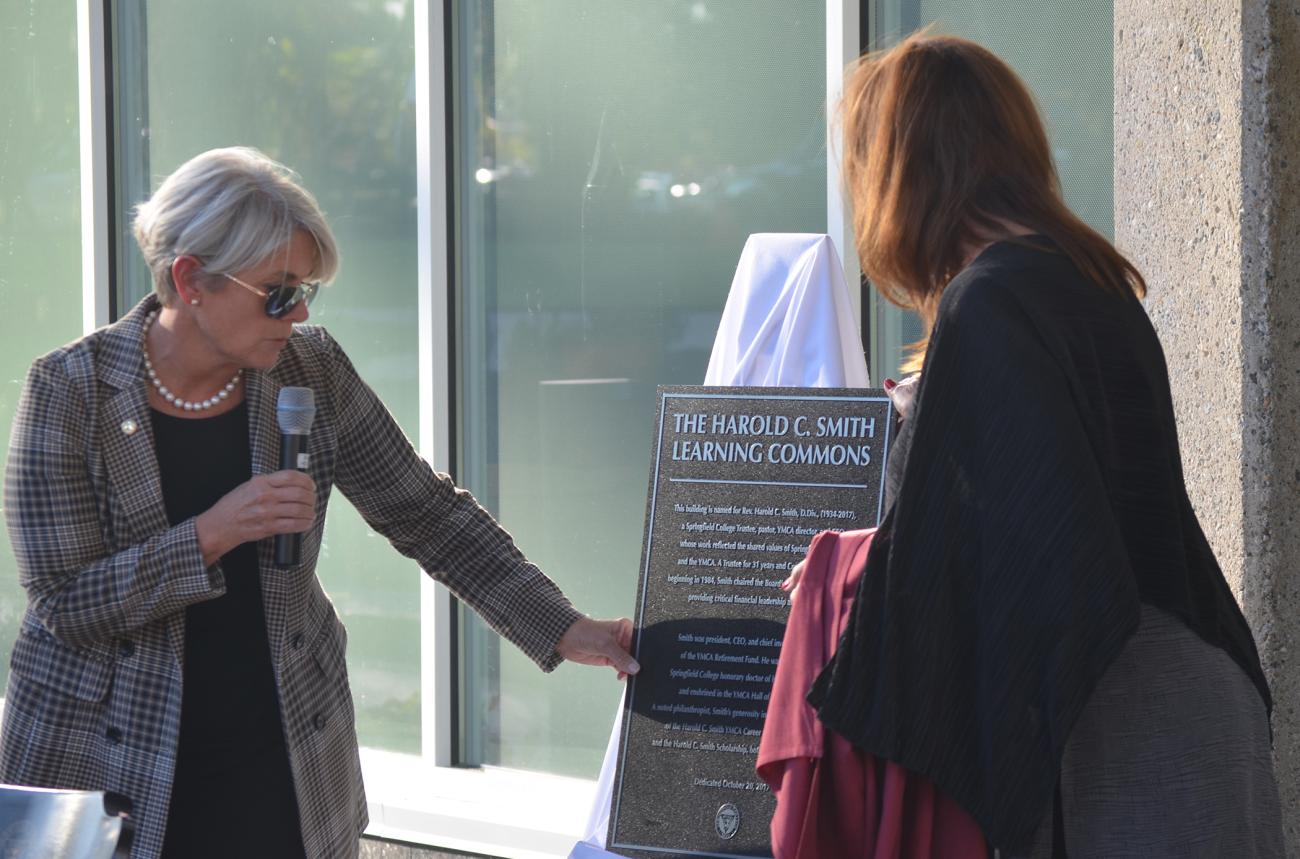 Springfield College hosted an official dedication of the Harold C. Smith Learning Commons on Friday, October 20, 2017. The dedication featured a ribbon-cutting ceremony led by Springfield College Provost and Vice President for Academic Affairs Martha A. Potvin; Chair of the Board of Trustees Gregory C. Toczydlowski; Springfield College President Mary-Beth A. Cooper; Chair of the Faculty Senate Julie M. Smist; Springfield College Student Trustee Donavin Andrews; and Harold C. Smith Foundation Representative Nancy Opalack.
Renovations of the College's 45-year-old library began in August 2016, with the new facility officially opening at the start of the 2017 fall semester. Reflecting 21st century library innovations, the learning commons has become the heart of the College's academic program, providing beautiful facilities where students and faculty can study, research, work in groups, and receive writing and other academic support. The new facility includes a 24-hour reading room, and is home to the College's Academic Success Center.
Since the new learning commons opened at the start of the fall semester, current students have been taking advantage of the state-of-the-art amenities the facility has to offer.
Harold C. Smith was a valued member of the Springfield College Board of Trustees for more than three decades, and served as chair of the board's investment committee for 25 of those years. Under his leadership, and through his investment expertise and strategy, the college's endowment experienced unprecedented growth through a diverse portfolio. Smith was recognized for his dedication and commitment to serving others in the Springfield College tradition when he was awarded the Springfield College Honorary Doctor of Humanics degree in 1998. He is enshrined in the YMCA Hall of Fame located on the college campus.
More on ICON Architecture's role with Springfield College Learning Commons
Transforming a 1971 Brutalist-style library into a modern Learning Commons effectively requires turning the building inside out. The facility was a mid-century modern library building with all the issues that this era of buildings entails - rigid structure designed to house books, limited day light, deep building footprint, leaky envelope, etc. Transforming the interior of this historic building type to create contemporary student environments requires understanding:
21st century student needs and expectations. Social learning environments of today are varied, lively, a bit noisy, flexible, technologically seamless, with a high level of visual connectivity.

How to create healthy, inclusive, and sustainable interior environments. Well-being is fostered by understanding the value of thoughtful artificial 

lighting, flexible and comfortable furnishings, full accessibility, thermal and acoustical comfort, and color and finish selections.

 

Pedagogies that shape the need for spaces and furnishings that support collaboration, active, and project-based learning methodologies.

Furniture options that are durable, adaptable, movable, and comfortable. This type of project is furniture intensive!

Power, data distribution, and AV options that will work in the existing building without requiring extensive demolition.

To achieve the above, the Springfield College Learning Commons project developed a wholly new program with a broad range of student environments. The existing building limitations were addressed with:

Proprietary under-carpet electrical distribution (Thread by Steelcase).

 

A sustainable factory-built interior partition system with integral power, AV, and data (DIRTT Wall Systems).

Reuse of existing MEP shafts and well-integrated/coordinated ceiling cavities - no small feat in a building with 12'-6" floor-to-floor heights.