Springfield College Hosts "An Evening with Mitch Albom"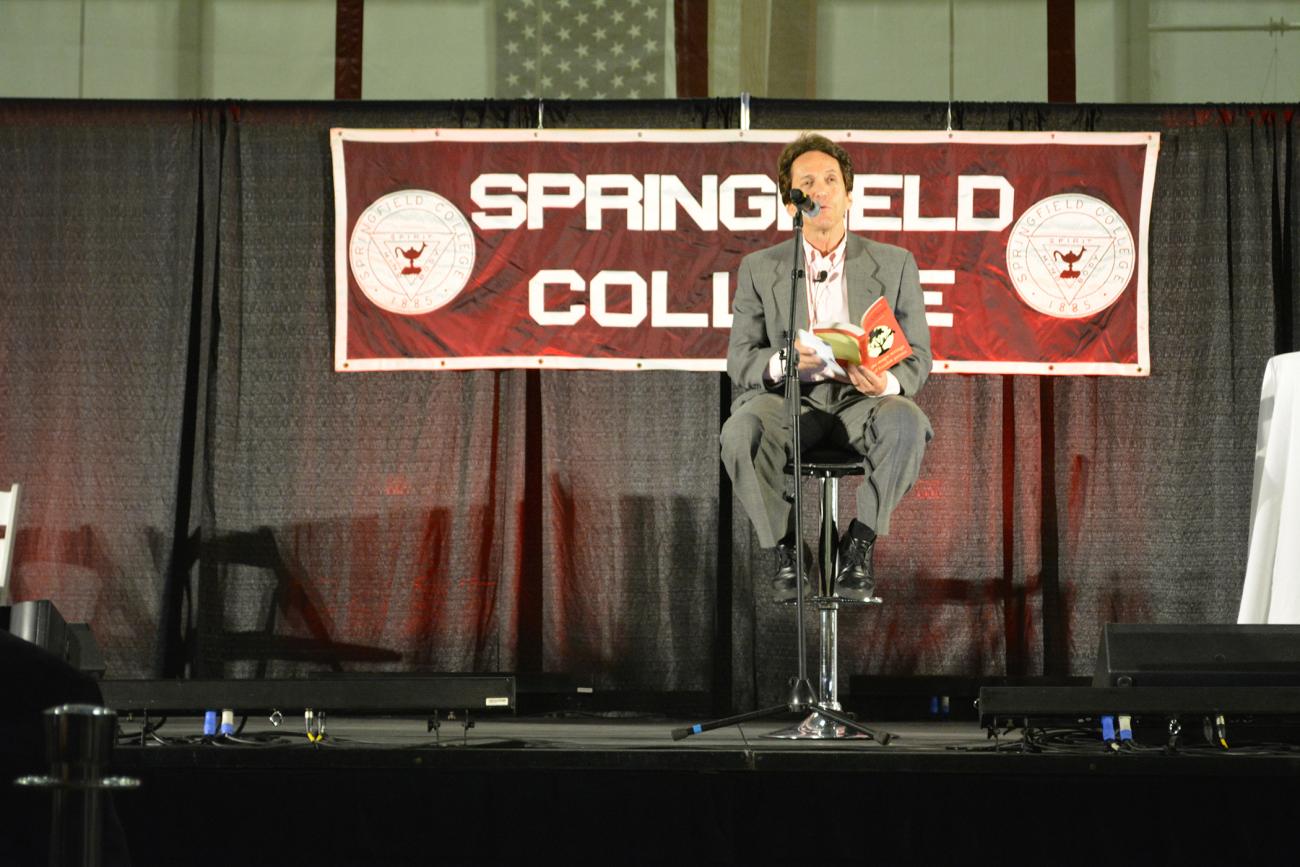 Springfield College hosted more than a thousand attendees to "An Evening with Mitch Albom" on Thursday, Oct. 19, as part of the college's 4th Annual Arts and Humanities Speaker Series Event.
New York Times best-selling author, philanthropist, columnist, and sports reporter Mitch Albom spoke about his life's work, including helping to rebuild Haiti's future after a devastating earthquake in 2010.  As a result of visits to Haiti and observing the numbers of orphaned children in extreme need, Albom became very involved in supporting one orphanage, in particular, which he currently directs.
While on campus, Albom was especially interested to learn that Springfield College Physical Therapy students and faculty travel to Haiti each spring to participate in global health service trips working as volunteers at the Haitian Foundation of Rehabilitation (FONHARE) clinic located in the town of Ouanaminthe. He also quickly identified the uniqueness and strength of Springfield College's own commitment to service, via our mission to provide leadership and service to others. During his talk, he shared a line from Morrie Schwartz that has been particularly inspiring to him in his own life since visiting with Morrie in the final months of his life: "Giving is living."  
Following the talk, President Cooper presented Mitch with a stuffed animal made by one of our students with a personalized note to bring back to the orphanage and also shared with him our plans to send 46 more of the student-made stuffed animals so that every one of "Mitch's children" would receive one.  Albom was visibly moved and remarked that he valued this gift beyond all others that he has received while speaking around the country.  He invited our students to come visit the orphanage so that they can meet his children and assist in the orphanage's work.  Springfield College plans to send a student group to the orphanage in the near future.
The Arts and Humanities Speaker Series is made possible through the generosity of Carlton '63 and Lucille Sedgeley.