Springfield College Hosts Fourth Annual Sports and Social Justice Symposium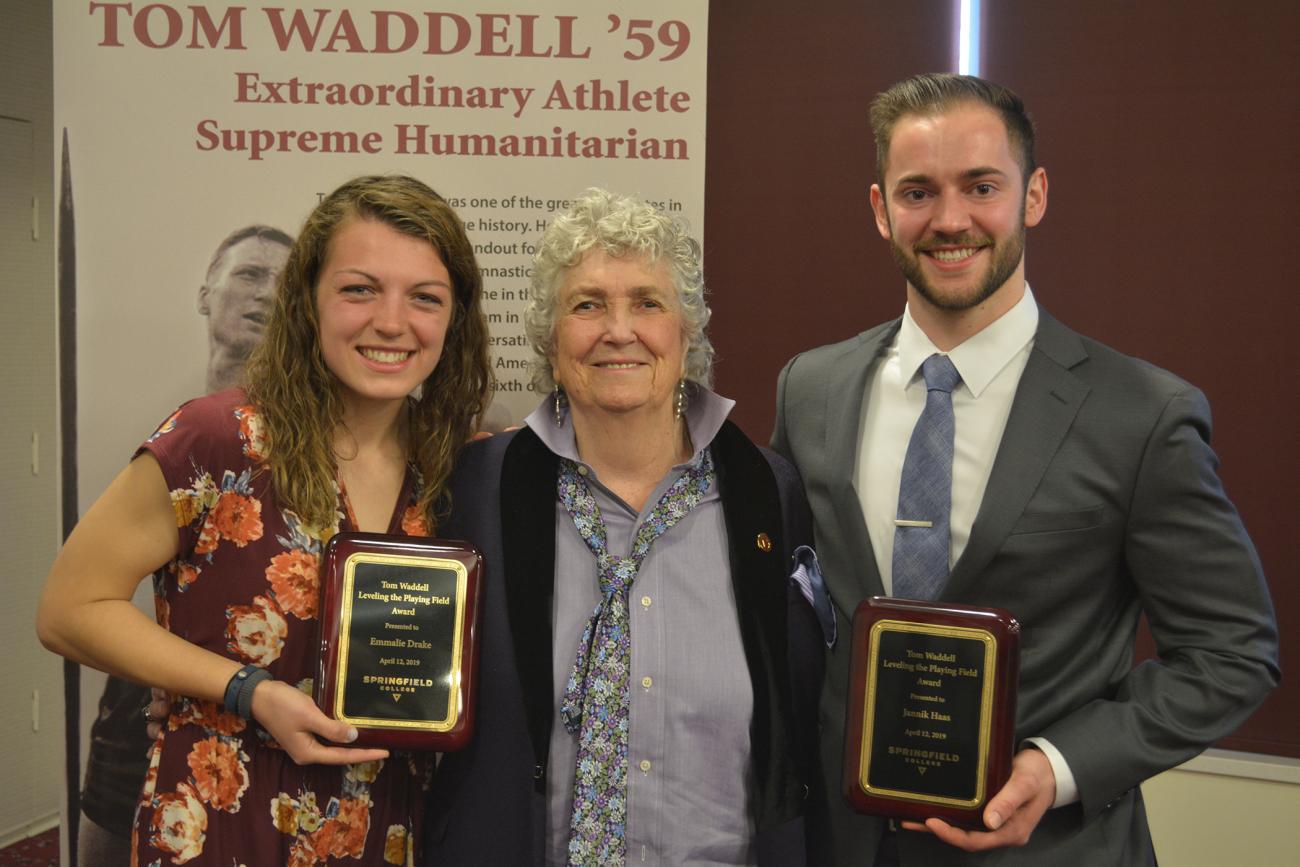 Springfield College hosted its fourth annual Sports and Social Justice Symposium on Friday, April 12, in the Cleveland E. and Phyllis B. Dodge Room in the Flynn Campus Union. The event featured a keynote conversation with Professor Mimi Murray, who is a Springfield College legendary educator, coach, and crusader for gender equity. 
Murray came to Springfield College as a student in the fall of 1957, and is now getting ready to retire as the longest-serving faculty member. Murray started her presentation remembering Springfield College graduate Tom Waddell '59, who was an accomplished athlete (sixth in the decathlon in the 1968 Olympics), a medical doctor, an army paratrooper, the founder of the Gay Games, and a lion for social justice. Murray and Waddell knew each other during their student days. The annual Sports and Social Justice Symposium is supported by the Dr. Tom Waddell '59 Fund. For more information on the fund, or to make a gift, visit springfield.edu/giving.
Moderated by Springfield College Communications Professor Martin Dobrow, Murray went on to discuss her six years as head coach of Springfield College women's gymnastics. Murray's teams were undefeated in dual meet competition, won five Eastern Championships, and three Division I National Championships. Murray coached the USA Team for the World University Games, was named "Coach of the Year" in gymnastics, and has been a commentator for ABC's Wide World of Sports and NBC's Sportsworld. She has been recognized by the Women's Sports Foundation as one of five "pioneers" in women's athletics. Her textbook, Gymnastics for Women, is considered an authoritative source in sport.
In addition, Murray went on to discuss her role as a sport psychology consultant, having served with the USA Equestrian Team (Los Angeles Games), USA Field Hockey Team (Atlanta Games), and worked with many professional, collegiate, and high school athletes and coaches.
Murray will leave behind a remarkable legacy as a legendary coach of gymnastics, a pioneer in sport psychology, and a crusader for gender equity. She has served in numerous national leadership positions, and was a Distinguished Springfield Professor of Humanics in 2007-08.
Tom Waddell Leveling the Playing Field Award
Following Murray's presentation was the announcement of the 2019 student-athlete recipients of the annual Tom Waddell Leveling the Playing Field Award. This year's award winners were Jannik Haas and Emmalie Drake. This special award goes to student-athletes who have worked diligently to build a more fair and just world. Haas is a Mathematics major and a member of the Springfield College Men's Gymnastics team. Drake is a Physician Assistant major and a member of the Springfield College Field Hockey Team.
 
Springfield College is an independent, nonprofit, coeducational institution founded in 1885. Nearly 5,000 students, including 2,500 full-time undergraduate students, study at its main campus in Springfield, Mass., and at its regional campuses across the country. Springfield College inspires students through the guiding principles of its Humanics philosophy – educating in spirit, mind, and body for leadership in service to others.