Springfield College Hosts Tom Waddell Day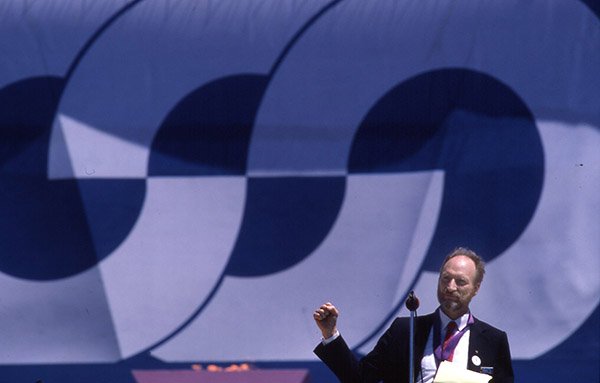 Springfield College celebrated "Tom Waddell Day" on Friday, April 17 in the Flynn Campus Union. The festivities paid homage to Waddell's life and commitment to Humanics and diversity.
As part of the celebration, there was a film tribute featuring Waddell's famous interview on ABC's 20/20, a panel discussion led by his contemporaries, and the dedication of a plaque commemorating Waddell's humanitarian contributions, including the creation of the Gay Games. Delivering the keynote address was Springfield College graduate student Rob Kearney, a strongman champion and the first openly gay man to actively compete in his sport at the international level.
Joining Kearney for the festivities was Jeffry Pike, a member of the Federation of the Gay Games, Waddell classmates from the Class of 1959 Jack Savoia, Tom Johnson, Owen Houghton, Springfield College faculty members Mimi Murray, Rick Paar, and the founder of the Springfield College Tom Waddell Fund Phyllis Plotnick.
Waddell, who passed away in 1987, was an outstanding athlete, excelling in track and field, gymnastics, and football as a student at the College. Waddell is best known as the founder of the Gay Games, started in 1982 and held every four years since. The Gay Games welcomes more than 8,000 athletes—regardless of sexual orientation, race, gender identity, religion, sex, ethnic origin, athletic ability, or political beliefs—from 47 countries to compete in an inclusive environment.
Waddell represented the United States in the decathlon in the 1968 summer Olympics, where he placed sixth. He also was an infectious disease specialist and provided medical service for many years in Africa, Asia, and Saudi Arabia, and served in the U.S. Army. He was inducted into the Springfield College Athletic Hall of Fame in 1990.
For more information regarding Tom Waddell Day, check out springfieldcollege.edu/waddellday.
Founded in 1885, Springfield College is known worldwide for the guiding principles of its Humanics philosophy—educating students in spirit, mind and body for leadership in service to others. With its foundation of academic excellence and rich athletic heritage, Springfield College prepares students with real-world leadership skills for careers that transform lives and communities. The college offers a range of undergraduate and graduate degree programs in the fields of health sciences, human and social services, sport management and movement studies, education, business, and the arts and sciences. It also offers doctoral programs in physical education, physical therapy, and counseling psychology. The college is ranked in the 2015 edition of "Best Colleges" in the top tier of "Best Regional Universities – North Region" by U.S.News and World Report, and is designated as a premier Leadership Development Center by the YMCA of the USA. More than 5,000 traditional, nontraditional and international students study at its main campus in Springfield, Mass., and at its School of Human Services campuses across the country.