Springfield College On the Rise Again in Top Tier of U.S.News & World Report Rankings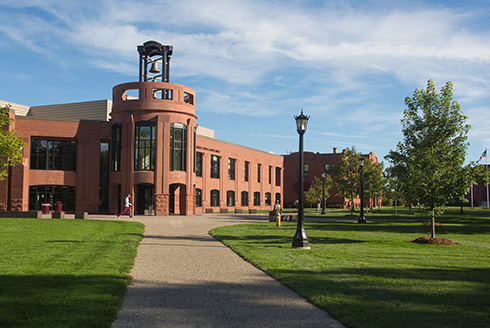 Springfield College has once again moved up the list of highest ranked colleges in the influential U.S.News & World Report's latest edition of "Best Colleges."  In the 2016 report, released today, Springfield College is ranked 29 in the first tier in the category of Best Regional Universities – North. There are 138 colleges in the first tier and 180 overall in the category.
This marks the fifth consecutive year that Springfield College has moved up in the U.S.News & World Report rankings. This year's ranking of the College is up two spots from last year, eight spots from two years ago, 26 spots from three years ago, 31 spots from four years ago, and 38 spots from five years ago.
"I am extremely proud that Springfield College is being recognized for our outstanding academic offerings and a rich co-curricular life outside of the classroom," said Springfield College President Mary-Beth Cooper. "The rise in our ranking over the past five years demonstrates that the value proposition for a school like Springfield College, grounded in the Humanics philosophy, is well regarded."
Springfield College's rise in the rankings is spurred by improved graduation rates and improved retention of first-year students.
"We are always pleased to be recognized for the quality education we offer our students," said Springfield College Provost and Vice President for Academic Affairs Jean Wyld.  "Since these ratings consider metrics such as the graduation rate, it is great to have our focus on student success recognized." 
The ratings are based on such variables as peer assessment, graduation and retention rates, student selectivity, class size, alumni giving, and student-faculty ratio.
Founded in 1885, Springfield College is known worldwide for the guiding principles of its Humanics philosophy—educating students in spirit, mind and body for leadership in service to others. With its foundation of academic excellence and rich athletic heritage, Springfield College prepares students with real-world leadership skills for careers that transform lives and communities. The college offers a range of undergraduate and graduate degree programs in the fields of health sciences, human and social services, sport management and movement studies, education, business, and the arts and sciences. It also offers doctoral programs in physical education, physical therapy, and counseling psychology. The college is ranked in the 2016 edition of "Best Colleges" in the top tier of "Best Regional Universities – North Region" by U.S.News & World Report, and is designated as a premier Leadership Development Center by the YMCA of the USA. More than 5,000 traditional, nontraditional and international students study at its main campus in Springfield, Mass., and at its School of Professional and Continuing Studies across the country.