Springfield College Receives $2.4 Million Dollar Gift From Alumni Sherry Kopko Ruth '74 and Bill Ruth '74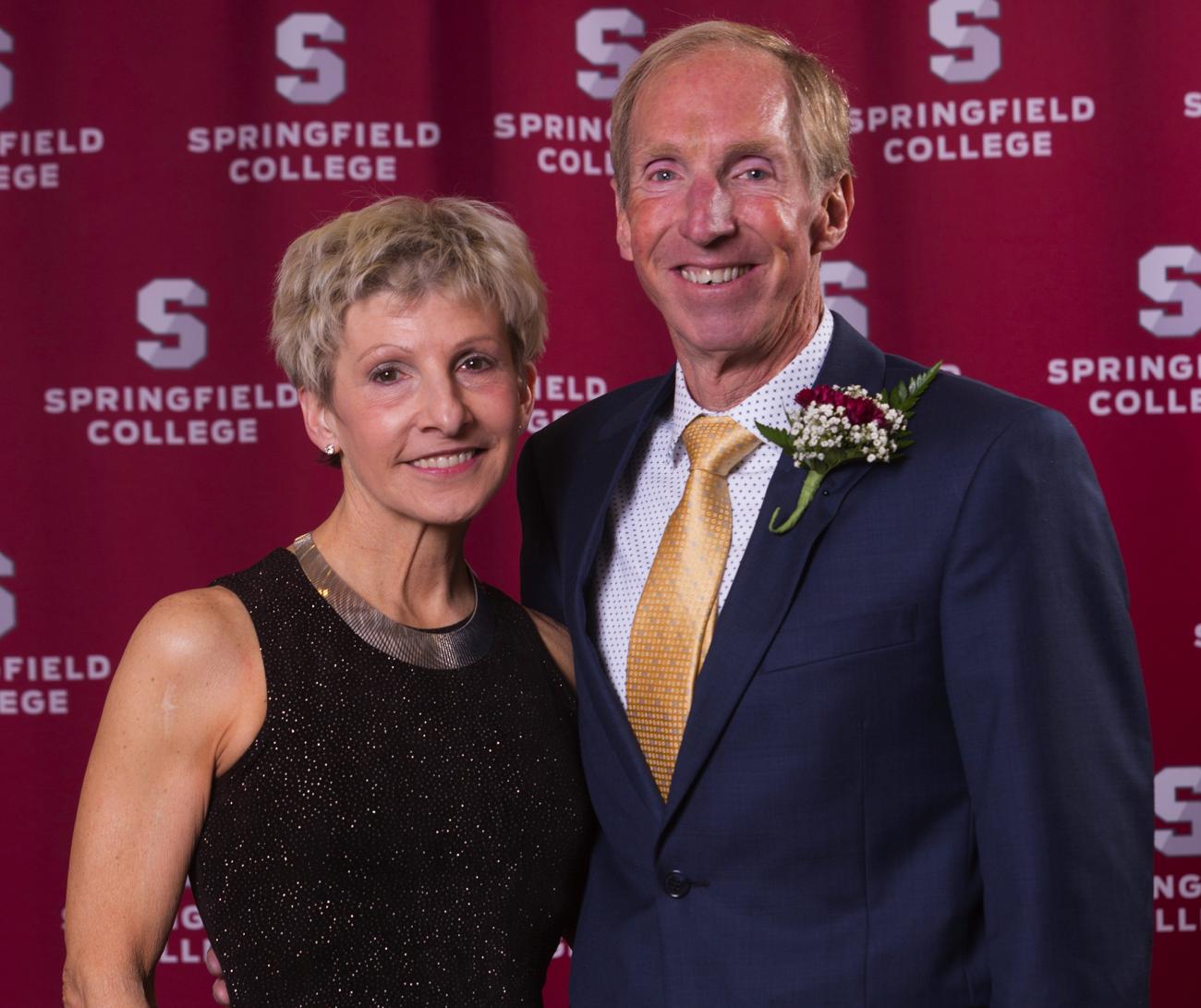 By: Damon Markiewicz
Both Sherry Kopko Ruth '74 and Bill Ruth '74 knew from an early age that they had a passion for careers in physical education and health education, and they strived to assist with teaching and coaching youth. 
Born and raised only 75 miles apart in small towns in Pennsylvania, it was Sherry and Bill's journey to Springfield College that would allow them to find each other, and build a life together that has been focused on mentoring youth, and promoting a healthy, well-balanced life.
"We were both competitive swimmers, and it's amazing to look back and realize that we attended so many of the same swim meets when we were kids, starting at 10 years old," explained Sherry. "But it wasn't until our time together at Springfield College where we started just an amazing life together."
Both Sherry and Bill learned at an early age that Springfield College was the perfect fit for them. By the age of eight years old, Sherry knew she wanted a career as a physical education teacher. 
"There aren't too many individuals who can say they know what they want to do by the age of eight, but I did, and as I got older, I knew Springfield College was the best school to attend to get a degree in physical education," explained Sherry.
And for Bill, it was at the age of 13 where he witnessed a presentation by long-standing Springfield College swimming coach and faculty member Charles "Red" Silvia '34, G'40, and alumnus Bill Yorzyk '54, when he realized he wanted to swim for Springfield.
"I wanted to swim for the best, and Coach Silvia and Bill Yorzyk were the best," explained Bill. "I also swam the butterfly stroke, so of course I wanted to swim at Springfield knowing Yorzyk was an Olympic gold medalist, the first gold medalist in butterfly, when he won it in 1956."
Both Sherry and Bill were All-America swimmers during their time on Alden Street. They would go on to have decorated careers as teachers and coaches, combining for nine Who's Who of American Teachers and Educators recognitions while mentoring countless students and athletes.
Bill worked as a physical education teacher and cross country and swim coach for more than 30 years at the same high school he graduated from in Bethlehem, Pa.
"Working at the high school level was the perfect fit for me because that's when you can really have any impact on an individual's life," said Bill. "Coming out of college, I had an opportunity to coach swimming at the college level, but working with high school students was so rewarding, and I really loved it."
Sherry also enjoyed a long-standing career of teaching and coaching, including more than 16 years at the middle school level. In addition, Sherry coached swimming at the Allentown, Pa. YMCA, and both Sherry and Bill helped start up the Bethlehem, Pa. Aquatic Club.
"It really was a blessing for us to stay in Pennsylvania and have the physical education and coaching careers we had," said Sherry. "Attending Springfield College really gave Bill and me an advantage in our teaching and coaching because we had a hall of fame of faculty at Springfield College that we learned from."
Paying it Forward
Because of their affinity for Springfield College, Sherry and Bill recently made a significant philanthropic contribution of $2.41 million to the College, which will help propel the College's mission to even greater heights.
"The best 'personal' benefit that Springfield College provided for us, is that we found each other the second day of freshman week - and that chance mee­­ting has given us a wonderful 53 years together, both personally and professionally," said both Sherry and Bill, who now reside in Colorado.
Living a healthy life and promoting the importance of physical education has been at the centerpiece of their life together. Bill and Sherry have both trained and competed in competitive triathlons together, with Sherry also competing in national body-building exhibitions.
"The education and positive experiences we had at Springfield College have transcended every aspect of our lives to make it happy and fulfilling. We will be forever grateful for that," added Sherry and Bill.
The $2.41 million gift reinforces the College's commitment to providing a transformative educational experience to its students. Springfield College has long been recognized for its unwavering dedication to fostering social responsibility and creating leaders who are not only accomplished in their fields, but also driven by empathy and service.
In fact, Bill recaps that the second most proud moment of his life was being inducted into the Springfield Athletics Hall of Fame, but his most proud moment was surprising Sherry in having a scholarship named in her honor, that is awarded annually to a female Springfield College student. 
"We are humbled and deeply grateful for this remarkable gift, which will be transformative in the lives of future Springfield College students," said Mary-Beth Cooper, President of Springfield College, who surprised Bill and Sherry in Colorado with a visit in July of 2023. "At their core, Bill and Sherry are true educators who have given their lives to the betterment of others. Their passion for Springfield College and making an impact through their efforts as teachers and coaches make them a prime example of leading in service to others and being guided by our Humanics spirit."
The Ruth's contribution stands as a testament to the enduring spirit of giving and philanthropy, and reinforces the critical role that private support plays in the growth and success of higher education institutions like Springfield College.
"Upon reflecting on the people, places, and experiences that have shaped how we have been able to live our lives, Springfield College is at the top of our list," said Sherry. "The Springfield College community and its mission needs alumni support, to whatever degree, in whatever way, to ensure that the College can continue to produce the quality people and professionals that truly make a positive difference in the world."
And throughout their impressive careers, both Sherry and Bill made sure to bring the lessons they learned at Springfield, out into their communities.
"At Springfield College, individuals support each other and encourage each other to accomplish great things," concluded Sherry. "It's that culture of togetherness and family that we always felt at Springfield, and for more than 40 years in our careers, we always wanted the youth we were leading to feel that same type of togetherness and family. To both Bill and I, that's what makes Springfield College really special, that sense of togetherness and family that lasts a lifetime."