Springfield College Receives Community Engagement Classification by Carnegie Foundation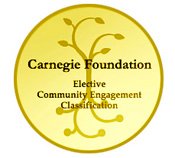 Springfield College has been recognized by the Carnegie Foundation as one of a select group of colleges and universities throughout the country to earn its community engagement classification. This classification recognizes Springfield College for its curriculum, which involves students and faculty addressing community needs, as well as outreach and partnerships that benefit the external community and the campus community.
"This classification is highly respected and valued by the higher education community," said Springfield College Provost and Vice President for Academic Affairs Jean A. Wyld.  "The essence of a Springfield College education is preparing students for careers and personal lives that improve the lives of other people and this classification attests to that mission."
Springfield College is one of 361 institutions that now hold the community engagement classification.  This honor represents a higher education institution's excellent alignment among mission, culture, leadership, resources, and practices that support dynamic and noteworthy community engagement.
There are many examples of community engagement initiatives sponsored by Springfield College in Springfield on the main campus, and at the College's nine regional campuses.  One of the largest programs in Springfield is the AmeriCorps program, through which students serve as academic coaches for school children, as well as counselors and health case managers for community agencies.
The Carnegie Foundation introduced the community engagement classification in 2006 as part of restructuring The Carnegie Classification of Institutions of Higher Education. The basic classifications rely on national data to categorize all U.S. colleges and universities by what they teach, characteristics of their student body, and their size and location. It is popularly known as the source of categories of institutions in the U.S.News & World Report annual "America's Best Colleges" issue. 
Unlike the foundation's basic classifications, the community engagement classification is elective. Institutions may apply by documenting the nature and extent of their involvement with the community, local or beyond. The category enables the foundation to address characteristics of the institution's mission and distinctiveness that are not represented in national data.
Founded in 1885, Springfield College is known worldwide for the guiding principles of its Humanics philosophy—educating students in spirit, mind and body for leadership in service to others. With its foundation of academic excellence and rich athletic heritage, Springfield College prepares students with real-world leadership skills for careers that transform lives and communities. The college offers a range of undergraduate and graduate degree programs in the fields of health sciences, human and social services, sport management and movement studies, education, business, and the arts and sciences. It also offers doctoral programs in physical education, physical therapy, and counseling psychology. The college is ranked in the 2015 edition of "Best Colleges" in the top tier of "Best Regional Universities – North Region" by U.S.News & World Report, and is designated as a premier Leadership Development Center by the YMCA of the USA. More than 5,000 traditional, nontraditional and international students study at its main campus in Springfield, Mass., and at its School of Human Services campuses across the country.