Springfield College Recognized by Springfield School Volunteers for Outstanding Support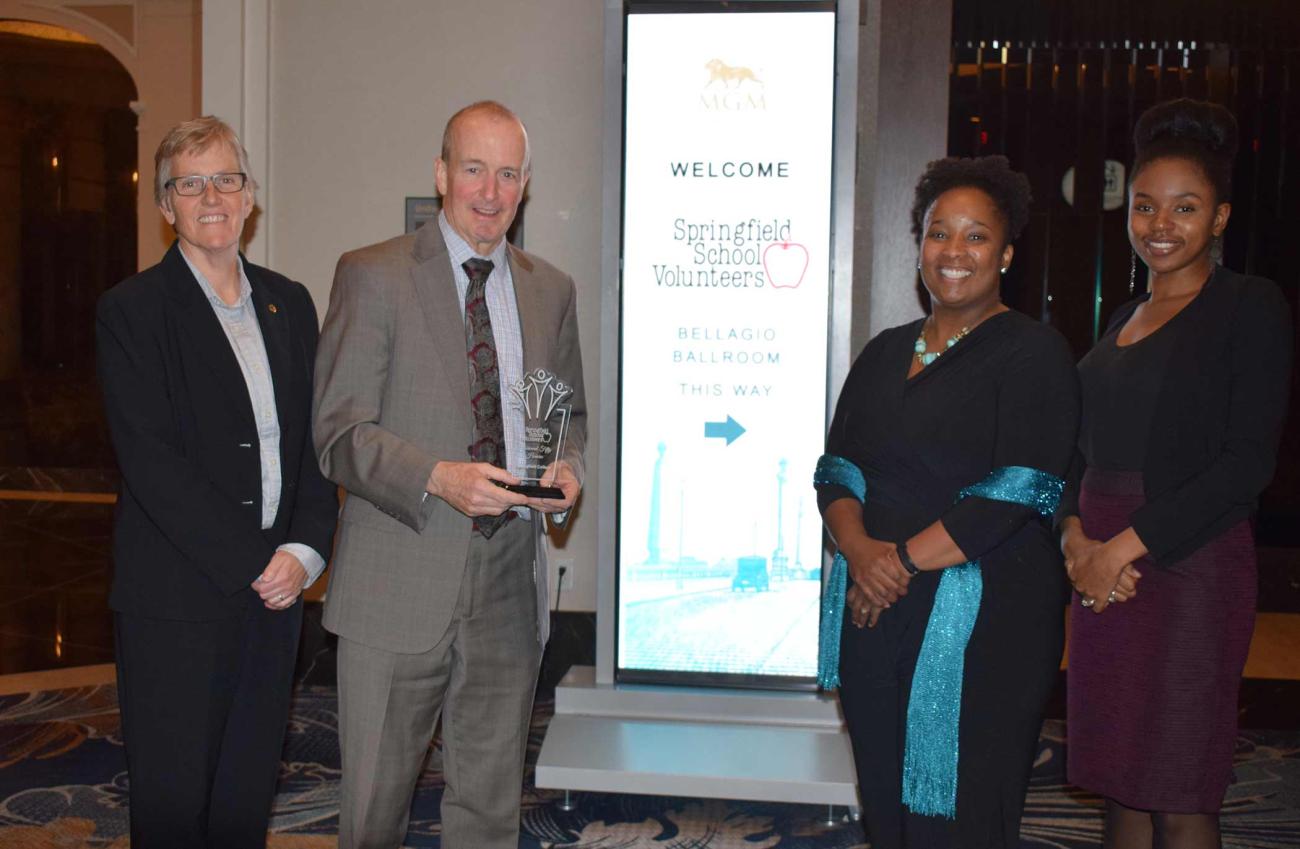 Springfield College was recently recognized for its outstanding support of the Springfield School Volunteers (SSV) during the SSV's Golden Anniversary Gala on Wednesday, Nov. 20, 2019, at MGM Springfield. Representing Springfield College at the Gala were Vice President for Student Affairs Patrick Love, Director of the Center for Service and Leadership Charlene Elvers, Director of AmeriCorps LaTonia Naylor, and Assistant Director of AmeriCorps Murielle Gatewood.
Springfield College has a long-standing relationship with the Springfield School Volunteers with thousands of students volunteering in Springfield Public Schools through the College's Center for Leadership and Civic Engagement and the Springfield College AmeriCorps program.
Springfield College students have led mentoring programs with students at the William N. DeBerry Elementary School, Elias Brookings School, and Kensington Avenue Elementary School. The Partners Program and the Brookings Learning and Success Team (B.L.A.S.T.) program provide both academic and social support for Brookings and DeBerry students.
For more than 20 years, the Springfield College AmeriCorps program has provided the city of Springfield and Springfield Public Schools with student support and academic support specialists who provide mentoring, counseling, social-emotional reinforcement, direct interventions, and identification of risk factors that lead to dropping out of school. The Springfield College AmeriCorps program is the largest in Western Massachusetts.
The mission of Springfield School Volunteers is to facilitate learning-focused community involvement in support of the Springfield Public Schools' goal of ensuring that every child attains a high level of academic achievement. SSV is a non-profit organization that has been matching the resources of the community with the needs of the Springfield Public Schools since 1969. Each year more than 2,000 individuals volunteer in the Springfield Public Schools.
Springfield College is an independent, nonprofit, coeducational institution founded in 1885. Approximately 4,100 students, including 2,500 full-time undergraduate students, study at its main campus in Springfield, Mass., and at its regional campuses across the country. Springfield College inspires students through the guiding principles of its Humanics philosophy – educating in spirit, mind, and body for leadership in service to others.