Springfield College School of Social Work and Peace Corps Announce New Paul D. Coverdell Fellows Program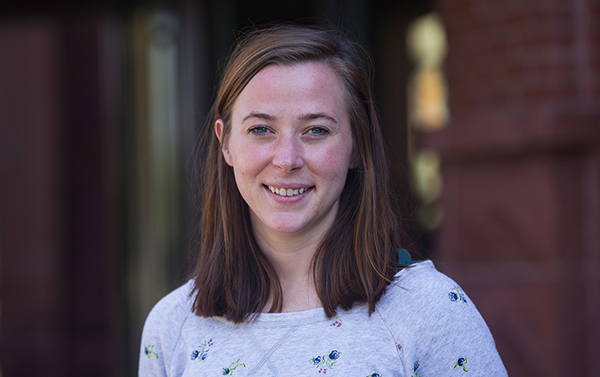 In the photo above is 2015-16 Peace Corps Fellow recipient Lauren Bishop, native of Rutland, Mass.
The Springfield College School of Social Work and Peace Corps announced the launch of a new Paul D. Coverdell Fellows Program, which will provide graduate school scholarships to returned Peace Corps volunteers. Program fellows will serve as interns in local, underserved communities while they complete their studies, allowing them to bring home and expand upon the skills they learned as volunteers.
"We are delighted to partner with Springfield College to support our returned volunteers as they pursue higher education and continue their commitment to service," Peace Corps Director Carrie Hessler-Radelet said. "Communities are moved forward by the selflessness of volunteers, and returned Peace Corps volunteers have unique skills and experiences to offer their local communities."
Selected applicants will receive a graduate fellowship while enrolled in the Springfield College Master of Social Work program. As part of the Paul D. Coverdell Fellows Program, students will complete an internship, receive a stipend, and have tuition credits waived each year.
"Springfield College was founded in 1885 with the mission of education students in spirit, mind, and body in leadership for serves to others," said Springfield College Vice President and Provost of Academic Affairs Jean Wyld. "Given this mission, we are excited to partner with the Peace Corps and look forward to welcoming our Coverdell Fellows to the School of Social Work. The College is pleased to collaborate with the Peace Corps for this new program and to extend the impact of the School of Social Work still further."
Peace Corps volunteers who are involved in the program will earn their Master of Social Work from Springfield College. As part of the program, students will complete 1,050 hours of service in the field in partnership with over 1,000 agencies in New England and New York.
"There is a synergy between Springfield College's mission to educate future leaders in service and the Peace Corps' mission to create sustainable change through dedicated partnerships around the world," said Francine Vecchiolla, Dean of Springfield College School of Social Work. "Our welcoming school community will offer abundant opportunities for a Coverdell Fellow to help promote a better understanding of other cultures and a cross-cultural ethical mandate that is central to social work education."
Through their internships, Coverdell Fellows will apply what they learn in the classroom to a professional setting. They not only gain valuable, hands-on experience that makes them more competitive in today's job market, but they also further the Peace Corps and Springfield College missions.  By sharing their global perspective with the communities they serve, Fellows help fulfill Peace Corps' Third Goal commitment to strengthen Americans' understanding of the world and its people. 
"As a returned Peace Corps volunteer and faculty member in the Springfield College School of Social Work, I look forward to working with our Coverdell Fellows to provide meaningful exposure to their overseas experience," said Karen Clark-Hoey, Assistant Professor in the School of Social Work, who served in Romania from 1994-96. "Together, we will create opportunities on and off campus to foster student insight into life in a developing country. Ultimately, we would aim to demystify living and working overseas and broadening student understanding of leading a global life."
The Paul D. Coverdell Fellows Program began in 1985 at Teachers College, Columbia University and now includes more than 90 university partners across the counter, from the District of Columbia to Hawaii to Alaska. The program is specifically reserved for students who have already completed the Peace Corps service abroad. Since the inception of this program, more than 4,500 volunteers have participated and made a difference across the country. For more information, visit peacecorps.gov/fellows.
To learn more about the Coverdell Fellows Program at Springfield College, contact Dr. Clark-Hoey at kclark6@springfieldcollege.edu.
About the Peace Corps:  The Peace Corps sends the best and brightest Americans abroad on behalf of the United States to tackle the most pressing needs of people around the world. Volunteers work at the grassroots level to develop sustainable solutions that address challenges in education, health, economic development, agriculture, environment and youth development. Through their service, volunteers gain a unique cultural understanding and a life-long commitment to service that positions them to succeed in today's global economy. Since President John F. Kennedy established the Peace Corps in 1961, nearly 220,000 Americans of all ages have served in 140 countries worldwide. For more information, visit www.peacecorps.gov and follow us on Facebook and Twitter.
Founded in 1885, Springfield College is known worldwide for the guiding principles of its Humanics philosophy—educating students in spirit, mind and body for leadership in service to others. With its foundation of academic excellence and rich athletic heritage, Springfield College prepares students with real-world leadership skills for careers that transform lives and communities. The college offers a range of undergraduate and graduate degree programs in the fields of health sciences, human and social services, sport management and movement studies, education, business, and the arts and sciences. It also offers doctoral programs in physical education, physical therapy, and counseling psychology. The college is ranked in the 2016 edition of "Best Colleges" in the top tier of "Best Regional Universities – North Region" by U.S.News & World Report, and is designated as a premier Leadership Development Center by the YMCA of the USA. More than 5,000 traditional, nontraditional and international students study at its main campus in Springfield, Mass., and at its School of Professional and Continuing Studies across the country.