Springfield College Set to Host 2018 Naismith Memorial Basketball Hall of Fame Spalding Hoophall Classic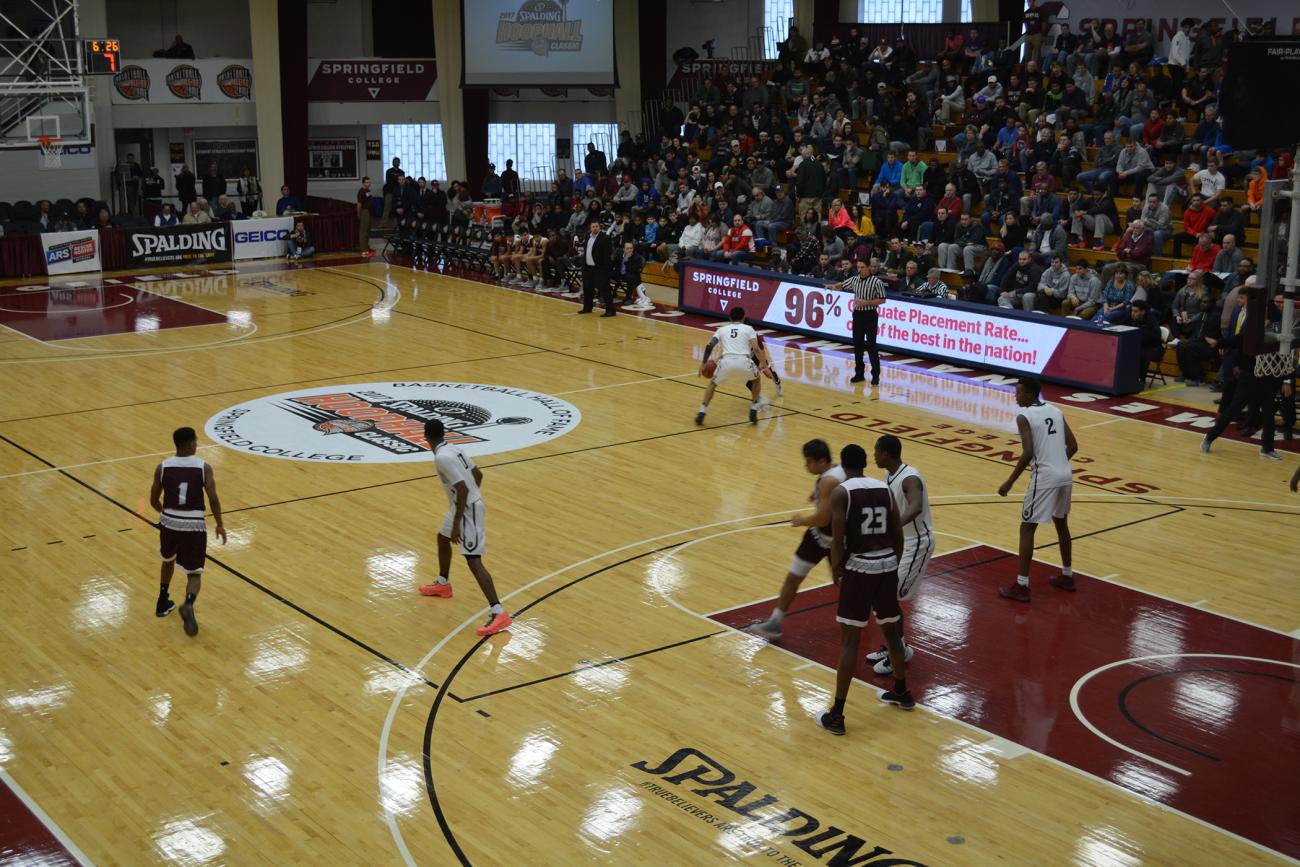 Springfield College is proud to again host the Naismith Memorial Basketball Hall of Fame 2018 Spalding Hoophall Classic. The event will take place in Blake Arena from Thursday, Jan. 11, through Monday, Jan. 15. This annual event celebrates the sport of basketball that was invented at Springfield College by James Naismith in 1891.
The tournament continues to be one of the premier high school basketball events nationwide. The College will welcome 50 teams and more than 8,000 visitors to campus throughout the weekend. The College enters the national stage again this year as the game on Saturday, Jan. 13 starting at 8 p.m. will be televised on ESPN. Four games on Monday, Jan. 15 will be televised by ESPNU.
The event serves as a tremendous on-site academic experience for the Springfield College SMRT 116 Event Management classes and the event provides hands-on leadership and management experience for the members of the College's Sport Management Club. Communications/Sports Journalism students also gain valuable experience covering the event for media throughout the country.
Seven of the top eight high school seniors ranked in ESPN's Top 100 are set to participate in the 2018 Hoophall Classic, including R.J. Barrett (Montverde, Fla.), Zion Williamson (Spartanburg Day School, S.C.), Cam Reddish (Westtown, Pa.), Bol Bol (Mater Dei, Calif.), Simisola Shittu (Vermont Academy, Vt.), Keldon Johnson (Oak Hill Academy, Va.), and Anfernee Simons (IMG Academy, Fla.).
A number of standouts from the Class of 2019 also will play in the showcase, including Vernon Carey Jr. (No. 2, ESPN Top 100), Chol Marial (No. 4, ESPN Top 100), and Cole Anthony (No. 6, ESPN Top 100).
Girls' basketball takes center court all day Friday, Jan. 12, with five games scheduled. Highlights include defending Division I state champion Springfield Central High School taking on Long Island (N.Y.) Lutheran High School at 9 p.m. Preceding that game, 2017 Division III state finalist Hoosac Valley High School will take on Longmeadow High School at 6 p.m.