Springfield College Hosts 106th Annual Gymnastics Exhibition Show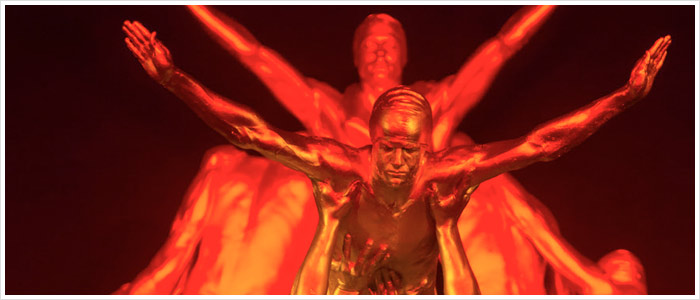 Springfield College hosted the 106th gymnastics exhibition show, Gymnastics Time Machine, on Friday, Oct. 23, and again on Saturday, Oct. 24, at Blake Arena.
Close to 100 participants took part in the show including All-American and champion gymnasts from the men's and women's gymnastics teams and student dancers.  Individuals performed a full range of gymnastic feats and dramatic special events to music and film clips from recent decades. 
Along with the many gymnastic and dance numbers, the dramatic finale of the show continued to honor Springfield College tradition with the tableaux - living statuaries by gymnasts in metallic body paint.
The event's master of ceremonies was Director of YMCA Relations at Springfield College Harry Rock. Rock works for the national YMCA non-profit organization, the YMCA of the USA in a collaborative relationship with Springfield College. He has the responsibility of identifying, recruiting, and helping to educate students who have an interest in joining the YMCA movement as a career upon graduation. Springfield College has historic roots to the YMCA movement since it's inception in 1885.
Founded in 1885, Springfield College is known worldwide for the guiding principles of its Humanics philosophy—educating students in spirit, mind and body for leadership in service to others. With its foundation of academic excellence and rich athletic heritage, Springfield College prepares students with real-world leadership skills for careers that transform lives and communities. The college offers a range of undergraduate and graduate degree programs in the fields of health sciences, human and social services, sport management and movement studies, education, business, and the arts and sciences. It also offers doctoral programs in physical education, physical therapy, and counseling psychology. The college is ranked in the 2016 edition of "Best Colleges" in the top tier of "Best Regional Universities – North Region" by U.S.News & World Report, and is designated as a premier Leadership Development Center by the YMCA of the USA. More than 5,000 traditional, nontraditional and international students study at its main campus in Springfield, Mass., and at its School of Professional and Continuing Studies across the country.