Springfield College Welcomes Athlete Education and Development Expert Janice L. Hilliard to the Campus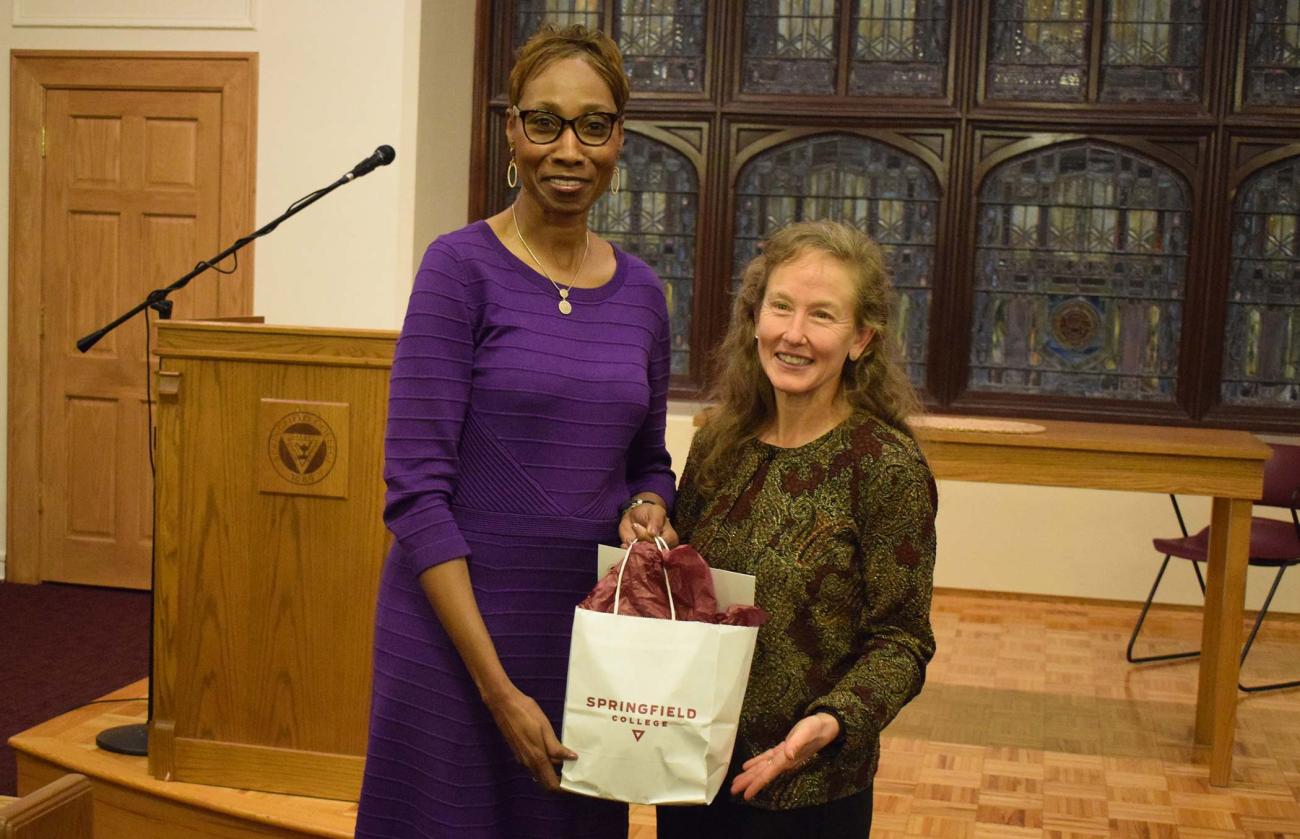 Springfield College welcomed accomplished and highly respected athlete education, development, and transition expert, Janice L. Hilliard, to the campus on Dec. 3-4. Hilliard's presentation entitled, "Athletes, Leadership, and Social Responsibility: Where We Came From, Where We Are, and Where We Are Going," was part of the 2019-20 "Humanics Triathlon" project led by Distinguished Springfield Professor of Humanics, Judy L. Van Raalte on Dec. 3. The following day on Dec. 4, as part of the 25th Annual Weckwerth Lecture presented by the Department of Sport Management and Recreation, Hilliard presented on "Developing Tomorrow's Leaders." 
Hilliard is President & CEO of Hilliard Creative Education and Development Solutions, LLC. Through consultation, training, innovative learning platforms and the utilization of industry research and best practices, Hilliard Solutions' model and methods strategically engage, educate and empower athletes and key players in their ecosystem to address the challenges inherent in integrating education, sports and business.
Employed for 15 years with the National Basketball Association (NBA) as vice president, senior director and director of player development, Hilliard was responsible for the leadership of the professional development programs for NBA players and team player development directors. Hilliard was the NBA's designated liaison to higher education institutions, where she helped establish a partnership with the National Association of Academic and Student-Athlete Development Professionals (N4A) that formalized communication and collaboration efforts to better assist collegiate men's basketball student-athletes with their transition to the pros. Her vision led to the establishment of innovative career development experiences for NBA players and joint training opportunities for collegiate and professional staff members.
Prior to her work with the NBA, Hilliard was associate director of athletics at the University of North Carolina at Chapel Hill and the University of Houston where she oversaw staff training and all aspects of the student-athlete development program. She began her career in secondary education as a high school teacher and coach and was a middle and high school counselor. Hilliard holds a master's degree in urban counseling and Ph.D. in K-12 educational administration from Michigan State University and a bachelor's degree in education from the University of Houston where she was a scholarship basketball student-athlete.
In 2004, Hilliard was honored with the Thurgood Marshall College Fund's Founders Award for outstanding contributions to Historically Black Colleges and Universities. She was awarded the 2018 Community Member of the Year Award by the Zeta Phi Beta Sorority, Inc. for outstanding contributions and longstanding commitment to the chapter and sorority. Also, in 2018, the University of Houston women's basketball program and American Athletic Conference recognized Hilliard Solutions for its support of female athletes.
Hilliard is a member of the American Counseling Association, Association of Multicultural Counseling and Development, Alliance of Social Workers in Sports, National Academic Advising Association, Professional Association of Athlete Development Specialists, National Association of Academic and Student-Athlete Development Professionals and Michigan State University Sports Business Management Advisory Board. In 2019, she created the Women in Athlete Development Symposium and Networking Event.
Since 1967, Springfield College has annually appointed a Distinguished Springfield Professor of Humanics to continue the preservation of Springfield College's guiding philosophy and to examine its implications of pedagogy, curriculum, management, recruitment, campus life, and community impact.
The Weckwerth Lecture is named in honor of the late Charles F. Weckwerth, who was a distinguished Springfield College professor of Humanics, and annually brings leading experts in the fields of sport management and recreation to Springfield College to address emerging trends in these fields.