Springfield College Welcomes Author, Poet, and Screenwriter Sherman Alexie to Campus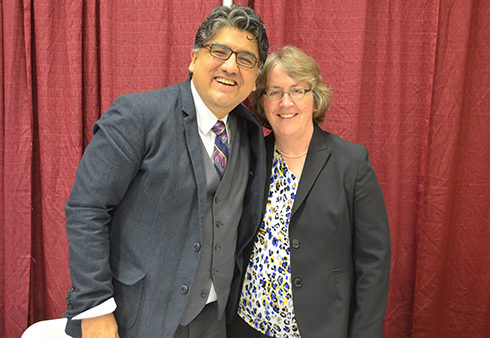 Springfield College hosted author, poet, and screenwriter Sherman Alexie on Thursday, Oct. 22, in the Field House. The event was part of the Springfield College Arts and Humanities Speaker Series and was made possible through the generosity of Carlton '63 and Lucille Sedgeley.
One of The New Yorker's top 20 writers for the 21st century, Alexie connects readers around the world to the American Indian experience. Having grown up on the Spokane Indian Reservation in Washington state, Alexie is known world-wide as a gifted orator, telling tales of contemporary American Indian life with razor sharp humor, unsettling candor, and biting wit.
A recipient of the 2014 Literature Award given annually by the American Academy of Arts and Letters, Alexie is the author of more than 20 books. His novels Reservation Blues, Indian Killer, and the Toughest Indian in the World won numerous awards, including Booklist's Editor's Choice Award, the PEN/Malamud Award, and Publishers Weekly's Book of the Year. His anthology of new stories and beloved classics, Blasphemy, was included on the lists of best books by Kirkus Reviews, The New York Times, and National Public Radio in 2012.
In 1998, Alexie wrote and produced the film Smoke Signals, an adaptation of his book The Lone Ranger and Tonto Fistfight in Heaven. The film earned the Audience Award and Filmmakers Trophy at the annual Sundance Film Festival. Alexie's book, The Absolutely True Diary of a Part-Time Indian, is part of the summer reading assignment for incoming students with group discussions taking place during New Student Orientation.
Founded in 1885, Springfield College is known worldwide for the guiding principles of its Humanics philosophy—educating students in spirit, mind and body for leadership in service to others. With its foundation of academic excellence and rich athletic heritage, Springfield College prepares students with real-world leadership skills for careers that transform lives and communities. The college offers a range of undergraduate and graduate degree programs in the fields of health sciences, human and social services, sport management and movement studies, education, business, and the arts and sciences. It also offers doctoral programs in physical education, physical therapy, and counseling psychology. The college is ranked in the 2015 edition of "Best Colleges" in the top tier of "Best Regional Universities – North Region" by U.S.News and World Report, and is designated as a premier Leadership Development Center by the YMCA of the USA. More than 5,000 traditional, nontraditional and international students study at its main campus in Springfield, Mass., and at its School of Human Services campuses across the country.