Springfield College Welcomes Class of 2023 During Move-In Day and New Student Convocation Ceremony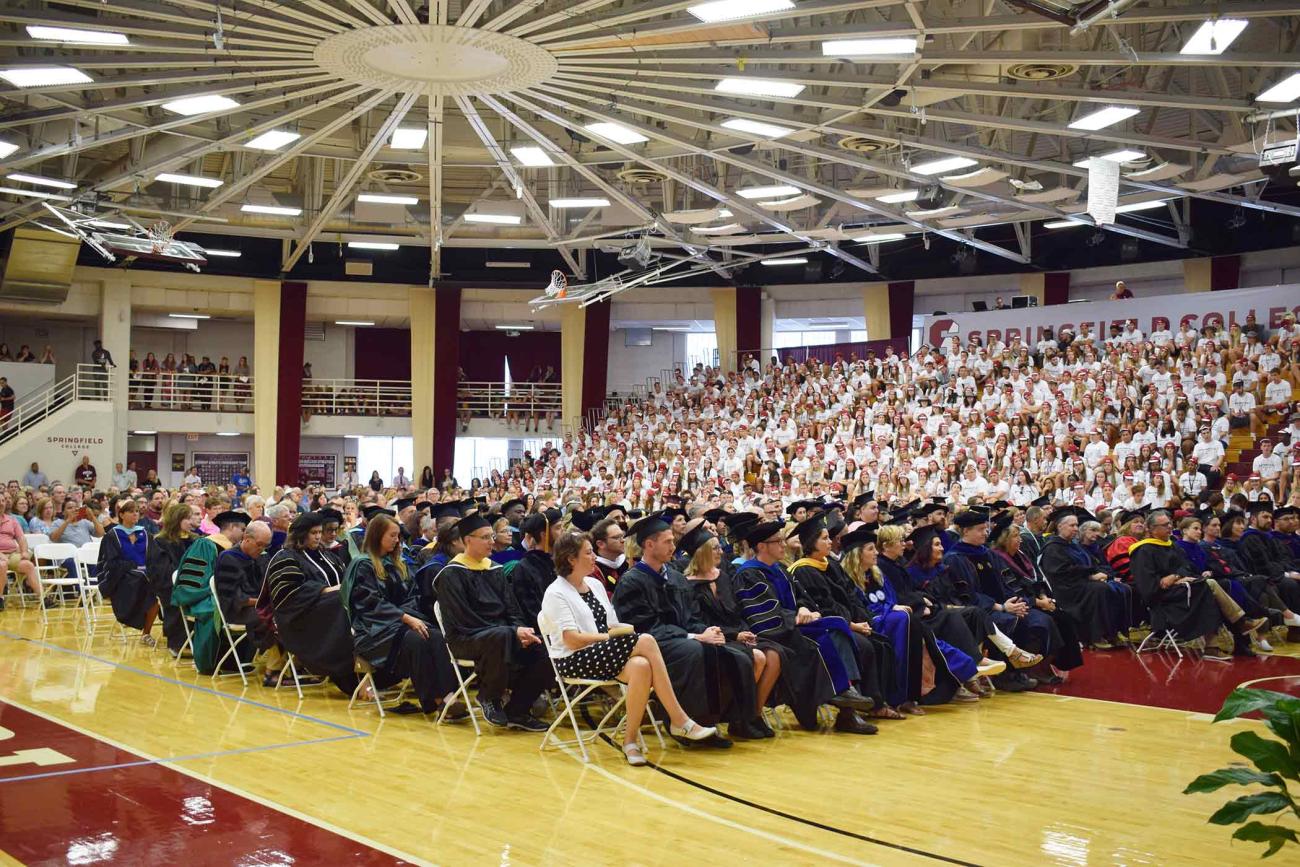 Springfield College officially welcomed the Class of 2023 and transfer students to the campus on Friday, August 30, with more than 600 traditional undergraduate first-year students getting settled into campus life as part of Move-In Day and New Student Orientation activities. The incoming class arrival, which represents 20 different states and 17 countries, helps kick-off the 2019-20 academic year.
In the true Springfield College Humanics tradition, returning students, faculty, staff, and alumni assist all incoming students in moving into their residence halls as soon as they arrive on the main campus during the morning hours of Move-In Day.  
During the afternoon session following lunch, the Class of 2023 was greeted by Springfield College President Mary-Beth Cooper as part of the New Student Convocation ceremony in Blake Arena, attended by the campus community, including returning and new faculty members. Once again, Springfield College welcomes an incoming first-year class that represents one of the strongest academic profiles in the College's history.
"I know I speak for myself, my fellow colleagues, your parents, and the entire Springfield College community in saying, we are so excited to see you, and we are looking forward to seeing what your story turns out to be," said Cooper, who is starting her seventh academic year as president of Springfield College.
Cooper went on to add, "For many of you, your parents especially, dreamed about you going to college and here you are. Students, this is your chance, starting today, to alter the story that will be the very first chapter of the rest of your lives."
Joining Cooper in welcoming the Class of 2023 was New Student Orientation Executive Board Member Emily Van Horn '20. Van Horn is entering her senior year as an English major at Springfield College, and she was able to reflect on her time as an incoming student, not that long ago, when she was trying to adjust to college life.
"If anyone would have told me four years ago that I would be standing up here in front of you today, I would have called them crazy," said Van Horn. "Your college years go so quickly, so I encourage all incoming students to stay in the moment. The years you will spend at Springfield College will be some of the best years of your life. I encourage incoming students to embrace every new opportunity with open arms."
Van Horn went on to acknowledge the families of the incoming students for all of their support that has led to a special Move-In Day for all incoming students.
"To the parents, congratulations, you helped your child make a terrific decision," added Van Horn. "You will be amazed at the transformation you will see over the next four years. I found my home at Springfield College, just like my dad did, and hopefully my sister will too. Push yourself, do everything, and keep finding things that truly excite you. Welcome Class of 2023, we are so excited you are here."
Following Van Horn's remarks, Springfield College Provost and Vice President for Academic Affairs Martha Potvin delivered the annual Convocation Address. 
"Welcome Class of 2023 to Springfield College, with the help of our great faculty, you will be able to develop strong academic skills as an engaged member of our Springfield College campus community," said Potvin. 
Following convocation, incoming students begin New Student Orientation (NSO), a student-led program that provides an opportunity for all students to interact before classes start. NSO continues on through Monday, and allows incoming students to become comfortable with their academic, residential, and social lives at Springfield College prior to classes starting on Tuesday, Sept. 3.
Springfield College is an independent, nonprofit, coeducational institution founded in 1885. Approximately 4,100 students, including 2,500 full-time undergraduate students, study at its main campus in Springfield, Mass., and at its regional campuses across the country. Springfield College inspires students through the guiding principles of its Humanics philosophy – educating in spirit, mind, and body for leadership in service to others.