Springfield College Welcomes Five MBA Students from Morocco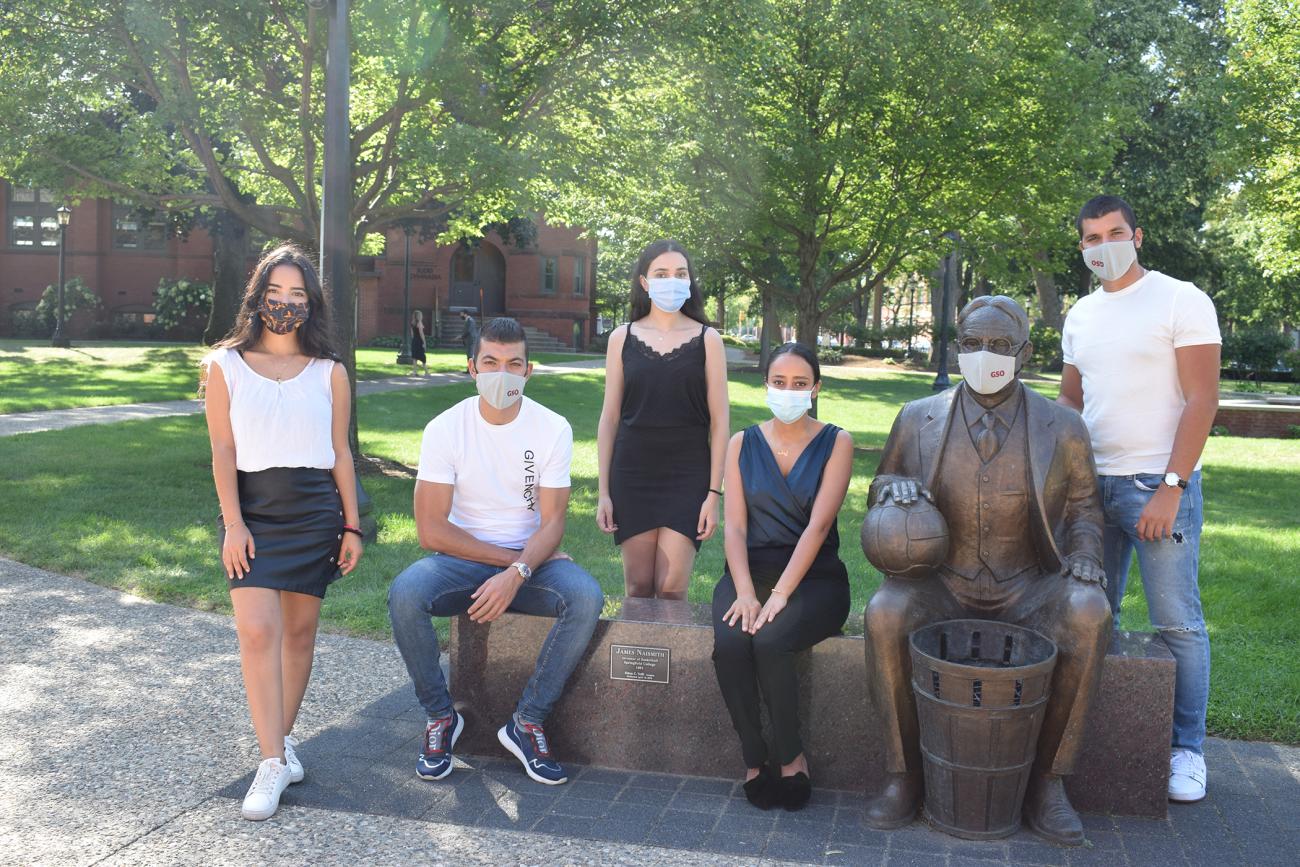 Springfield College welcomed five international graduate students from Morocco to the campus with a special ceremony on Naismith Green. Students Hasnae Benjouida, Badr Hassouni, Lamiyaa Laayali, Saad Magani, and Maria Sabti earned their undergraduate degrees from ENCG Casablanca, the national school of commerce and management at the University of Hassan/Casablanca, and they are now enrolled in the Master of Business Administration program at Springfield College.
The arrival of the students from Morocco is the result of the Springfield College admissions team building strong connections and partnerships in Morocco, led by Springfield College Associate Director of International Admissions Nicholas Venn.
"I have been working with the ENCG Casablanca for the past five years, and it's been impressive how professional and mature the students are when I visit," said Venn. "I enjoy working with the students in helping them transition to an education within the United States. Springfield College is committed to helping the students adjust to a different culture and education system, and making sure the students are comfortable within the United States educational system."
Magani, who focused on financing and marketing during his undergraduate work in Morocco, is using this opportunity to advance his academic profile, but also make new connections with his peers as well.
"This opportunity has been great, we have met some new people and we know this experience is only going to help us prepare for our jobs down the road as well," said Magani. "Overall, the transition has been great, my roommates have been very helpful and they have made all of us feel very comfortable."
On Sept. 8, Springfield College Vice President for Enrollment Management Stuart Jones, Director of the International Center Deb Alm, Vice President for Communications/External Affairs Steve Roulier, and Venn helped welcome the students to the campus with a ceremony on Naismith Green.
During the ceremony, all five students took some time to learn about the history of Springfield College and visit the statue of James Naismith, the inventor of basketball and physical education instructor at the College. In addition, the highlight of the festivities was the ability to proudly display their native flag on the campus that has quickly become their second home.
"This is so exciting to welcome all students back to the campus, and specifically our newest friends from Morocco," said Jones. "Nick (Venn) has done a great job building up our strong relationship with students in Morocco, and we are committed to making sure their experience at Springfield College is memorable, and we will be learning more about the culture in Morocco as well."