Springfield College Welcomes Hong Kong Baptist University Associate Vice President Frank Fu to Campus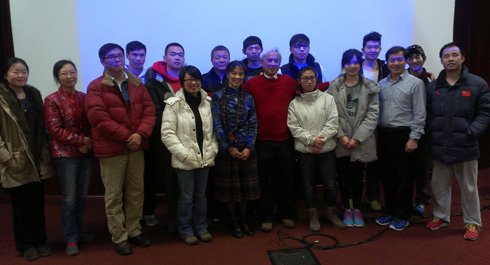 Springfield College welcomed Hong Kong Baptist University (HKBU) Associate Vice President Frank Fu as the keynote speaker at the second annual Martin Luther King Jr. Lecture on Wednesday, Jan. 21, in the Fuller Arts Center.  Fu's presentation focused on the international legacy of Springfield College. The Martin Luther King Jr. Lecture honors the history of inclusion and diversity at Springfield College.
An author of more than 100 journal articles and 17 textbooks, Fu has worked throughout the world in China, Canada, and the United States and has received several distinguished honors, including the Medal of Honor in 2009 by the SAR Government of Hong Kong.
Fu has a long-standing connection with Springfield College earning a master's degree in 1973 and a doctorate degree in 1975, followed by serving as the director of the Springfield College Doggett International Center from 1978 through 1983.
Fu returned to Hong Kong in 1983 where he worked at the Chinese University of Hong Kong for nine years before joining the faculty at Hong Kong Baptist University.  Fu has served as the head of the physical education department and dean of the faculty of social sciences at Hong Kong Baptist University before settling into his current role as the University's associate vice president, and director of the Dr. Stephen Hui Research Centre at HKBU.
Fu's presentation is the first in a series of events celebrating the 50th anniversary of the Springfield College Doggett International Center.  Internationalism has been a guiding principle at Springfield College and the Doggett International Center assists international students and hosts international scholars, coaches and guests. The College also conducts student missions to economically disadvantaged countries to provide needed human services.
For more than a century, Springfield College presidents, students, alumni, and athletic teams have traveled the globe building relationships, conducting educational and sports programs, and receiving governmental and humanitarian awards. Today, more than 600 Springfield College alumni reside in 65 countries outside the United States.
Founded in 1885, Springfield College is known worldwide for the guiding principles of its Humanics philosophy—educating students in spirit, mind and body for leadership in service to others. With its foundation of academic excellence and rich athletic heritage, Springfield College prepares students with real-world leadership skills for careers that transform lives and communities. The college offers a range of undergraduate and graduate degree programs in the fields of health sciences, human and social services, sport management and movement studies, education, business, and the arts and sciences. It also offers doctoral programs in physical education, physical therapy, and counseling psychology. The college is ranked in the 2015 edition of "Best Colleges" in the top tier of "Best Regional Universities – North Region" by U.S.News & World Report, and is designated as a premier Leadership Development Center by the YMCA of the USA. More than 5,000 traditional, nontraditional and international students study at its main campus in Springfield, Mass., and at its School of Human Services campuses across the country.