Springfield College Welcomes Largest Incoming Class in School History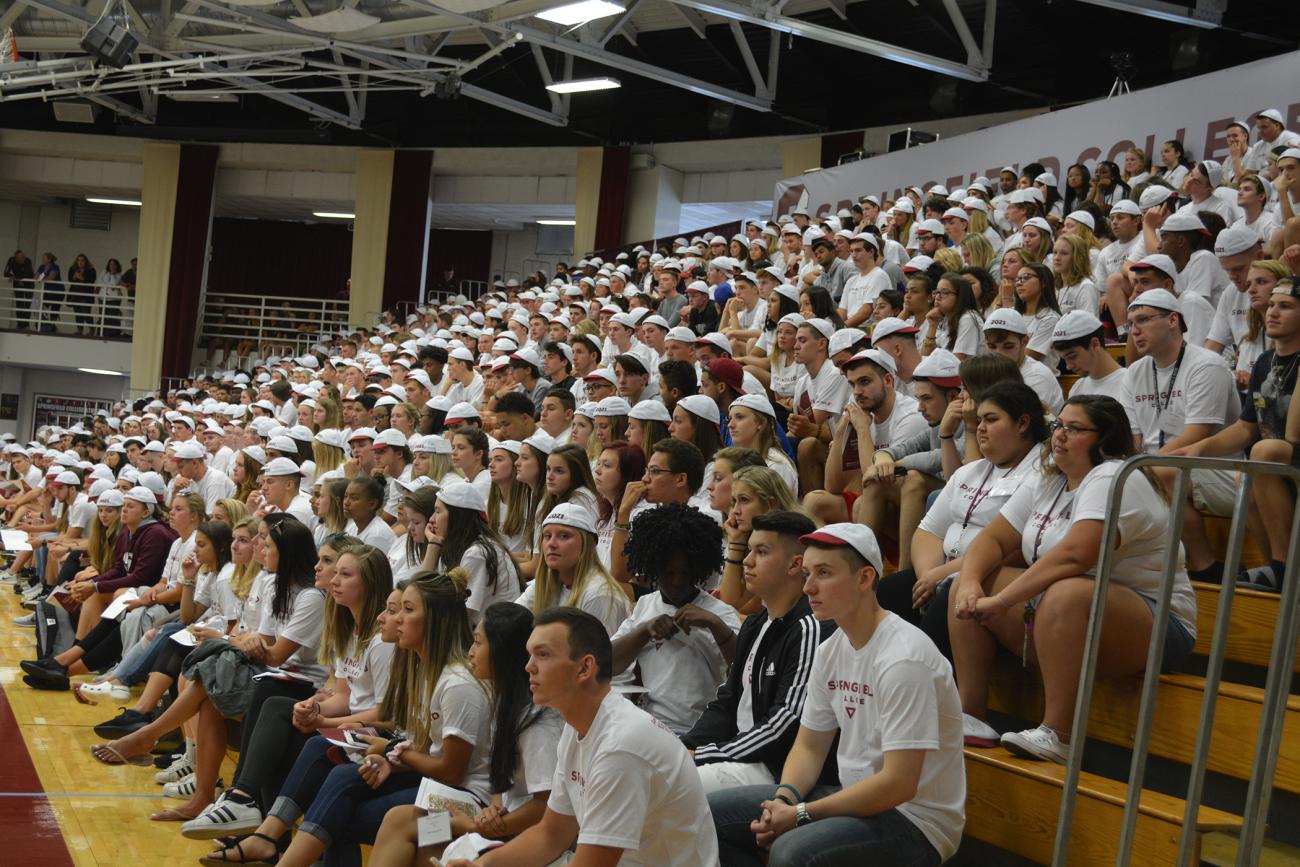 Springfield College officially welcomed its largest incoming class of first-year undergraduate students in school history on Friday, September 1 as part of its annual Move-In Day, followed by New Student Orientation. The Class of 2021 was welcomed to campus by President Mary-Beth Cooper at the traditional New Student Convocation ceremony in Blake Arena. 
"It's not just the large quantity we're excited about, but the quality of students as well. This is the strongest academic profile of any entering class in our history as well as the largest and most diverse," said Cooper. Springfield College celebrates an enrollment growth of approximately 22 percent as the 2017-18 academic year begins.
"Springfield College is bucking the trend of declining enrollment numbers among most New England and Northeast regional colleges," said Springfield College Vice President for Enrollment Management Stuart Jones. "We know we have a compelling story to tell prospective students and their families as to why they should choose Springfield College. Our robust marketing efforts coupled with record student visits to campus allowed us to share our distinctive story resulting in a much higher enrollment."
According to Ruffalo Noel Levitz, the nation's largest consulting firm for higher education enrollment management, a three percent to five percent enrollment increase in any given year is considered to be very good in today's competitive market.  Springfield College's 22 percent growth goes significantly beyond that mark.
"As the Northeast is expected to continue to see declining enrollments for the next several years, competition for qualified students is fierce," said Sarah Coen, senior vice president, Ruffalo Noel Levitz. "For a college to achieve the results Springfield College has seen this year – increases in first-year enrollment, academic quality, and diversity – that is just remarkable."
According to the National Student Clearinghouse Research Center, four-year colleges and universities nationwide over the last four years have seen a decrease in enrollment by 9.7-percent. In the state of Massachusetts, undergraduate enrollment has declined by 5.5-percent since 2013. Despite those trends, Springfield College will see its incoming class increase by approximately 120 first-year students from the previous academic year.
"The size and excellent academic profile of Springfield College's incoming class for the Fall of 2017 is impressive in light of the overall declining high school enrollment in Massachusetts and across New England," said Richard Doherty, president of the Association of Independent Colleges and Universities in Massachusetts (AICUM). "Springfield College is further proof that the cluster of highly regarded colleges and universities that Massachusetts is well-known for will continue to attract outstanding students from Massachusetts and beyond."
David Hawkins, executive director for educational content and policy at the National Association for College Admission Counseling (NACAC) located in Arlington added, "Data projections for New England suggest both current and future declines in the population of high school graduates in the region. Colleges and universities located in New England have had to work very hard to expand and innovate in their recruitment practices to attract students."
The word is out, it's an exciting time to be a part of the Springfield College community, and high school students looking at Springfield College are viewing the following facts:
97 percent job and graduate school placement rate of Springfield College graduates within six months of graduation. One of the best in the nation: 84 percent is the national average and 93 percent among other New England colleges.

For the sixth consecutive year, Springfield College moved up the list of highest-ranked colleges in the U.S.News & World Report's latest edition of "Best Colleges." In the 2017 report, Springfield College is ranked 27 in the first tier in the category of Best Regional Universities - North. This year's ranking of the college is up two spots from 2016 and 40 spots from 2011.

Springfield College is ranked 12 in the

Best Value Schools

for Regional Universities

–

North

in the influential U.S.News & World Report's latest edition of "Best Colleges."

Only schools ranked in or near the top half of their categories are included, because U.S. News considers the most significant values to be among colleges that are above average academically.

In 2016, Springfield College received the Presidential Award in the Education category of the President's Higher Education Community Service Honor Roll. This honor is the highest federal recognition a college or university can receive for its commitment to volunteering, service-learning, and civic engagement.

This marks the seventh-consecutive year that Springfield College has been part of the

President's Higher Education Community Service Honor Roll.

In 2016,

Springfield College broke ground on its $19 million learning commons project. The learning commons is a complete rehabilitation of Springfield College's Babson Library, a 57,000-square-foot building that opened in 1972. The new building will include a 6,000-square-foot reading room with 24-hour access for students, 1,200 square feet of adaptable work space for group projects, classes, presentations and brainstorming sessions, a research consultation area, cafe and a 5,300-square-foot academic success center.

In 2016, Baseball great Cal Ripken, Jr. and the Cal Ripken, Sr. Foundation partnered with Springfield College to jointly design and build a one-of-a-kind intercollegiate and adaptive baseball park on the Springfield College campus. This project is the first of its kind on a college campus and fits with both the mission of Springfield College to educate students in spirit, mind, and body for leadership in service to others, and the mission of the Cal Ripken, Sr. Foundation to build character and teach critical life lessons to at-risk young people through sports-themed programs.

Springfield College has partnered with the Canyon Ranch Institute to implement and evaluate a public health project on the Springfield College campus titled the Healthy Table program. The goal of the program is to improve healthy eating, cooking, and shopping habits for individuals and families living in the vicinity of Springfield College.

Springfield College Athletics finished 39 in the nation in the 2016-2017 Division III Learfield Directors' Cup, which honors colleges and universities that maintain a broad-based program, achieving success in many sports. It marks the ninth time in the past 10 years that the Pride finished in the top 40 of the 450 Division III athletic programs in the nation.