Track and Field and Cross Country Reunion Celebration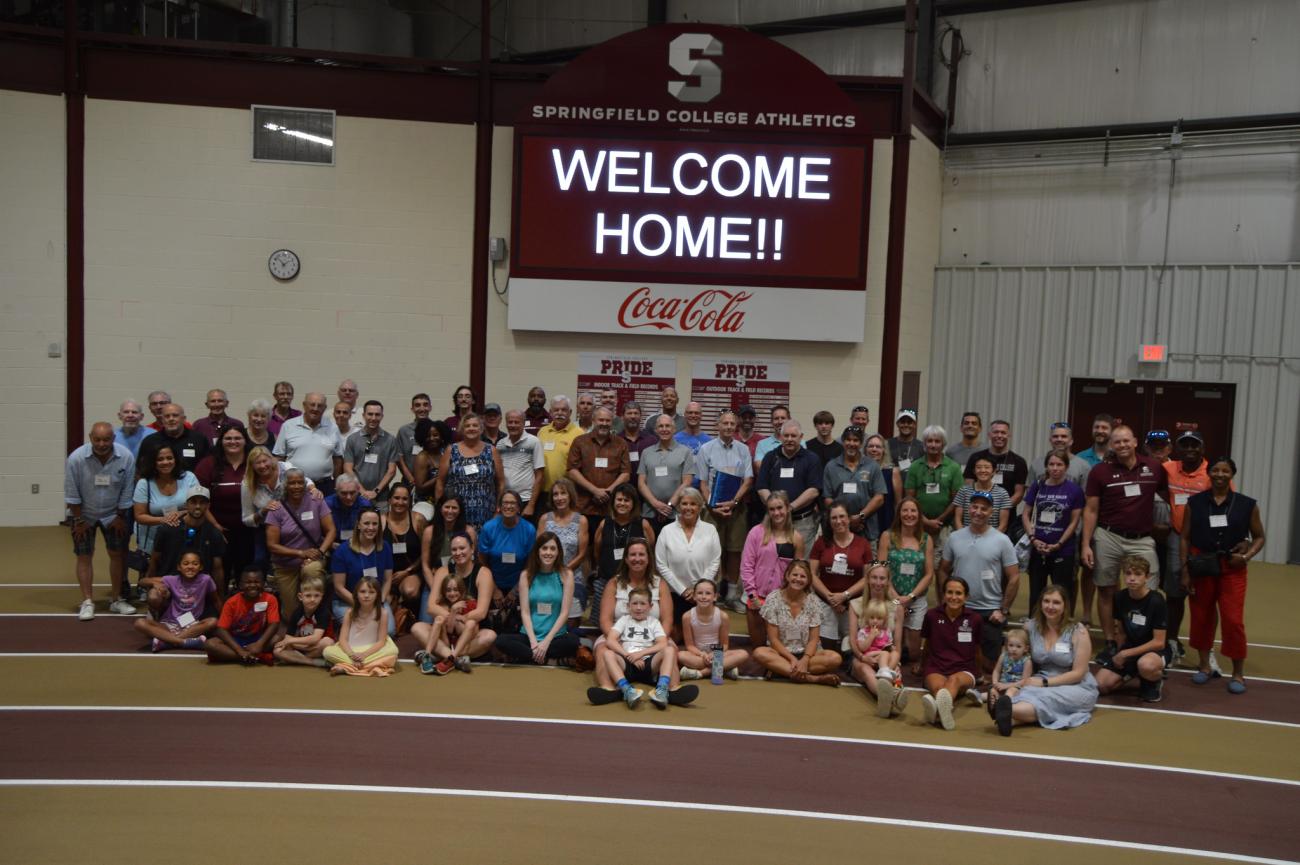 By: Damon Markiewicz
On Saturday, August 5, Springfield College hosted a Track and Field and Cross Country Reunion on campus in celebration of the 15th anniversary of the Field House and the indoor track and field facility. More than 90 alumni returned to campus for a day of reconnecting with teammates and coaches.
"It was so exciting to welcome so many familiar faces back home, and it was great to witness such a strong turnout in what was a very special event," said Springfield College Director of Alumni Relations Deleney Magoffin '05, G'11.
The day was a unique opportunity for alumni to meet previous student-athletes spanning a combined 63 years. With graduates representing the Class of 1960, 2023, and everything in between, this moment offered a chance for connection beyond the alumni who competed together. The sense of community and a shared bond was certainly felt by all in attendance.
"Springfield College is such a special place, and it was so much fun to see fellow alumni enjoying our time together back on campus," added Wayne Wise '78, who traveled in from Houston, Texas. 
Following check-in, attendees had the opportunity to reminisce during lunch, provided by The Kitchen Restaurant, which is owned by alumnus Bobby Barkett '88. After some delicious food, the kids enjoyed a fun run race, followed by alumni taking part in the adult one mile challenge.
Additionally, campus tours were available for attendees to learn about the many improvements to campus, before the evening concluded with a reception and remarks from current track and field and cross country head coaches, Mike Miller '08 G'12 and Anna Steinman.
"We are all about maintaining connections at Springfield College, and it's so important for our alumni to stay connected with the College and our current student-athletes," explained Miller.
A Special Challenge Announced at the Celebration
Those in attendance witnessed an incredible challenge from Branwen Smith-King '78, G'79. Branwen encouraged alumni to rally behind the College and help raise $10,000 for the Springfield College Track and Field and Cross Country programs.  When this goal is met, she agreed to match alumni gifts with $10,000 of her own. Springfield College President Mary-Beth Cooper then agreed to match an ADDITIONAL $10,000, bringing the total value to $30,000! Through these collective efforts, is an opportunity to support our student-athletes in an invaluable way!