Moffat Family Diversity in Coaching Fellowship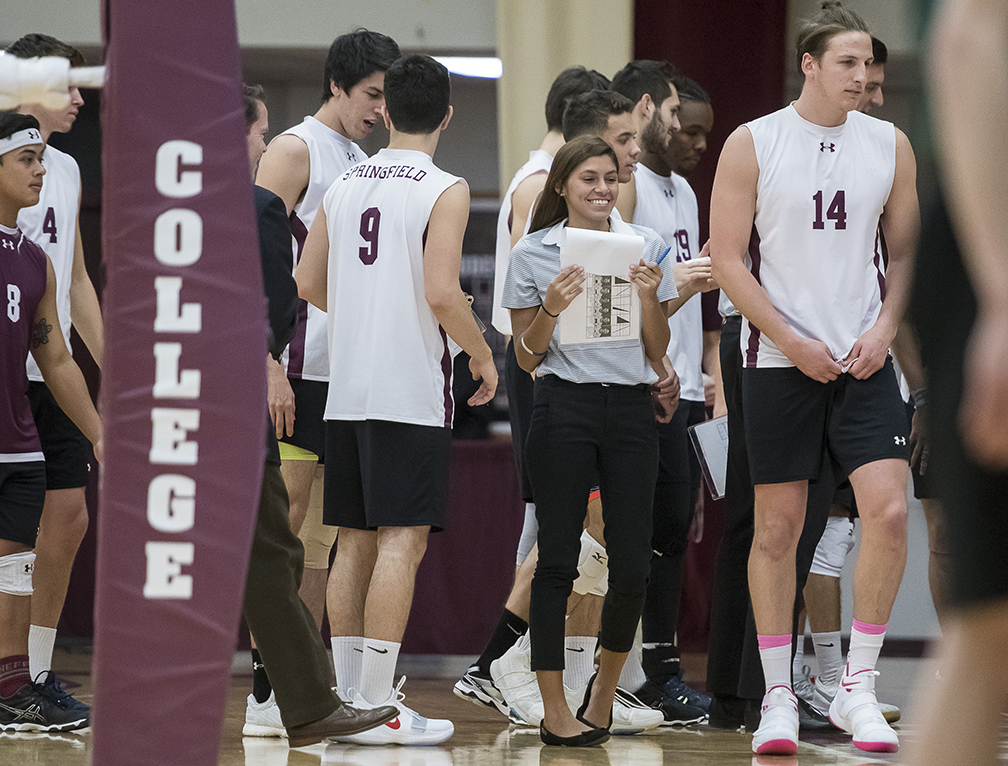 Diversifying the Coaching Pipeline
---
Action toward enhancing diversity in coaching at both the collegiate and professional levels has come under focus in recent years as professionals in the field of sport examine hiring practices at every level. In recent years, just 9 percent of NCAA Division III head coaches were from underrepresented groups, even though approximately 40 percent of student-athletes were from those same populations. Professional sports organizations reflect a similar disparity and, in many sports, an even greater one.
Bold statements committing to diversifying coaching staffs to more accurately reflect the athletes coached are common and necessary. But, at Springfield College, words without action are not enough.
Throughout its more than 135-year history, Springfield College has enjoyed a storied and well-respected reputation in athletics and in sport. Our unique Humanics philosophy—educating students in spirit, mind, and body for leadership in service to others—is the heart of our vision and mission. Historic innovations are the result, most famously the invention of the game of basketball and, more recently, construction of the unique Aschermann Family adaptive baseball field designed to accommodate athletes with ability needs. Coaching is one way that graduates from Springfield College take Humanics into their professional lives. One proven pipeline to head coaching positions at the collegiate and professional levels is through graduate academic fellowships for underrepresented populations where students earn master's degrees while gaining invaluable experience under the mentorship of experienced head and assistant coaches. At Springfield College, our coaching fellows go on to lead competitive teams at every level, from youth sport through college and into Olympic, international, and professional competition.
The Springfield College community recognizes diversity, equity, inclusion, and belonging as core values. Our goal is to make a difference in our community, and to improve equity and justice for all on a global scale. Faculty and administrators at Springfield College remain steadfast in their commitment to equality and fair treatment for all. Diversifying the coaching pipeline continues to be a priority nationally, and Springfield College is well positioned to shape this effort directly and substantially.
The Moffat Family Diversity in Coaching Fellowship
For Linda Cruse Moffat '73 and Roger Moffat '71, and for Kurt Aschermann '71, having coaching staffs at Springfield College that reflect the population of participants remains critically important. Together, they created the Moffat Family Diversity in Coaching Fellowship to deepen and enrich the field of diverse coaches at Springfield College and, as a result, impact all of sport.
The Moffat fellowship fund will provide financial support to the Department of Athletics to fund one or more fellowships in any of its 26 NCAA-sponsored sports. Increasing the diversity of graduate assistant coaches at Springfield College also will increase the pool of diverse applicants in the coaching profession because our distinctive academic programs position our graduates for athletics career success. A degree from Springfield College, coupled with immersive and relevant experiences, creates powerful preparation and a competitive advantage.
The Moffat Family Diversity in Coaching Fellowship will provide tuition remission and a stipend for graduate assistant positions that will enable unparalleled experiences in coaching and administration of Division III athletics programs. The Moffat fellow will assist with coaching, planning, and execution of daily practices for one of our 26 varsity sports, and assist the head coach with skill instruction, game review, game preparation, and position-specific technique and individual meetings. The Moffat fellow will be an instrumental part of home- and away-contest coaching. Such involvement will provide the valuable experience needed for these fellowship recipients to take the next step in collegiate or professional coaching, fortified by a master's degree from Springfield College, known as the "cradle of coaching."
How You Can Support Diversity in Coaching
Springfield College administrators, faculty, students, and alumni have a long-standing practice of recognizing and creatively addressing critical situations and issues. In that same tradition, the Moffat Family Diversity in Coaching Fellowship will promote coaches from underrepresented populations across the country and around the world by supporting coaching graduate associates at Springfield College through grants of $25,000 per academic year. An endowment of $500,000 will support one fellowship for one year of graduate school and our goal is to fully support two fellowships with a total of $1 million in endowment. The fund was launched with a generous $200,000 gift from Linda and Roger, and Kurt has issued a challenge match for all gifts of any amount up to $30,000. 
Your donation will expand the reach of our diverse alumni in coaching positions and athletic program leadership across the spectrum of athletics and sport.
For inquiries, including how to make gifts of IRA charitable distributions or appreciated securities, please contact Julie Considine Tyson in the Office of Development at jtyson@springfield.edu or (413) 748-3859.
To make a gift:
Visit springfield.edu/gift,

Call the Office of Development staff at (800) 622-6072, or

Send your check to Office of Development, 263 Alden Street, Springfield, MA, 01109.
The Springfield College Commitment to Diversity, Equity, Inclusion, and Belonging
Springfield College recognizes diversity, equity, inclusion, and belonging as core values. The quality of the campus experience is strengthened through working and learning with people from diverse experiences, backgrounds, and perspectives. Our goal is not only to make a difference among our community, but to improve equity and justice for all on a global scale.
As Springfield College President Mary-Beth A. Cooper recently affirmed, Springfield College remains steadfast in its commitment to equality and fair treatment for all. As a campus community, we are committed to fostering a diverse, inclusive, and respectful campus environment, in vision as well as in practice. To help produce a more equitable society, Springfield College must take active steps to uplift members of marginalized groups, in keeping with our theme "Silence is Not an Option."