Camp Massasoit at Springfield College Celebrates 80th Anniversary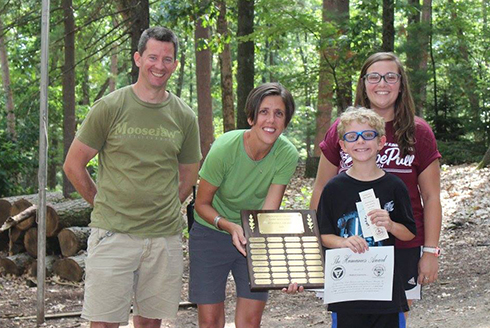 Camp Massasoit at Springfield College is celebrating its 80th anniversary of continuously providing campers ages 5 to 16 with programs that are developmentally appropriate for each stage of their physical and cognitive growth.  Originally known as Springfield College Day Camp in 1934, Camp Massasoit is centered at the College's East Campus Outdoor Learning Center, 82 acres of a forest ecosystem located one mile from the main campus.
Divided into four separate two-week sessions, Camp Massasoit offers campers a chance to experience a variety of activities that include participation in the East Campus Challenge Course, archery, swimming, Project Wild, boating, arts, crafts, and games. As part of the challenge course, small teams of campers work together toward a common objective and learn problem-solving skills while developing their leadership abilities. Project Wild assists campers in the development of awareness, knowledge, skills, and commitment to make informed decisions, behave responsibly, and be mindful and respectful of wildlife and the environment.
"The most important part of Camp Massasoit is that our mission has remained the same and continues to be focused on education and development of the whole person," said Springfield College Director of East Campus and Outdoor Programs Ben Taylor. "An integral component of camp and the development of the whole person is the understanding of respect for yourself, your counselors, your peers, and environment. This is the foundation of Camp Massasoit."
Camp Massasoit also offers adventure-based programs that allow campers to increase their current knowledge and skill-set through outdoor adventures. These options continue to hone camper's team-building and communication skills and include off-site trips during which campers go biking, flat-water paddling, rock climbing, and canoeing.
"Through both our day camps and adventure-based camps, we provide an environment where our campers learn by doing," said Springfield College Assistant Director of East Campus and Outdoor Programs Angela Veatch. "They practice how to be healthy and creative, and they gain confidence through their experiences."
Camp Massasoit will continue its 80th anniversary celebration through Aug. 21. To help celebrate, individuals can participate in the 80 for 80 Challenge, which consists of a goal of 80 gifts of $80 or more that benefit the Friends of East Campus Fund. The financial support provides items and improvements that are essential to campers and students. For more information, check out springfieldcollege.edu/giving-to-springfield-college/springfield-college-fund/friends-of-east-campus.
Founded in 1885, Springfield College is known worldwide for the guiding principles of its Humanics philosophy—educating students in spirit, mind and body for leadership in service to others. With its foundation of academic excellence and rich athletic heritage, Springfield College prepares students with real-world leadership skills for careers that transform lives and communities. The college offers a range of undergraduate and graduate degree programs in the fields of health sciences, human and social services, sport management and movement studies, education, business, and the arts and sciences. It also offers doctoral programs in physical education, physical therapy, and counseling psychology. The college is ranked in the 2015 edition of "Best Colleges" in the top tier of "Best Regional Universities – North Region" by U.S.News and World Report, and is designated as a premier Leadership Development Center by the YMCA of the USA. More than 5,000 traditional, nontraditional and international students study at its main campus in Springfield, Mass., and at its School of Human Services campuses across the country.