Springfield College Alumni News and Notes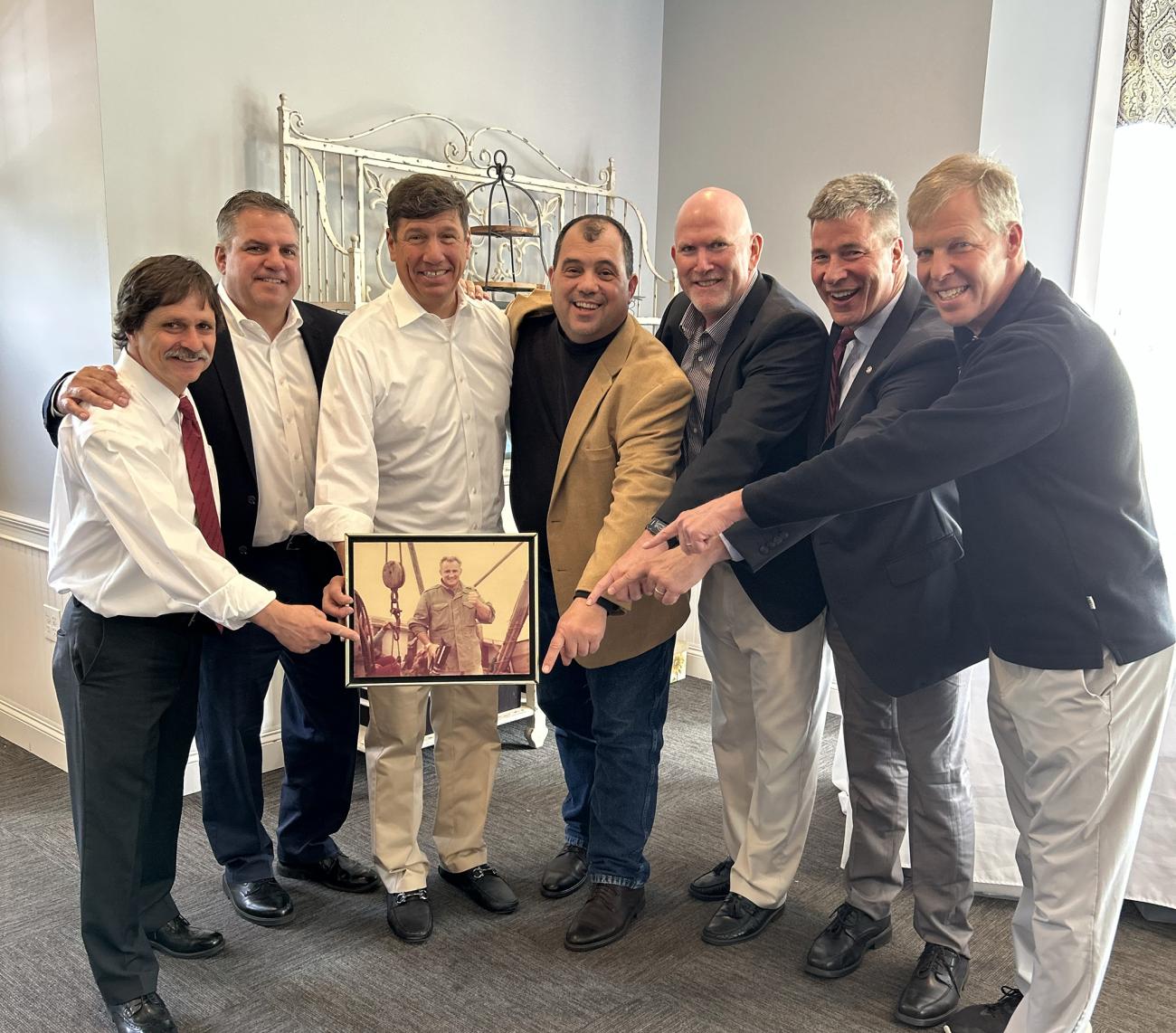 In this section, you will find alumni accomplishments and updates submitted April 21, 2023 through May 20, 2023. Thanks for sharing your news! Please direct any future submissions to alumni@springfieldcollege.edu.
By: Maria D'Agostino Crawford '91
Former Springfield College swimming and diving coach Charles J. Smith '55 passed away on April 5 at the age of 94 with his wife by his side at Orchard Valley Assisted Living of Wilbraham. At left, a group of Springfield College alumni hold a picture of Coach Smith during his celebration of life. The impact Charlie had on everyone was truly remarkable; he will forever be missed here on Alden Street.
Springfield College faculty emeritus John A. Hangasky Jr. passed away on May 20, 2023. John helped establish the Springfield College Physician Assistant program, serving as the program's first director before retiring in 2018. 
John was instrumental in building the foundation of the physician assistant studies program; developing and teaching the courses, setting up co-curricular classes with Baystate Medical Center, and—at one point—advising as many as 105 students. 
During his 25 years at Springfield College, John helped grow the physician assistant program into one of the strongest programs in the area. Read more about his archived story in Triangle magazine from 2019.
Per the request of the family, in lieu of flowers, donations in John's memory may be made to the John and Suzanne Hangasky Scholarship Fund at Springfield College to help ease the financial burden for physician assistant students. 
Crystal Cruises announced the return of shipboard leaders as the brand continues to prepare for its inaugural season under new ownership. 
Springfield College alumnus Rick Spath '78 will bring out the Crystal Serenity when the ship returns to service in July. 
"Serving as Cruise Director is one of the most important roles onboard, and we are so excited to have Rick," said Vice President of Entertainment for Crystal, Keith Cox.
Spath became a Cruise Director in 1984, and he has been with Crystal for 18 years. The upcoming 2024 World Cruise will be the 17th voyage he has led. 
While he enjoys all the various parts of the world it takes him, his favorite region is the South Pacific. 
Originally from New Jersey, Spath now calls Charlotte home where he spends his vacations playing golf and spending time with his wife and four children.
"Springfield College was a great foundation for leadership, and quite often a Springfield graduate will be aboard giving us the opportunity to reminisce and share great memories," explained Spath.
Springfield College certainly attracts a certain type of person, one who truly believes and lives our Humanics philosophy. Many of our Class of 2023 graduates have joined the ranks of our legacy alumni....those who have a parent, sibling, grandparent, aunt, uncle or cousin who is also a Springfield College alum.
A shout out to the Class of 1991, a class that had five offspring graduate from the Birthplace! 
Congratulations to:

Leeten Adolt, School of Physical Education, Performance and Sport Leadership, daughter of Sam Adolt.

Isabelle Andronaco, School of Arts & Sciences, daughter of Jay Andronaco.

Brad Bornn, School of Physical Education, Performance and Sport Leadership, son of Laura Davies Bornn.

Hayden France, School of Arts & Sciences, son of Caryn Johnson France and Ted France.

William Laviguer, School of Arts & Sciences, son of Antoine Lavigueur.

Congratulations are also in order for our other brand new Legacy Alumni:
James Chan, Undergraduate Student Speaker, brother of Jonathan Chan '25.

Carley Crain, sister of Rob Crain '04.

Rece Gobel, son of Zachary Gobel '92 and Jill Geisinger Gobel '92.

Aidan Harmer, son of Brian Harmer '95 and Lea Reutlinger Harmer '96, nephew of Philip Reutlinger '00.
Amanda Hitchcock, daughter of Ted Hitchcock '95 and sister of Caroline Hitchcock '21.

Chase Kupinsky, son of Jennifer Faulkner '93 and Craig Kupinsky '92.
Jacob Long, son of Joe Long '95 G'97 and Moira Breen Long G'97, brother to Olivia Long '26.

Grady Short, son of Jo Ann Short '84 and grandson of Robert Hoffman '57.

Andrew Stratton, cousin of Tyler Stratton ATC, LMT, CSCS, CSNC '16.

Jessica Van Horn, daughter of Dan Van Horn '92 and sister of Emily Van Horn '20 and Samantha Van Horn '25.

Douglas Wydom, brother of Leanne Wydom '26.

Congratulations to all! 
John Sutyak G'02 recently married Carmen Garcia Sutyak in a private ceremony in December of 2022, officiated by Brian Quinlan G'02. They celebrated their marriage with a reception on January 28, 2023 in Lynchburg, Virginia. 
Springfield College friends in attendance: Trevor MacDonald G'07, Brian Claypool G'02, Matthew Breen G'03, John and Carmen, Chris Mihin G'02, Tim Volkmann G'04 and Brian Quinlan G'02.