Health Promotion and Health Equity
About This Program

Admissions Contact

Program Contacts

Curriculum and Delivery

30-credit program

100% asynchronous, fully online format - make the most of an online learning format that allows you to complete coursework anytime, anywhere

Courses delivered via the Springfield College Brightspace (D2L) interface

All asynchronous courses will include synchronous office hours and student access to one-on-one meetings as needed

Courses are designed for working professionals and offer real-world application

Students are encouraged to think critically about real-life issues and apply what they have learned to solve problems in their professions and communities

Our curriculum weaves social justice and health equity topics into every course and every aspect of the program

Benefit from state-of-the-art teaching methods and health promotion strategies that will prepare you for the realities facing underserved populations and give you the tools to advance health equity

Start Dates and Duration

Start in September (Fall semester), or May (Summer semester)

Courses are offered full- or part-time

Complete the program in 1 year (3 semesters) or learn at your own pace

Paying for Your Education

Career Opportunities

Advance your career by gaining knowledge of social determinants of health and skills in developing practice and policies that advance health equity, social justice and human rights

Upcoming Events

Stay tuned for information on upcoming events!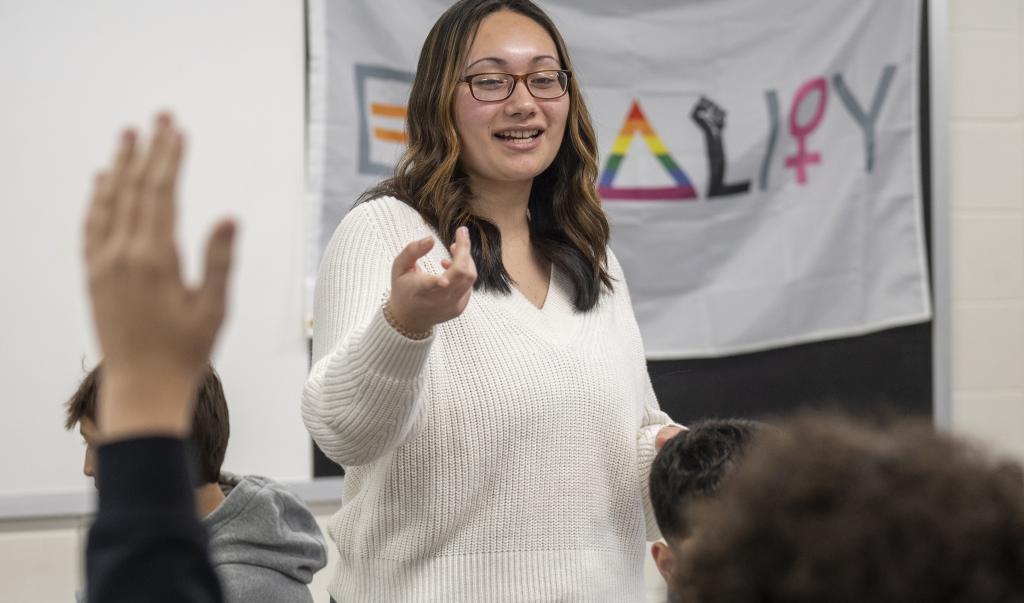 The Master of Education (MEd) in Health Promotion and Health Equity at Springfield College is guided by the core principle that health is a human right, not a privilege. The COVID pandemic and the national re-engagement on issues of social justice and racial inequity have highlighted the need for the United States to tackle health equity and health disparities. 
This program provides academic training for individuals who wish to gain a new understanding of health promotion and health education through the lens of health equity and social justice. It is specifically designed for individuals employed or planning to seek employment as health professionals in academic, clinical, community, corporate and government settings.  
There are two tracks students can take in the program:
The Health Education and Behavior Change track enables health and physical education teachers with an initial license to earn their professional license. The courses in this track focus on skills and perspectives that facilitate healthy practices at individual and societal levels. In addition students will take coursework in social and emotional learning, leadership, and health advocacy.  
The Health Equity and Social Justice track is designed for community and public health educators to develop advanced knowledge and skills they can apply to their fields. Within this track students identify structural causes of health disparities and advocate for health equity. Students take courses in social justice, ethics, and structural drivers of health disparity and inequities. The curriculum in this track is aligned with the Responsibilities and Competencies outlined by the National Commission for Health Education Credentialing (NCHEC). Students who complete this track are prepared for and may apply to take the Certified Health Education SpecialistⓇ (CHESⓇ) credentialing exam, or the Master Certified Health Education SpecialistⓇ (MCHESⓇ) credentialing exam. CHESⓇ and MCHESⓇ certification indicate professional competency in the discipline as well as dedication to professional development, and is the gold standard for certification in the field of health education. 
How to Apply:
Admissions Requirements
Complete the FREE online application: Once your application form is processed you will receive an email with your application portal login credentials and instructions for submitting supplemental materials as listed below.
Essay: In two to three double-spaced pages, please describe significant life experiences that have contributed to your interest in your field, your understanding of this field, your occupational objectives, and why you have chosen Springfield College. 
Resume: Please include any college activities, out-of-school leadership experiences, work history, and community involvement to support your interest in or qualifications for graduate study. 
Two letters of recommendation: Recommenders will receive an email when you submit your application and will be able to upload your letter to your application.
Transcripts: An official transcript from each college/university you have attended is required. In order to be considered official, transcripts must be received directly from the original source, by email to graduate@springfield.edu or mailed to the college address: 
Springfield College
Office of Graduate Admissions
263 Alden Street
Springfield, MA 01109
International Applicants
In addition to the above admissions requirements, all international applicants from non-English speaking countries are required to submit:
Proof of English language proficiency by way of the TOEFL or IELTS: Other tests may be accepted on a case-by-case basis. Please refer to our language requirements for more information on acceptable tests, minimum scores, exemptions, and conditional acceptance. If your undergraduate degree was earned in the United States and you successfully completed college-level English, we will consider English language proficiency met.
Please note: Transcripts must be in English. If the transcript is not in English you will be required to submit a professional credential evaluation completed by any member of the National Association of Credential Evaluation Services (NACES). For this we recommend SpanTran, with its customized portal for Springfield College applicants. World Education Services or Josef Silny & Associates, Inc. are also recommended for your credential evaluations.
The Office of International Admissions can assist you with questions you may have about enrolling at Springfield College as an international student by emailing intladmissions@springfieldcollege.edu.
Application Deadlines
Applications are reviewed on a rolling basis for fall (September) and summer (May) start terms.
FAQs for Health Promotion and Health Equity