Mathematics
Major or minor
Bachelor of Science
About This Program

Program Contact

Curriculum and Delivery

Our

Experiential Major Map

helps you visualize and design your journey

Courses offered on campus in Springfield, Mass.

Develop an analytic and computational toolset highly sought by employers

Build a versatile foundation that is applicable to a diverse set of career paths

Fulfilling academic curriculum that invites you to discover the beauty and breadth of our field

Small class sizes allow students to work closely with highly qualified and dedicated faculty 

Career Opportunities

There are a variety of lucrative career options: some projections see a growth in mathematics related fields of over 33% in the next 10 years

Top professional fields where alumni work: 

Secondary Education

Financial or Systems Analysis 

Higher Education

Programming

Law

Paying for Your Education

Facebook

Upcoming Events

Sunday, October 22, 2023 at 9 a.m. - 2 p.m.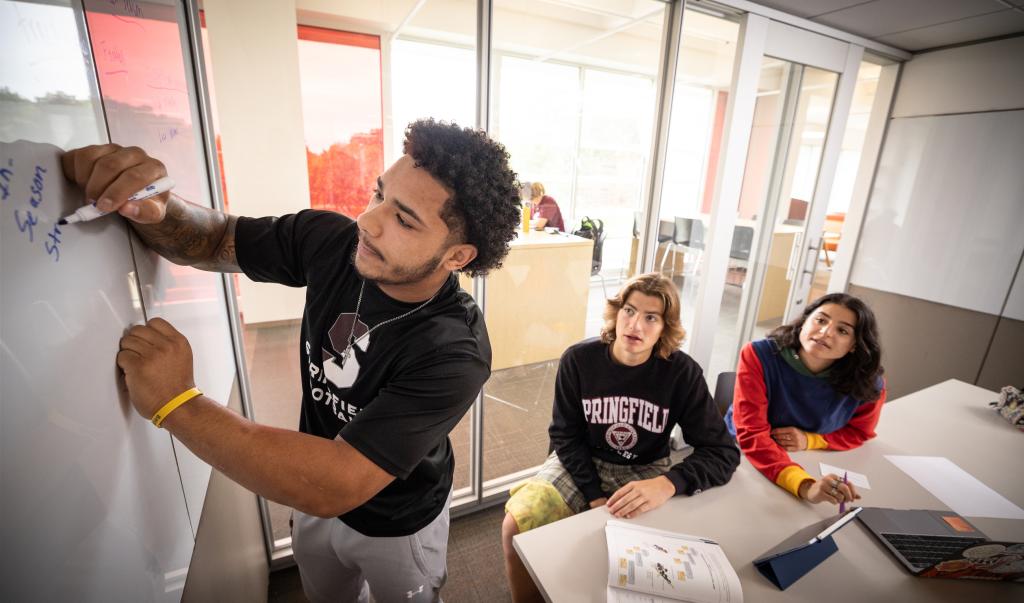 Whether you're interested in becoming a mathematician, teacher, or furthering your education in graduate school, the Springfield College Mathematics major is the perfect option. It offers a traditional program of study in mathematics that may be complemented with an optional teacher certification in secondary education. 
The mathematics major will provide you with a solid background in both pure and applied areas of mathematics. Offerings in mathematical analysis, linear algebra, discrete mathematics, and probability theory are supplemented by courses in abstract algebra, geometry, and mathematics seminar. As a mathematics major, you'll also have the opportunity to complete a minor in areas such as computer science, computer programming, business management, and economics.
You'll graduate from this program ready to pursue your professional goals, whether that be furthering your education in graduate school, teaching at the secondary level, or for a professional career in government, business, or other industries that demand numerical expertise.