Medical Science (DMSc)
Doctor of Medical Science
About This Program

Admissions Contact

Program Contact

Curriculum and Delivery

37-credit program

100% online courses held asynchronously to meet the needs of PAs working full time

Program is made up of four 12-week semesters

Taught by accomplished doctoral faculty who are at the forefront of their fields, gaining insights that will shape your expertise

Two program concentrations: Clinical or Education

Start Dates and Duration

Start in July (Summer semester) or January (Spring semester) -

*Note the first start date is July 2024, the second start date is January 2025

Program can be completed in 12-15 months while working full time

Courses are offered full time or part time 

Paying for Your Education

Stay tuned for information on upcoming events!

Graduate Open House
Thursday, October 26, 2023, at Noon or 5 p.m.
Register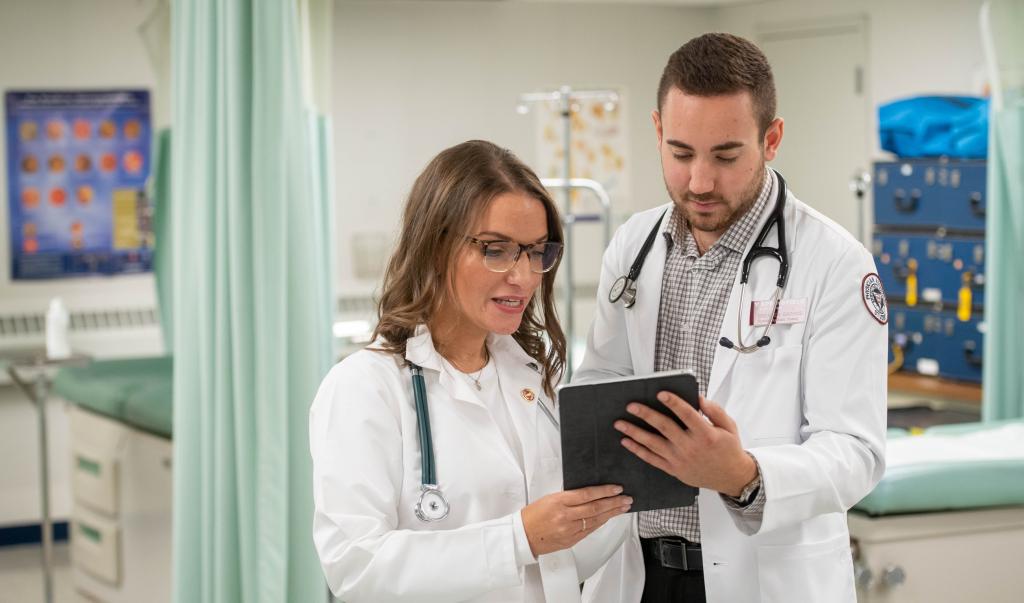 Revolutionize Health Care.
*Enrolling our inaugural class for July 2024
Embark on a transformative journey in health care by enrolling in the Doctor of Medical Science (DMSc) at Springfield College. Our DMSc program was created by PAs, offering an unparalleled opportunity for PAs to elevate their careers and impact patient care.
The DMSc at Springfield College will cultivate your leadership skills, enabling graduates to contribute to health care policy decisions, medical education, and interdisciplinary collaboration. By fostering a deep integration of clinical expertise and leadership skills, the program plays a pivotal role in shaping the future of medicine, driving innovation, and addressing complex health care challenges.
The DMSc at Springfield College offers two concentrations:
Clinical Concentration: Developed with a curriculum meticulously designed to blend advanced clinical knowledge, scholarship, and leadership skills. You will be equipped to bridge the gap between practical patient care and evidence based medicine, ultimately enhancing patient outcomes and advancing medical knowledge.
Education Concentration: Whether you're currently working in PA education or aspire to do so, this concentration is your key to professional success. Through focused courses in curriculum design and development, program development and upkeep, and the intricacies of accreditation, you will acquire the expertise needed to complement your existing medical skills. You'll graduate fully equipped to not only elevate your own clinical aptitude but also to shape the education of future generations of health care providers.
Student Learning Outcomes:
Clinical Concentration Learning Outcomes
Upon completion of the Doctor of Medical Science: Clinical Concentration graduates will be able to:
Provide advanced and/or specialized care to patients by demonstrating enhanced competency, exceeding the requirements for entry-level competencies for PAs as defined by the NCCPA:

Knowledge for practice
Interpersonal and communication skills
Person centered care
Interprofessional Collaboration
Professionalism and Ethics
Practice-Based Learning and Quality Improvement
Society and Population health

Develop the skills needed to take on leadership roles at local, national and/or global levels.
Review, critique and develop plans/projects for improving patient safety and outcomes.
Develop professional writing skills
Create an evidence-based article for publication.
Education Concentration Learning Outcomes
Upon completion of the Doctor of Medical Science: Education Concentration, graduates will be able to:
Apply medical education literature and learning theory to advance student learning and program effectiveness through application of the PAEA PA educator competencies:

Teaching
Learner-Centeredness
Interpersonal and Communication Skills
Professionalism and Role-Modeling
Program and Curriculum Design and Implementation
Program Evaluation
Scholarship Development
Leadership
Mentorship

Develop projects that improve student learning outcomes, program curriculum, program assessment and accreditation maintenance.
Develop professional writing skills
Create an evidence-based article for publication
How to Apply:
Admissions Requirements
Complete the FREE online application: Once your application form is processed you will receive an email with your application portal login credentials and instructions for submitting supplemental materials as listed below.
Essay: 

In one page or less, double-spaced, please convey your professional aspirations that this degree will help you to achieve. 

Resume:

Please include personal, educational, and professional achievements. 

One letter of recommendation:

Recommenders will receive an email when you submit your application and will be able to upload your letter to your application.

Proof of licensure:

Submit documentation showing proof of active licensure or certification as a PA professional

Transcripts: An official transcript from each college/university you have attended is required. In order to be considered official, transcripts must be received directly from the original source, by email to graduate@springfield.edu or mailed to the college address: 
Springfield College
Office of Graduate Admissions
263 Alden Street
​​​​​​​Springfield, MA 01109
International Applicants
All international applicants from non-English speaking countries are required, in addition to the items listed above, to submit:
Proof of English language proficiency by way of the TOEFL or IELTS. Other tests may be accepted on a case-by-case basis. Please refer to our language requirements for more information on acceptable tests, minimum scores, exemptions, and conditional acceptance. If your undergraduate degree was earned in the United States and you successfully completed college-level English, we will consider English language proficiency met.
Please note: Transcripts must be in English. If the transcript is not in English you will be required to submit a professional credential evaluation completed by any member of the National Association of Credential Evaluation Services (NACES). For this we recommend SpanTran, with its customized portal for Springfield College applicants. World Education Services or Josef Silny & Associates, Inc. are also recommended for your credential evaluations.
The staff in the Office of International Admissions can assist you with questions you may have about enrolling at Springfield College as an international student by emailing intladmissions@springfieldcollege.edu.
Application Deadlines
Domestic Students:
Applications are reviewed on a rolling basis for Summer (July) and Spring (January) start terms.
International Students:
Summer Semester
Application and Supporting Materials Deadline: February 1
Spring Semester
Application and Supporting Materials Deadline: September 1