Physical Education (CAGS)
Certificate of Advanced Graduate Study
About This Program

Admissions Contact

Program Contact

Curriculum and Delivery

35-credit certificate
Courses offered on campus in Springfield, Mass.

Start Dates and Duration

Start in September (Fall semester) and January (Spring semester)
Courses are offered full- or part-time
Complete within 5 years

Paying for Your Education

Career Opportunities

Upcoming Events

The 50th Anniversary of The Karpovich Lecture
Exercise Physiology Research at Springfield College: Then and Now
October 11, 2023, 6:30 p.m. EST
Register for the Karpovich Lecture

Physical Education and Athletic Leadership Virtual Information Session
Wednesday, October 18, 2023 at 7:45 p.m. EST
Register

Corn Hole and Palm Ball with a Current Student and Graduate Information Session
Tuesday, November 14, 2023 at 5 p.m. EST
Register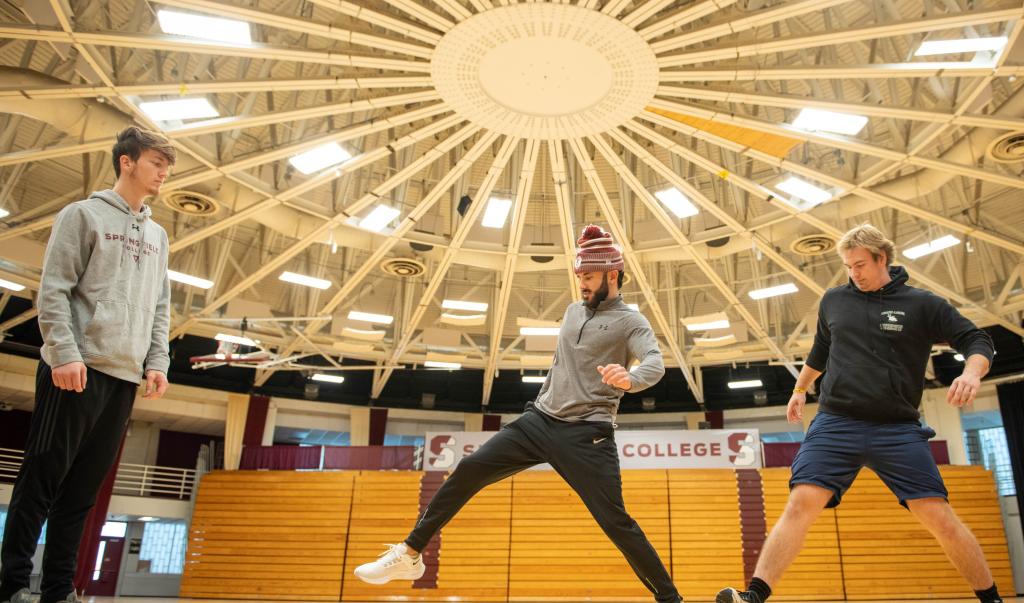 Looking to further advance your skills?  Ready to step into a leadership role? The Certificate of Advanced Graduate Study (CAGS) in Physical Education at Springfield College is designed to serve individuals who hold master's degrees and are seeking the next step in their educational path.  Ideal for physical educators and athletic administrators, the program is flexible to allow for full- or part-time study and co-creation of curriculum.
You'll work closely with an academic advisor to define professional goals and design a curriculum to advance toward those goals.  The program core offers field experience along with a research course and/or a research project depending on prior experience and future goals.  The research experience affords opportunities to conduct original research or examine existing literature and apply evidence-based practice within your current role.  Coursework is selected within the content areas of physical education and administration with room for electives in additional areas of interest.
Graduates of the program often take on leadership roles in educational settings, such as department chair, coordinator, or athletic director.  Whether you're looking to improve your practice or take on a new role, the CAGS in Physical Education program is here for you!
How to Apply:
Admissions Requirements
Complete the FREE online application: Once your application form is processed you will receive an email with your application portal login credentials and instructions for submitting supplemental materials as listed below.
Essay: In two to three double-spaced pages, please describe significant life experiences that have contributed to your interest in your field, your understanding of this field, your occupational objectives, and why you have chosen Springfield College.
Resume: Please include any college activities, out-of-school leadership experiences, work history, and community involvement to support your interest in or qualifications for graduate study.
Two letters of recommendation: Two letters of recommendation from a faculty member or direct supervisor: Recommenders will receive an email when you submit your application and will be able to upload your letter to your application.
Transcripts: An official transcript from each college/university you have attended is required. In order to be considered official, transcripts must be received directly from the original source, by email to graduate@springfield.edu or mailed to the college address:
Springfield College
Office of Graduate Admissions
263 Alden Street
Springfield, MA 01109
International Applicants
In addition to the above admissions requirements, all international applicants from non-English speaking countries are required to submit:
Proof of English language proficiency by way of the TOEFL or IELTS: Other tests may be accepted on a case-by-case basis. Please refer to our language requirements for more information on acceptable tests, minimum scores, exemptions, and conditional acceptance. If your undergraduate degree was earned in the United States and you successfully completed college-level English, we will consider English language proficiency met.
Please note: Transcripts must be in English. If the transcript is not in English you will be required to submit a professional credential evaluation completed by any member of the National Association of Credential Evaluation Services (NACES). For this we recommend SpanTran, with its customized portal for Springfield College applicants. World Education Services or Josef Silny & Associates, Inc. are also recommended for your credential evaluations.
The Office of International Admissions can assist you with questions you may have about enrolling at Springfield College as an international student by emailing intladmissions@springfieldcollege.edu.
Application Deadlines
Domestic Students
Fall Start
Application and Supporting Materials Deadline: August 15
Spring Start
Application Deadline: December 1
Supporting Materials Deadline: January 1
International Students
Fall Start
Application and Supporting Materials Deadline: May 1
Spring Start
Application and Supporting Materials Deadline: October 1