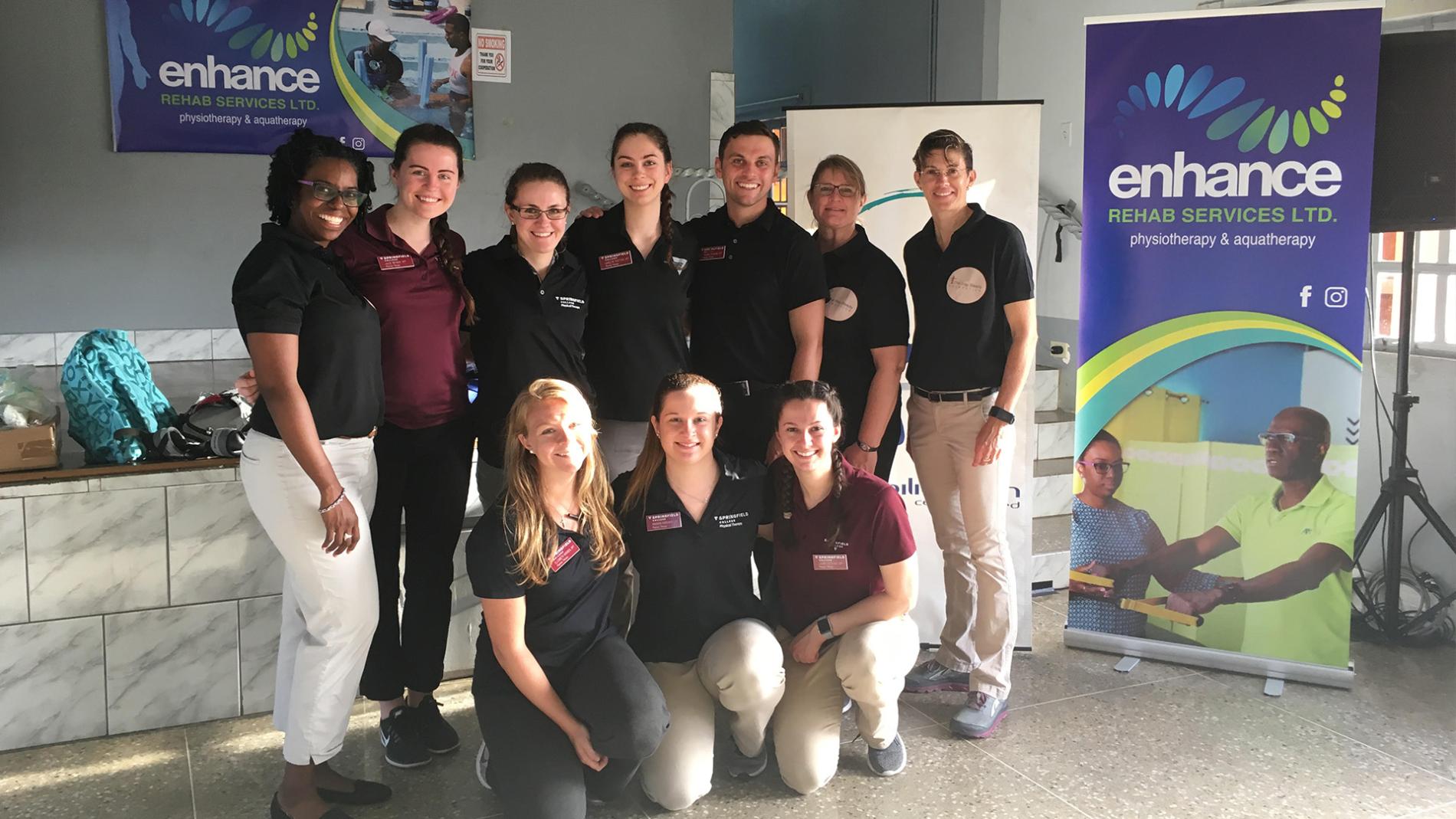 For the third consecutive year, Associate Professor of Physical Therapy Kim Nowakowski took students to the island of Trinidad to participate in the National Fall Prevention Program. The trip is filled with numerous educational and cultural experiences that leave students reflecting both professionally and personally long after the visit is over. Four participants share their reflections in the latest Springfield Stories blog post.
An introduction by Kim Nowakowski, PT, DPT, MS ('90, G '91)
For the 3rd consecutive year, I have taken graduate students in the health sciences to Trinidad to participate in the National Fall Prevention Program. This is a free educational program that includes functional screening for fall risk that is offered as a community service project to address the problem of falls among older adults in Trinidad and Tobago. The program is conducted by the Stay Steady Foundation, which is powered by Total Rehabilitation Center Ltd, Enhance Rehab Services Ltd. and the Springfield College Department of Physical Therapy. It was initiated by the collaborative effort of 3 physiotherapists in Trinidad (Carla Rauseo, Springfield College MSPT '05, Wynelli Pierre, and Chanol Ottley) and myself as a physical therapy faculty member and Board Certified Geriatric Clinical Specialist.
This spring break I had the opportunity to share this experience with 6 DPT students (Liz Monsen, Tom Perham, Shannon Karbowski, Laura Patruno, Julie Reiner, and Carolyn Trottier) and Abby Mulligan, an alumna of the DPT program class of 2018 and the orthopedic resident at Live Every Day, who has participated with me since the program's inception 3 years ago. Throughout the week we presented educational sessions on the importance of exercise in fall prevention, instructed participants in exercise breakout sessions using exercises that they can continue at home such as standing on one leg, conducted functional screens for fall risk, assessed vital signs, and instructed individuals on how to get up from the floor after a fall. Learning how to get up safely from the floor was an anticipated event each day and participants waited to speak with us after the program to say thank you, ask a question or find out more about us. One of the most rewarding things for me is to see participants return to this year's program with their fall screening results from last year or say that they knew how to get up from a fall because of attending the program in the past. It was an incredible week combining community outreach, collaboration with a variety of health professionals, traveling to different locations, cultural experiences and local foods!
A Day of the Falls Prevention Program

By Laura Patruno
While in Trinidad, our mission was to educate people that falls can be preventable. We had 3 days where we screened adults over the age of 60 for falls, assessed their vitals, and provided them the opportunity to listen to educational guest speakers. When arriving at the locations for the Falls Prevention Program, of which were 3 different locations throughout Trinidad, we had to be creative with where we were going to set everything up. There was always a large room with chairs, and that was utilized for the presentations. For vitals and the screening process, we utilized a hallway or an outdoor space so we would not interrupt the presentations.
The screening process involved assessing vitals first. Vitals needed to be assessed first because some people had blood pressure that was way too high, making it dangerous to exercise. If a person had high blood pressure, they were then asked if they were prescribed medication and if they were taking it as prescribed. Many people in Trinidad are prescribed blood pressure medication but only take it when they are having symptoms of high blood pressure, rather than every day like they are instructed. This involved a lot of education on the importance of taking medication as prescribed and keeping in touch with doctors who monitor vitals. If vitals were at a level that was safe to exercise, the person was then sent to the screening stations. At the screening stations, three tests were performed. The tests consisted of the Timed-Up-and-Go, 30-second Sit to Stand, and Single Limb Stance. These tests took about 3-5 minutes to administer and assessed strength and balance. If a person did not meet a certain score for each test, we explained to them what their score meant, and gave them exercises that would help them to improve their score to promote safety and prevent future falls. We also gave them a pamphlet on how to keep their home safe. For example, small changes like getting rid of throw rugs, or moving wires off the floor can make a home more accessible and safer. Each person also got a copy of their scores so they are able to track their progress.
While working at the screening station, I had a person bring their paper with their scores on it from the year before. This person wanted to compare their current score to their score from last year to see if they had made any improvements. I also had a person tell me that after leaving last year, they went to the doctor's and were prescribed blood pressure medication. It was amazing to be a part of a foundation that was able to make a difference in someone's life. At the same time, these people made a huge difference in my life. They gave me a new perspective and appreciation for things. Traveling to a country I did not know much about while doing something I am passionate about was one of the best decisions I have ever made.
International Accessibility Differences 

By Carolyn Trottier
As a student of physical therapy, it tends to be difficult to turn off your "clinical brain." Most moments during our car rides and screening sessions, I found myself comparing the lives of participants from the US and Trinidad. Picture this: you are in a van navigating narrow roads with limited driving space and most of the time no sidewalks. Areas for pedestrians are scarce, and when you pull into a parking space there are no reserved spots for handicap parking. The gravel roads are uneven and difficult to walk on without tripping, but luckily you have good sneakers and sharp eye-sight to dodge the dips and cracks. At this moment, I turned to Carla and asked, "How do people get around these roads when they have wheelchairs or assistive devices?" She quickly answered: "They don't. Those individuals are most of the time home-bound."
In the US, we are accustomed to having handicap-accessible buildings, roads, schools and public facilities, all protected by law. In Trinidad, there would need to be a nation-wide reconstruction to create equity for those bound to assistive devices for mobility. This could be possible but is a multifactorial problem that would require much action from both the community and government to advocate for change. The situation emphasized the importance of teaching participants about assistive devices and balance exercises, as their daily lives in the community have the potential to be full of fall risks and accidents. As movement specialists, it was incredibly beneficial to immerse ourselves in their culture and to gain insight on how we may be able to provide resources and suggestions to increase awareness on health, wellness, and fall risk.
Café Mariposa, Yerettê, and Maracas Waterfall

By Shanon Karbowski
While in Trinidad we were able to experience some of their cultural highlights such as cocoa production and the history of hummingbirds. We first visited Café Mariposa up in the mountains of Lopinot where we were able to have a meal with multiple elements influenced by cocoa. Cocoa is a very popular product of Trinidad and has even won many awards at international chocolate competitions. As we walked through the gardens we learned about the rigorous process they must go through to create chocolate as we know it. From properly cutting the pod from the tree, to the fermentation process, to properly mixing the chocolate in the right ratios, there is so much that must be monitored in order for chocolate to meet their standards and be sold. One of the most fascinating facts that we learned on our tour was that whatever the cocoa tree is being grown next to it will absorb the scents and flavors of the fruits or plant. This creates unique flavors that cannot be mirrored with artificial flavors of any type. We also were able to see them mixing the cocoa during the fermentation process where it gave off an extremely fragrant scent.
Our next experience allowed us to travel to Yerettê, which is a hummingbird sanctuary in Maracas, St. Joseph that has up to 14 different types of hummingbirds at a given time. This experience was stunning as it was the most hummingbirds any of us had ever seen and they were extremely vibrant in color, unlike any seen around here. We learned just how important hummingbirds were to Trinidad and Tobago and how they can also be seen as the unofficial national bird. They are used as a symbol on items such as their currency, military patches, and various companies all around the islands. After our visit here we were able to see a silk-cotton tree and hike to Maracas waterfall, which are both considered sacred structures in many different religions and were absolutely breathtaking to see in person. It was such a great experience to get a glimpse into the culture of the Trinidadian people and see what the island is like day to day.
Eating in Trinidad and Tobago

By Julie Reiner
I was surprised how similar the eating behaviors are between Trinidad and the United States. Fast food is a popular choice among locals, due to the low price point but contributes to the development of high blood pressure and diabetes. The people in Trinidad are often excited to have U.S. citizens compare the KFC in the U.S. to the KFC in Trinidad. The consumption of fast food may not be that different from what we see in the states especially in areas of lower socioeconomic status due to the access and convenience. One difference between the U.S. and Trinidad was the increased utilization of hands to eat. Indian is one of the more common types of food, and typically includes extra spice which can irritate the GI system and should not be eaten with dairy products. When going out for roti, which was described as an Indian curry burrito, it is most commonly eaten with the hands despite being messy. At the roti restaurant, there was a sink available to wash your hands. On the other hand, when going out for doubles which is a chickpea-based curry we walked to a street vendor where there were only napkins and a jug full of water for rinsing hands after eating.
While in Trinidad we learned about the history of cocoa in the country and about how they change the flavor of the cocoa-based on what was planted around it. For example, the cocoa we tried tasted like mango since it was planted near a mango tree. Cocoa was once one of the country's major exports before oil was found. The oil industry lured cocoa farmers into the industry with a large increase in pay which reduced the export of cocoa.
Another similarity between the U.S. and Trinidad is the large consumption of sugar. During the first day of testing, one of the presenters wanted to show the crowd how much sugar was in a can of Coke. After pouring 9.5 teaspoons into a cup of tea the audience was in disbelief. The large amount of sugar we consume in the U.S. is something I like to think we are aware of and many people have chosen not to change or overindulge on occasion. One thing that I found interesting was being informed that some people in Trinidad often add sugar to juice. This was something I had never heard of and never considered since juice is already sweet. The consumption of added sugar and overindulgence on unhealthy food contributes to high blood sugar as well as high blood pressure which was a major problem we saw in Trinidad, and often see in the United States.