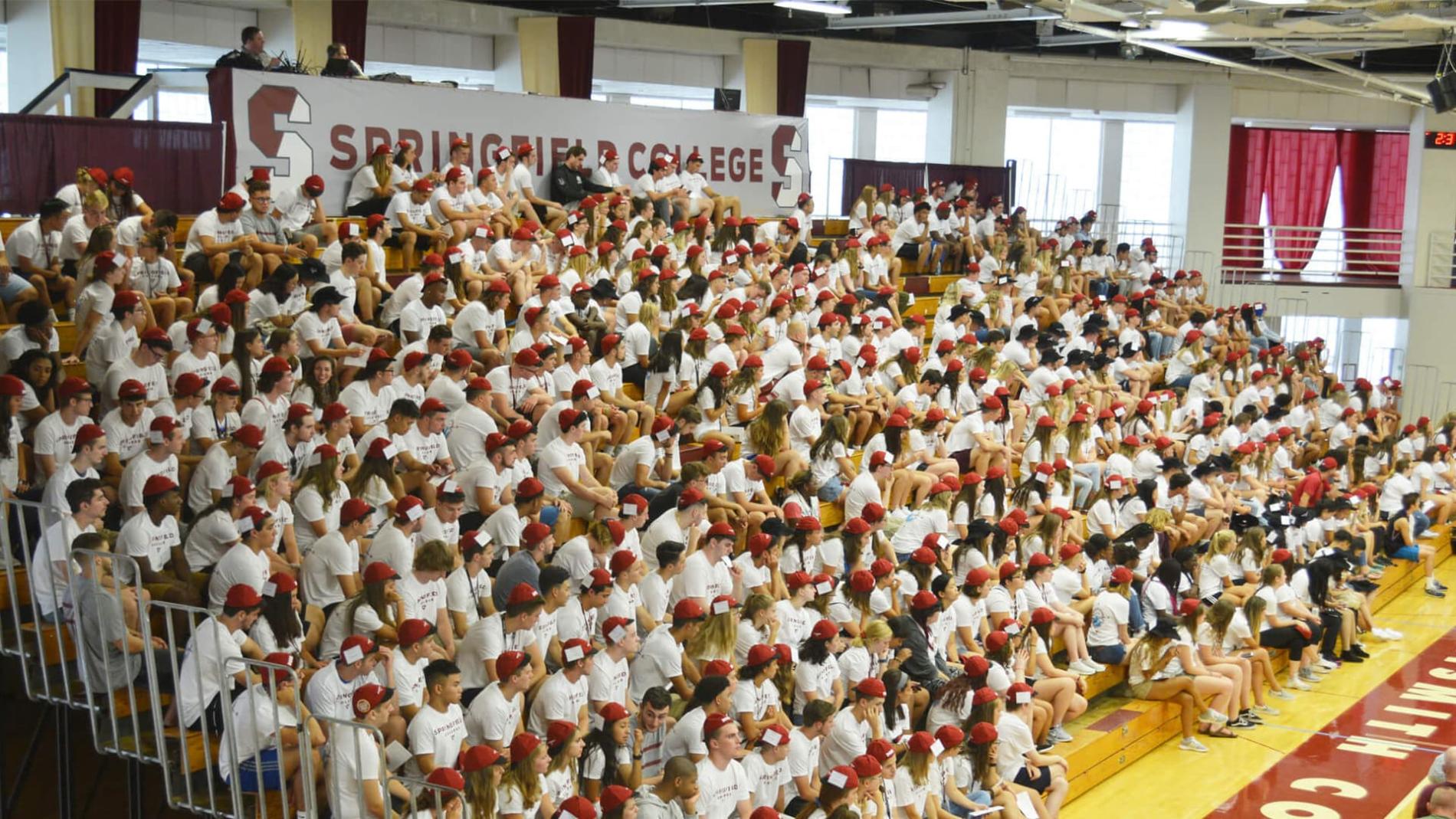 Sometimes alumni find their way back "home." Samantha Morris-Avery describes how, after graduating with her masters in 2014, she managed to come "full triangle" and find herself as an employee at Springfield College.
My name is Samantha Morris-Avery and I have drunk the Springfield College Kool-Aid.
Everyone has their story on how they ended up at Springfield College. I am lucky enough to have three. Grad school, post-graduation internship and now as a full-time staff member, I consider myself very lucky to have gone through (and continue to go through) my own unique story as a Springfield College family member.
August 2012
I started my first full week as a teaching fellow in the Springfield College Athletic Department. Preseason was underway for fall sports and I was cramming to learn everything I possibly could about event management before the first official weekend of athletic competition for the 2012-2013 academic year began. In the blink of an eye, I found myself chasing after my second year teaching fellow mentors and fist bumping fellow athletic department co-workers as we ran by each other to grab more towels or fix a broken scoreboard. The twenty-five athletic competitions happened in three days, and by the time I realized they even started, I was sitting in my first Athletic Administration graduate class on Monday morning.
May 2014
I am walking across the stage accepting my diploma after what felt like the fastest two years of my life. I had learned a lot at Springfield College during that time, not only in the classroom but through my various internships, full-time position as a teaching fellow, and on the different committees and groups I was involved with on campus. It was a big happy family with which I fell in love.
Summer 2014
I interviewed with numerous institutions for several different positions. Talking via phone interviews and going onto several campuses, it just didn't feel right. Well, when they say timing is everything...they mean it, because finally after what felt like my 3,427,983,748th phone interview, a two-year full-time internship opened up in the Springfield College Athletic Department. I applied within 24 hours of the posting (of course) and sweated out what felt like forever until the posting closed. Long story short, after a rigorous interview process I was offered the Assistant to the Athletic Director position, sponsored by NCAA Women and Ethnic Minority grant. All my prayers had been answered!
Months passed. I remained connected with co-workers that became family during my time as a graduate student, and I gained new friends. It was awesome, but of course the more and more you get close with people and confide in them, the more they open up to you and give you advice. I have always been one to seek out both professional and personal criticism. How else are you supposed to become better then the day before if you don't take a look in the mirror? But anyway, as time progressed, all of my mentors were telling me they thought it was time that I expanded my wings. I still had a year left for my internship and was so thankful to be on Alden Street that it took me a few months to really make the connection that in order to be a more experienced professional and a better me it was time I learn from another institution. I found my way to Springfield College twice, I am sure if it was in my cards I would find it again.
June 2015
I accepted another position in Pennsylvania. Eight hours from home and in the middle of nowhere. It was a very new environment considering that I had never lived more than an hour from home and knew no one. I hunkered down, found an apartment and made work my life until I finally started making friends in the area and through work functions. Looking back, I learned a few very important things about myself, which of course is annoying because all of my Springfield College mentors said I would.
 I learned my philosophy. When you are in a new surrounding it is very easy to adapt and mold your philosophy based off of other people.  That did not happen to me. I wholeheartedly was living the Humanics Philosophy and carried out my daily living through educating my "Spirit, Mind and Body".
I learned to listen to myself. Living alone for the first time was very intimidating. At first, I thought I needed the television on all the time, even while I read. When I started listening to myself and educating my MIND I was able to adapt to the quiet and really sort through my core values and figure out what I wanted out of life.
True friends are measured by love, not distance.
My third and final year at my previous job people ironically kept asking me what I wanted next from my career. What position in athletics was next for me? I honestly answered that question by saying...I have no idea what the next position would be, all I know is I want to end up back at Springfield College.
March 2018
From there, the rest is history. I appreciated and enjoyed my time in Pennsylvania, but it was time to get back home. I was so grateful to Tamie and the Alumni Relations team for opening the door and welcoming me back to the place I love. In the short amount of time that I have been back on the shore of Lake Massasoit, everything has been amazing. I am so appreciative of the faculty and staff who live by the Humanics Philosophy and put their best effort forth to make this college so great for prospective and current students. I love the student body. There is nothing like it. Working with our student-staff and student-volunteers is a feeling that I will never be able to describe. And of course, I absolutely love connecting and reconnecting with the alumni. Over 40,000 Springfield College alumni in the world doing big things, representing this institution, and I have the privilege of serving them in my role as the Assistant Director of Alumni Relations.
As I like to tell people, my life has come "full triangle." I have worn maroon as a student, an alum, and now as a staff member. That's the first few chapters of my story...I can't wait to see what alumni and prospective students I am going to meet in my next couple of pages.