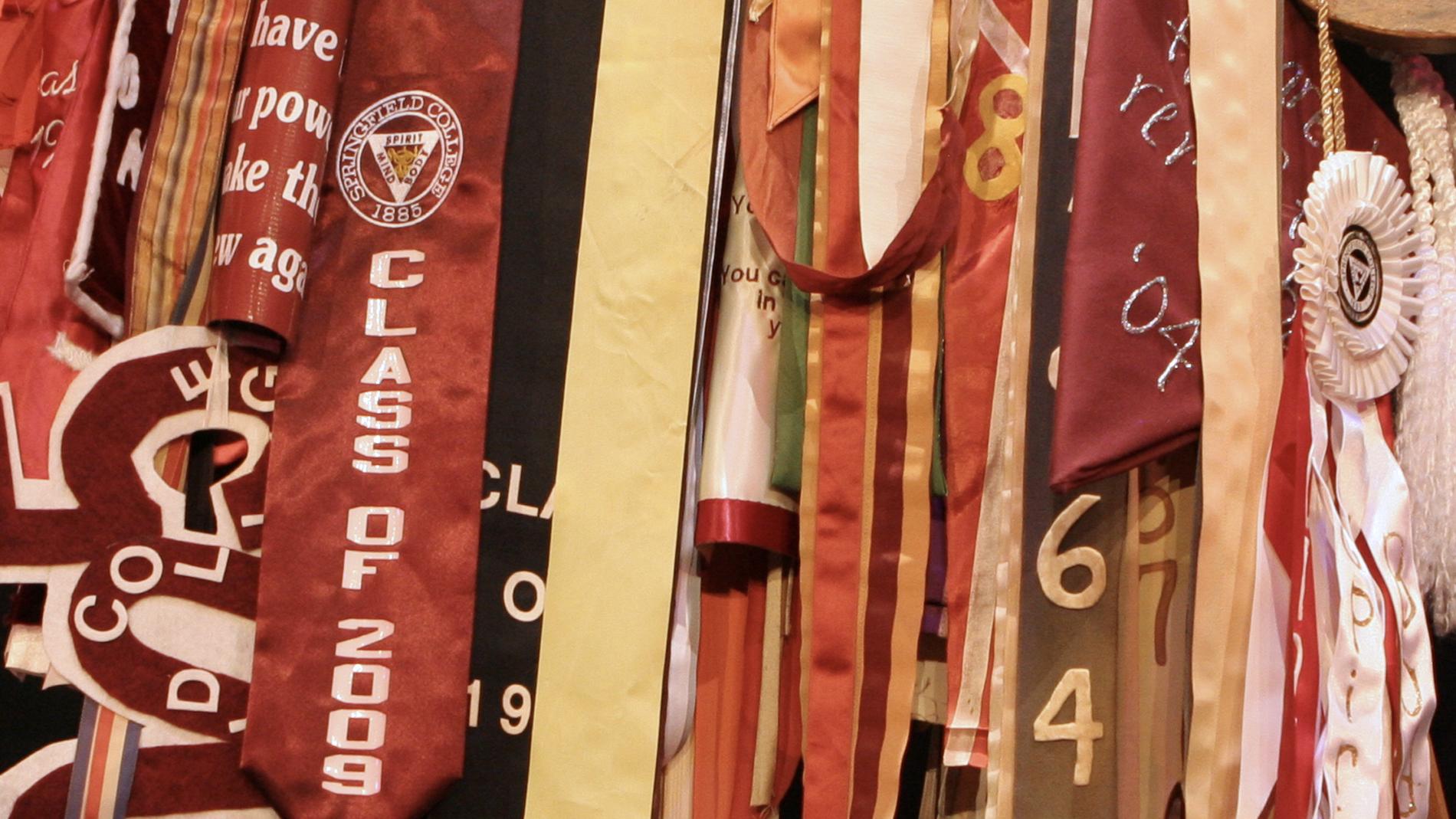 Marianna Newman ('85) knew from the moment she stepped on campus that her life was about to change forever. Newman describes how Springfield College empowered her to follow her dreams and how her "Springfield DNA" continues to be incorporated into every aspect of her life, including her work as a therapeutic recreation specialist and clinician.
I remember the day I saw the envelope on the dining room table. The return address read: "Springfield College Admissions." I will never forget opening the letter and feeling the joy and happiness in my heart that this special place wanted me to be part of their family! To add to the excitement, I learned that I would be honored in graduating in the 100th year of the college's history. I would be a member of the Centennial Class of 1985.
When I arrived on campus (ready to meet my beanie), I immediately felt a sense of peace and wonder. I was excited to have a new family and to experience all there was for me to discover. I was one of the very few students from my class from Rhode Island that was out to make a real difference. My life was about to change in a way I would have never imagined. My dreams were about to take life!
There was a list of things I wanted to accomplish while at college:
"I want to sing! I want to dance, I want to be fully self-expressed!
I want to shift the world with my love! I want to make people laugh!
I want to empower people! I want to celebrate diversity!
I want to make my parents proud of me!
I want to have friends from all over the world!
I want to be a therapist and care of others!
I want to make a difference!"
Every morning when I wake up, I am grateful that I was invited to be a part of the most amazing family. Family means home to me and home means acceptance. Acceptance means that no matter what, there is a place to go when you need encouragement, approval or acknowledgment. My life would not be the same if I had not experienced the love, light, and support from my Springfield College family. Springfield College and my family at Springfield are very dear to me still.
While at Springfield I was able to develop my skills as a triple threat. As an actress, vocalist, and dancer, I was empowered to share and to fully self-express. This was something that I had dreamed of doing and during my education at Springfield, I was in the perfect place to open my world to what was possible!
Also as a result of my experiences at Springfield, I am empowered to live with a high level of integrity. I learned to listen to others as well as to express myself with respect for others. I learned that kindness and love can shift the world. I was challenged to understand balancing spirit, mind, and body as well as to believe in my dreams. Professors encouraged me to live my dreams and to embrace the journey toward success.
My purpose became indelible when I was placed in a job with Frank Hartsoe, another Springfield College graduate. As a direct result, I am proud to say that I was able to empower youth to dream and achieve. We worked for 13 years together in the largest, longest running all children's circus in the United States (Own Hope: The Journey That Empowered Others). Frank and I represented Springfield and we knew what it meant to these young boys who had broken families to experience the bond of family, and to feel the exhilaration of success! In Dobbs Ferry, NY, we gave them a chance to learn, perform, and express. We helped them to understand the balance of spirit, mind, and body. We gave them a home, a place to feel safe and acknowledged.
For over 33 years I have been able to incorporate my Springfield DNA into my way of being a therapeutic recreation specialist and clinician. As a clinician, I share with others through the performing arts in a way that allows them to be drawn to beauty and to feel joy or adventure. Through creating a therapeutic milieu, many are able to gain hope and find success after experiencing challenges created by accident, addiction, diseases, or trauma. I have been able to touch the lives of many others with a sincere interest in creating joy, love, and hope as they travel through life with various physical, mental, or psychosocial challenges.
The pinnacle of what I was educated to do was revealed in 2016 with the creation of Journeyscape Design. I wanted to create radiant love for others. I took on a very unique approach to awakening the brains of those who are living with Alzheimer's and Dementia. As a photographer for many years, I organized over 480 of my original photos into chapters on a DVD so that those experiencing various challenges could journey to the outside world. The images have been specifically chosen to awaken their senses. The flower garden, classic cars, the zoo, the amusement park, country living, horses, and the beach are just a few of our stops along our adventure filled with beauty, color, and love.
Springfield College is love and will always be my heart and my home. I am eternally grateful for the years I lived at Springfield College. I am propelled to continue to give to others. Springfield College taught me to persevere through uneasy times, and to accept challenges graciously for the lessons along my path. I choose to learn, to be compassionate, to create radiant love, and to understand the challenges others may face. I live to inspire others. This is my moral creed.
I am Springfield College: Alive in SPIRIT, Open in MIND, Strong in BODY.