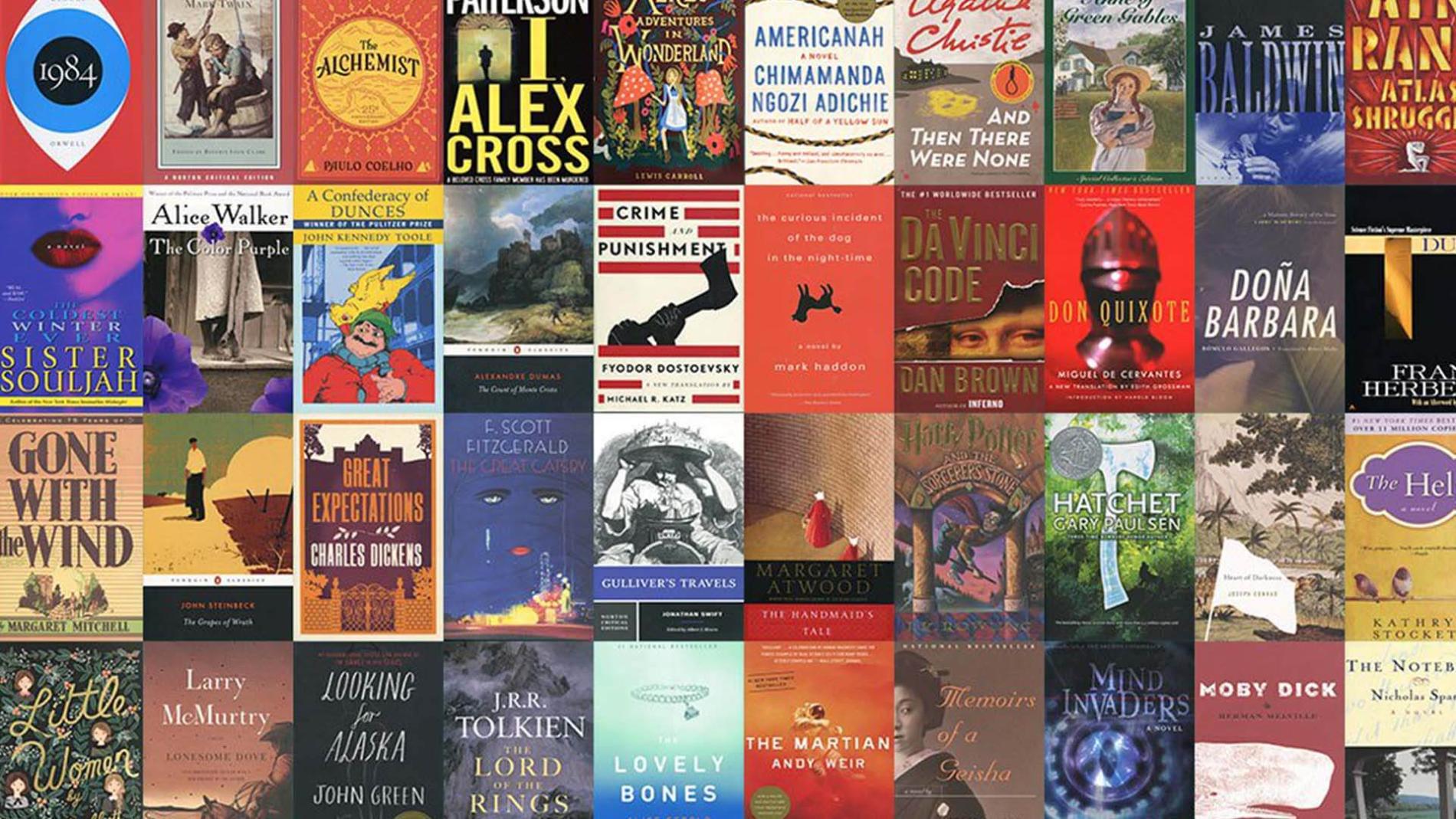 This year, in an eight-part series, PBS investigated some of America's best-loved novels on The Great American Read. In honor of the investigative and inspiring look into literature, Outreach Librarian Kerri Vautour launched The Great Springfield College Read, a social campaign that went viral within our community. By the end, 73 faculty and staff (including President Mary Beth Cooper) had shared their select titles off the PBS list and why they loved that book so much. Kerri shares why this campaign was so important, and what it meant to her.
"Every time I read the novel I discover more in it."
"My understanding of the world and its peoples was changed forever in the most positive ways."
"This book is powerfully ingrained in my personal history and sense of self."
Ask anyone who can read or have someone read to them, and they will share with you the name of a book that has stuck with them over their lifetime. It could be a book read as a child that provokes nostalgia of happy memories; it could be something read at a transformative stage of life that helped guide the person to become who they are today; it could have a character or story that is particularly relatable; it could be something read and reread several times over their life, each time revealing something new and important.
Whatever the reason, these connections exist, and they are what make literature so well-loved. That was the reason that PBS launched the Great American Read project, using thousands of votes to create a list of America's 100 favorite novels. And that was why I created a Springfield College-centric version, inviting faculty and staff to select titles off PBS' list of 100 and share what made them love that book so much.
The idea started as a way to allow the Library Services staff the opportunity to share their own favorite novels. And the group quickly jumped in - digital technologies librarian Alli Martel shared her love of Toni Morrison's Beloved; reference librarian Chelsea Tuthill gave the perspective of reading A Tree Grows in Brooklyn as a teenage descendant of Irish immigrants; acquisitions specialist Cathy Xu noted that she read The Adventures of Tom Sawyer as a child in China.
As these began rolling in, I realized how much it could grow. There were 100 books, after all, and only 16 staff members in the library. So I created a virtual sign-up sheet and invited all of the faculty and staff to "claim" a title. Each person who did sent me a short (sometimes not-so-short) blurb about why the book is important to them along with a selfie.
I was immediately overwhelmed with how many people wanted to participate and how eager they were to do so. But it quickly became evident why: for many participants, these books were not just stories they read but rather important parts of their lives. Sean Mangan from the registrar's office discussed how The Curious Incident of the Dog in the Night-Time gave him a new perspective on his daughter with autism. Eric Castillo, campus director of the School of Professional and Continuing Studies in Houston, explained what it felt like to read Bless Me, Ultima as a Xicano/Mexicano. Director of Academic Advising Judy Hartling loves Tales of the City because "I lived them all!"
These books instilled a love of reading for many participants. They told stories about parents recommending the books to them and forging a connection that way. Jennifer Thompson from the Center for Service and Leadership gained a new appreciation for her sisters after reading Little Women. Korey Boyd, a faculty member in physical education, was an "unmotivated sixth grader" until he read Hatchet. "As a result of reading this novel, I cultivated a love of reading, the great outdoors, and greater respect for First Nation culture," he wrote. "Put simply, this novel was in my development as a scholar."

In the end, 73 people participated in the project, representing a wide swath of the Springfield College community. Five different campuses from the School of Professional and Continuing Studies had representatives. We had faculty (29) and staff (44). We had administrators. Counselors. Custodians. Administrative assistants. Graduate Assistants. Librarians. Writers. We even had a president, as Dr. Mary-Beth Cooper shared her love of Paulo Coelho's The Alchemist.
More than numbers, what this project did was present the Springfield College community as a series of unique individuals with different perspectives and experiences. Colleagues who had worked side-by-side for years learned things about each other they had never known before. It sparked break room discussions about book recommendations. It allowed faculty, staff, students, and alumni to see these participants in a different light while bringing the campus community closer together.
I was happy that people shared my love of literature enough to claim books off the Top 100 list. I was thrilled to learn why each person chose their particular title. And I'm hoping that this makes our close-knit community even more close-knit.