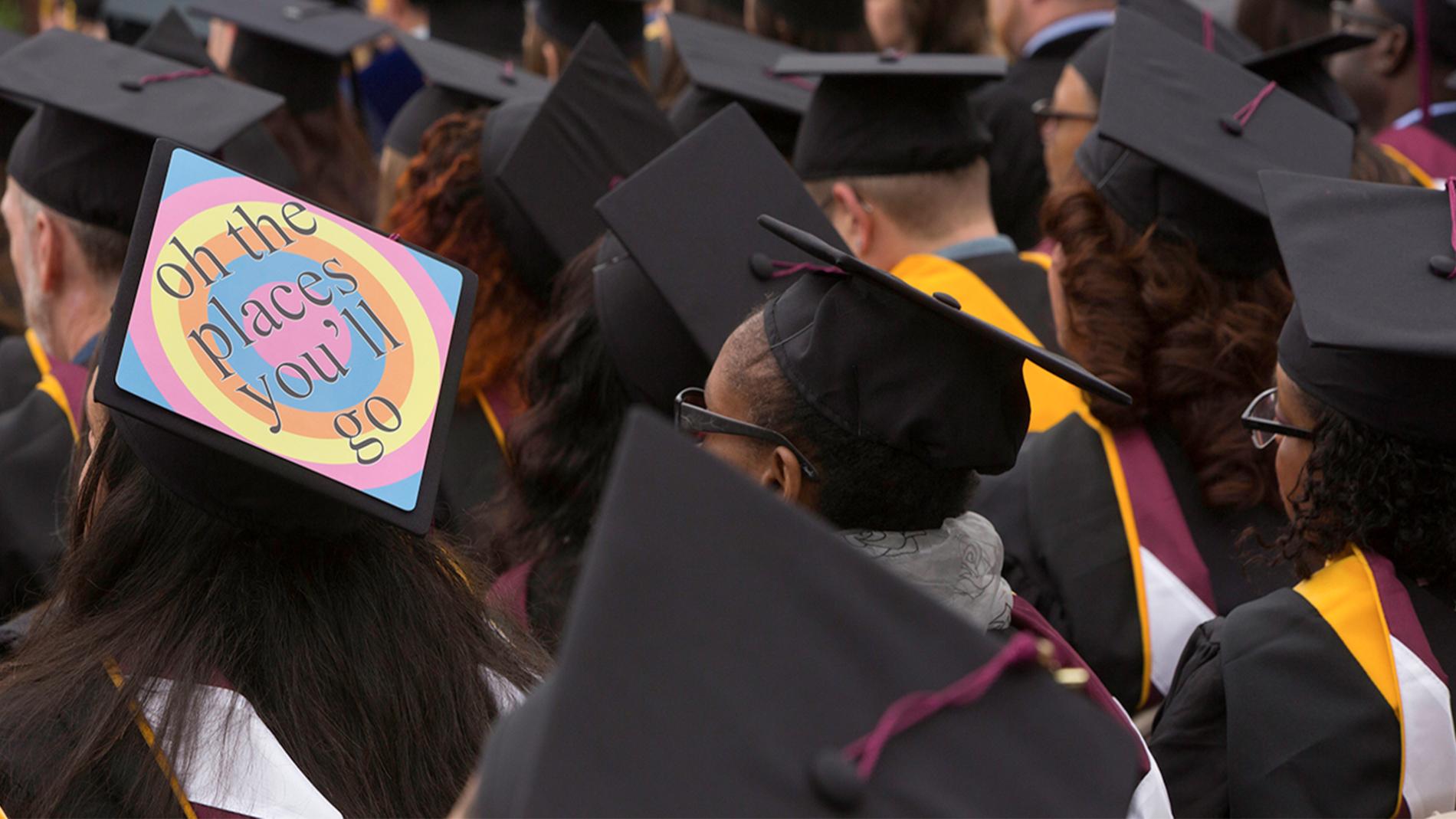 With graduation quickly approaching, Springfield College Director of Career Services Scott Dranka offers advice on how to transition from college student to young professional. 
Graduation is almost upon us!
Congratulations on earning your educational degree and for all of the hard work with all of the endeavors that you have undertaken while at Springfield College. We realize that some of you will be heading directly into career paths related to your academic major, others will be heading into professions outside of your major, and some of you may be still exploring what the ideal career path is. As you soon leave campus, we want you to know that we are here to assist you with your career development needs after graduation. We have put together some helpful tips to help you with all of your endeavors.
Identify Your Strengths
Whether you are engaging with professionals at conferences, networking venues, or interviewing with employers, know your strengths and be able to articulate them accordingly. Ask yourself what skills you have to offer the employer. Always remember to market and convey skill sets that are a primary match for the specific job or industry. In addition to naming some of your strengths, briefly articulate to the employer these strengths in greater detail by giving an example whenever possible. Also, be prepared for the interviewer to ask about your weaknesses. Never give a weakness that will affect your candidacy for the position and/or the requirements of the job and always turn a weakness or negative into a positive. Your answer should be framed in a way that constructively and positively shows growth and how you've overcome the weakness.
Networking and Informational Interviews
Never underestimate the power of networking. Recent data shows that as much as 80-85% of jobs are filled via networking. Networks can include professionals in any given field or industry, in addition to your friends, family, colleagues, and neighbors—essentially networks can be anyone with whom you engage in a constructive and professional capacity. Informational interviews are a great way for you to build connections with employers and allow you to network in a deeper way. You will have the ability to interview the person that you are meeting with in order to learn more about the field, trends, ascertain best tips and recommendations as to how you can advance and further strengthen your credentials toward such a position/industry, and also learn about the outlook and future of the position/industry.  
Transferable Skills and Soft Skills
Before you even begin networking, applying for jobs, or composing resumes and cover letters, research the terms "transferable skills" and "soft skills." Annually, employers are surveyed to identify the top skills they look for when screening/hiring candidates. Remember, soft skills and transferable skills are just as important, and sometimes even more important, than the technical skills relative to the job. Soft skills and transferable skills are skills such as communication, both written and verbal, the ability to work with a team, leadership, time management, strong work ethic, problem-solving, motivation, plus many more. Always remember to articulate soft skills and transferable skills in your resume, cover letter, and in your interview — and, ensure that you are highlighting ones that are most pertinent to the job/field that you are applying to. Successful candidates who cross from one industry to another highlight to employers how their skills ascertained to date can translate to the position that they are applying/interviewing for.
Social Media
Nowadays, most of us have some sort of social media presence. It is always important to ensure that your social media represents you in the most professional way. Perform an internet-based search of your name, in general, to see what generates. Then, review your social media platforms such as Instagram, Facebook, and Twitter. Ensure that all of your blogs, likes, posts, comments, photos, etc., convey a positive image about yourself. If you have not created a LinkedIn account, it is highly encouraged. LinkedIn is one of the most powerful and professional social media networks available where you can create a profile showcasing your current and past work history, you can upload resumes, and build networks with people who can help you advance your career. You can also perform searches to find individuals in different industries and perform searches of companies, agencies, and individuals geographically.
---
Our services are available to Springfield College alumni, in-person or via telephone appointment. The Career Center is committed to providing you with comprehensive resources, services, and counseling that will assist you as you continue to function productively and successfully in a global society.
Reasons to Visit the Career Center
As you start your journey from student to professional, the Career Center's team is here to support you with all of your career development endeavors. Our office is open Monday through Friday, 8:30 to 4:30 p.m., and 8 a.m. to 4 p.m. during summer. We also have extended hours until 6 p.m. on Monday and Tuesday during the fall and spring semesters in order to accommodate alumni working during the day. Please call our office at 413.748.3222 to schedule an appointment with a career counselor, either in-person or via phone.
Learn more about the Career Center's Services