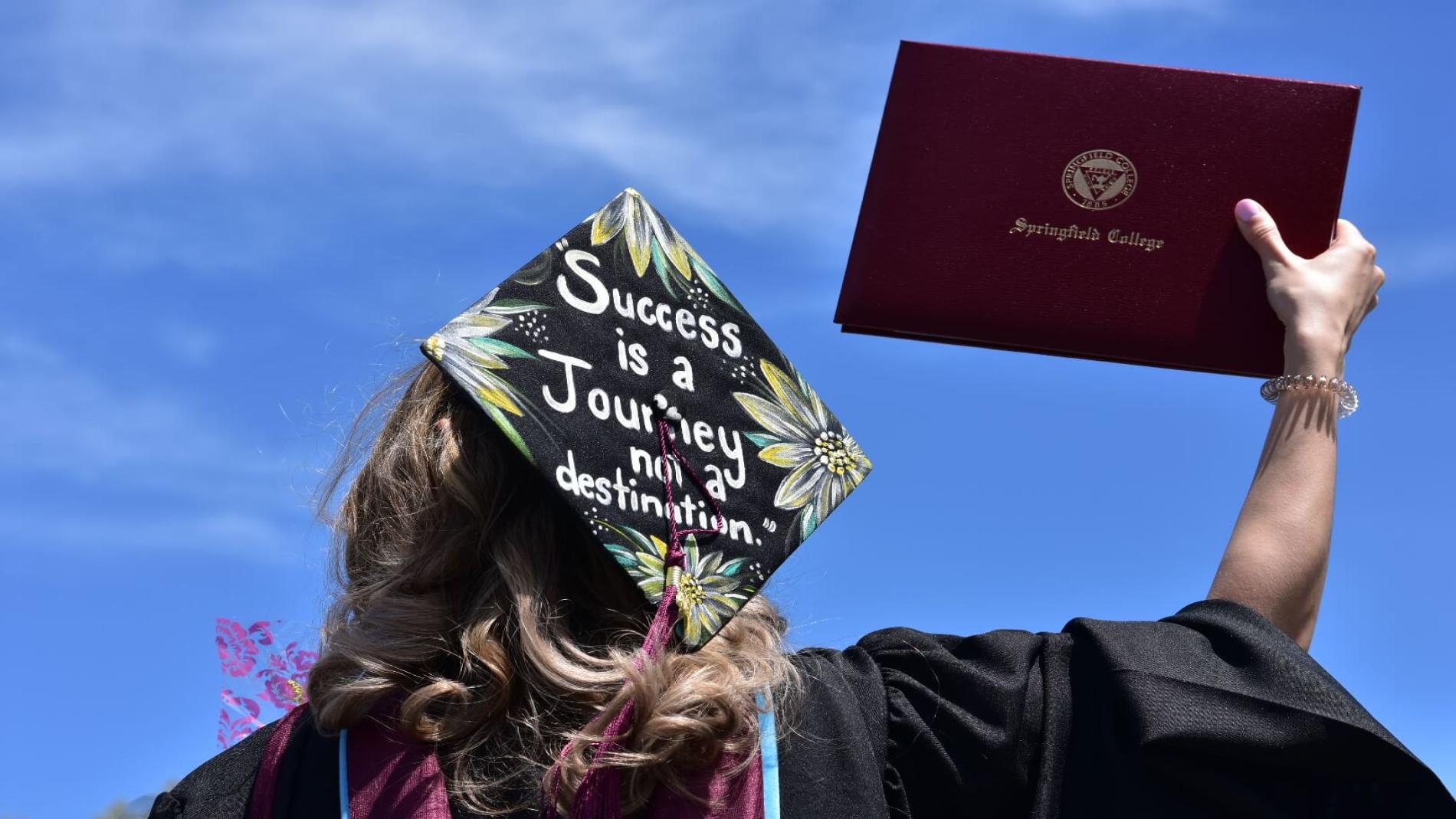 Katerina T. Valentin (G'19) is not new to Springfield College, but she recently began in her new role as Program Liaison with the Division of Inclusion and Community Engagement. Katerina talks about her journey, including how her Puerto Rican background shaped her academic drive and why being hearing-impaired and "a little different" has never stopped her from achieving her goals. 
Hola, Mi nombre es Katerina T. Valentin. Soy un Latina con una discapacidad invisible. 

Hello, my name is Katerina T. Valentin. I am Latina with an invisible disability.
I graduated with my Master of Education in Student Personnel Administration from Springfield College in 2019 and have a Bachelor of Arts degree in Sociology with a minor in Community Engagement from Central Connecticut State University. I identify as a woman of color, with a hearing impairment who is also bilingual.  
I am a proud Puerto Rican woman!
Being Puerto Rican comes with great humble, beginnings and the courage to face adversity in the atmosphere in which we live. Growing up Latina isn't a lifestyle— it's beauty, passion, authenticity, culture, heritage, challenge and pride. Music and dancing were huge in my household. I have grown up listening to all sorts of music, to name a few: salsa, merengue, house, 80s/90s, and rock n roll! Being Latina has also helped to shape my identity as a young woman. "You have to work and sacrifice in order to become the best that you can be," someone dear to my heart often reminds me. Others have said, "Your hard work will pay off" and "You are a true inspiration and I want to be just like you." I'm thankful that I have been a role-model to all those that have been a part of my journey.
Education has been important to me as long as I can remember.
My parents and siblings are my biggest inspirations. I am the first woman in both my parents' families to earn two higher ed degrees. It comes with a lot of hard work, determination, and self-motivation. Having a hearing impairment did not stop me in earning my degrees. Having support from my peers, professors, friends, and family has allowed me to thrive in my educational achievements. I am thankful to have had various mentors to encourage and to provide me the support to finish what I started.   
As a young girl, I never understood why I was a little different from my peers.
At the age of 7, I received a pair of hearing aids and I didn't know why. My parents explained to me that the hearing aids would help me for the rest of my life. When I received my hearing aids, I was afraid of what people would think of me. The challenges and obstacles I faced affected my identity as a young girl. I was taught to stand up for who I was and what I was all about. Being identified with a hearing disability, I now had to demonstrate courage, strength, and bravery, as an elementary school child. With tons of support and love, from my family and friends, my journey through education has taught me that I can defeat all odds. Growing up as an athlete and dancer helped me to conquer my fears and insecurities. As a dancer, I felt the vibrations of the music which enabled me to hear the beats and rhythms. Early on in my life, I learned to read lips which allowed me to follow along with teachers. My hardships in life never deterred me from achieving my accomplishments.
I work with the Division of Inclusion and Community Engagement as the Community Involvement and Program Liaison.
I wear several hats in this office. I have the opportunity to work with various populations including The Candaras Davison Center, Project Search, the community of Springfield, and Springfield College. The Candaras Davison Center connects me with the community of deaf and hard-of-hearing. My goal is to help change the stigma for individuals who are a part of the hard of hearing and the deaf community in connection with our Springfield College community.  
---
More about Katerina: 
What wisdom you would give to your younger self? 
Walk with confidence, keep your head up high and don't let anyone tell you that you're less because you are different. Continue to stay humble and proud. 
What would be the title of your autobiography? 
"The Life Behind a Latina Woman with Invisible Disabilities." 
What was the most amazing adventure you've ever gone on? 
I recently traveled through the streets of Madrid and Barcelona!  
What's your spirit animal? 
A cheetah 
What's one thing you couldn't live without? 
Music and dancing 
What's the best thing about getting older?
Seeing growth and change, and the upcoming of what the future has in store for me next, year by year. 
What gives your life meaning? 
I'm in charge of how I want my life to be defined. Life is precious and I have learned to not take it for granted. I live day by day and look forward to what the future has in store for me.