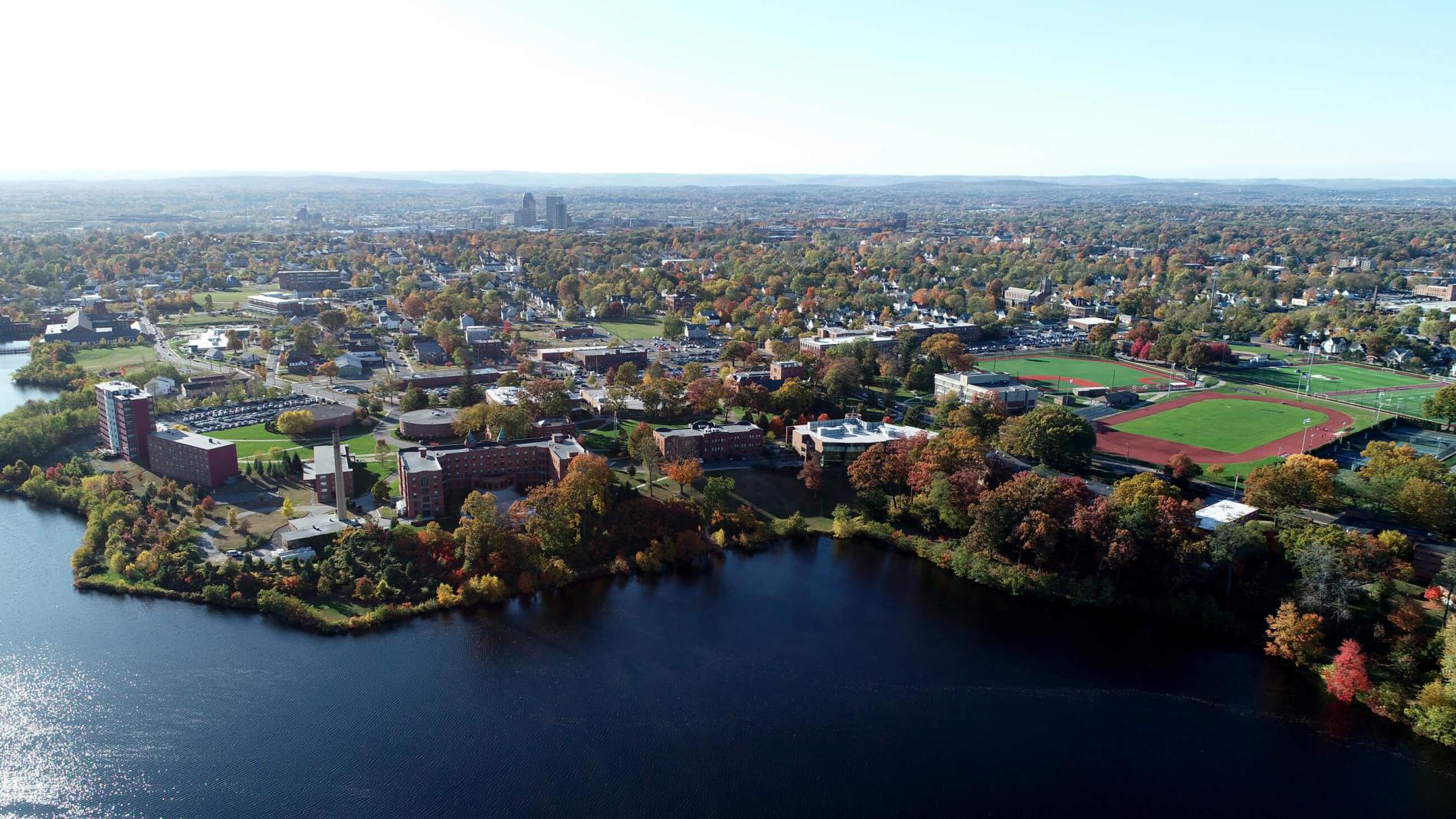 Gabby Guerard '20 interviews some of her recent fellow graduates on what motivated them to choose a College close to home. 
Class of 2020 seniors Katie Evans, Matt DeGrandpre and Angelica Core had seen the Springfield College arch numerous times before they arrived on campus as first-years.
"WELCOME TO SPRINGFIELD COLLEGE, BIRTHPLACE OF BASKETBALL" written in big gold letters, painted across the maroon arch that stretches across Alden Street. It's where the city of Springfield meets Springfield College.
For incoming students on their first day, it's the moment they realize they're in college. For graduating seniors on their last day, it marks their home.
But Evans, DeGrandpre and Core were familiar with the arch well before they embarked on their journeys on Alden Street. They knew someday it'd be their home not-so-far-away from home.
Katie Evans `20
Evans, a quick 20-minute drive from her house in Holyoke, still remembers passing through campus on rides back from basketball games when she was just 10 years old. Then again as a sophomore in high school competing in a track meet on campus.
 "This is college," she thought.
When it came time to select her next step, she knew exactly where to go: the campus she already knew.
"I always had a gut feeling that Springfield was for me and it really was," the sports biology major said.
Matt DeGrandpre `20
DeGrandpre's first experience on Springfield's campus stemmed from the College's deep sense of tradition. The Physical and Health Education major first attended the College's annual Gymnastics Exhibition Homeshow when he was 12 years old.
Being just a 30-minute drive from his hometown in Westfield, it wouldn't be the last time he saw it, either.
"My earliest memory of going to Homeshow was probably sixth grade and… I haven't missed one since sixth grade, as far as I can remember," he said. "It was always something that I looked forward to every year."
DeGrandpre looked forward to it a little extra when he was able to become a part of the tradition, rather than a spectator, as a member of the men's gymnastics team six years later.
"I knew that being close to home was something that was comforting so I knew I didn't want to go too far away," he said.
Angelica Core `20
When it came time for Core to decide her next steps after high school, initially she wasn't sure what to do.
"I wanted to stay local because I just wasn't sure if I was ready to go to college…" she recalled. "I was like, 'I don't want to go away and if college isn't for me, I have to go through moving back or feeling like I can't move back.'"
That's when her mom recommended commuting to Springfield College. Having grown up in Springfield, Core knew the area better than most, and it proved to be exactly what she needed.
"Being a commuter has its perks. I like having my own space, I'm comfortable at home, it's my mom's cooking…" she said. "I have my places where I'm comfortable, and can leave and still be comfortable."
---
While Evans, DeGrandpre, and Core have unique situations – like every prospective student searching to find his or her next home – their journeys all have one common thread: their futures were closer than they thought.
"It's been nice to kind of have that almost safety blanket right there, not that I would always use it, but if anything ever happened, they're only a phone call away rather than a plane ride away, which was always nice," DeGrandpre said.
Evans made sure to capitalize on the occasional home-cooked meal, especially when finals season rolled around. But short of that, she was surprised by how much Springfield became her true home, despite being so close to her parent's house.
"I didn't always feel like I was super close to home being on campus and being an athlete," she said. "I was wrapped up in Springfield College, not really the fact that home was close as it was.
"It's okay to go somewhere close to home because… I lived on campus, so I was at Springfield. It became home for the time being."
Meanwhile, Core most enjoyed the flexibility that commuting provided her and encourages any locals who might be on the fence to consider that option.
"I would say stay close to home because a lot of things happen throughout college that you do not expect and it's just so much easier to be home," she said. "You can make the transition to move on campus a lot easier than I imagined, so you do have that option."
As these seniors now wrap up their final year at Springfield ahead of graduation, looking back, they wouldn't have had it any other way. It all stemmed from their decisions to stay local – going back to the arch.
"Everyone really embraces the Humanics philosophy, saying 'hi,' holding doors – you hear it all the time but it's true," Evans said with a smile. 
"Everyone allows you to be yourself and really just grow as a person, and you learn that day No. 1 at NSO."
She's not the only one who's deeply been impacted by the Springfield College community – something DeGrandpre had a window into since first going to Homeshow in sixth grade.
"I've met a lot of my best friends at Springfield College, some of the people that I talk to every day. Meeting those people have been some of the best memories of my life, which is why Springfield College has been so great."
Even for those who have a house just minutes away, Springfield has an undeniable presence.
"It's really homey… It just feels like home," Core said.
Their future was closer than they thought.
Your future is closer than you think.