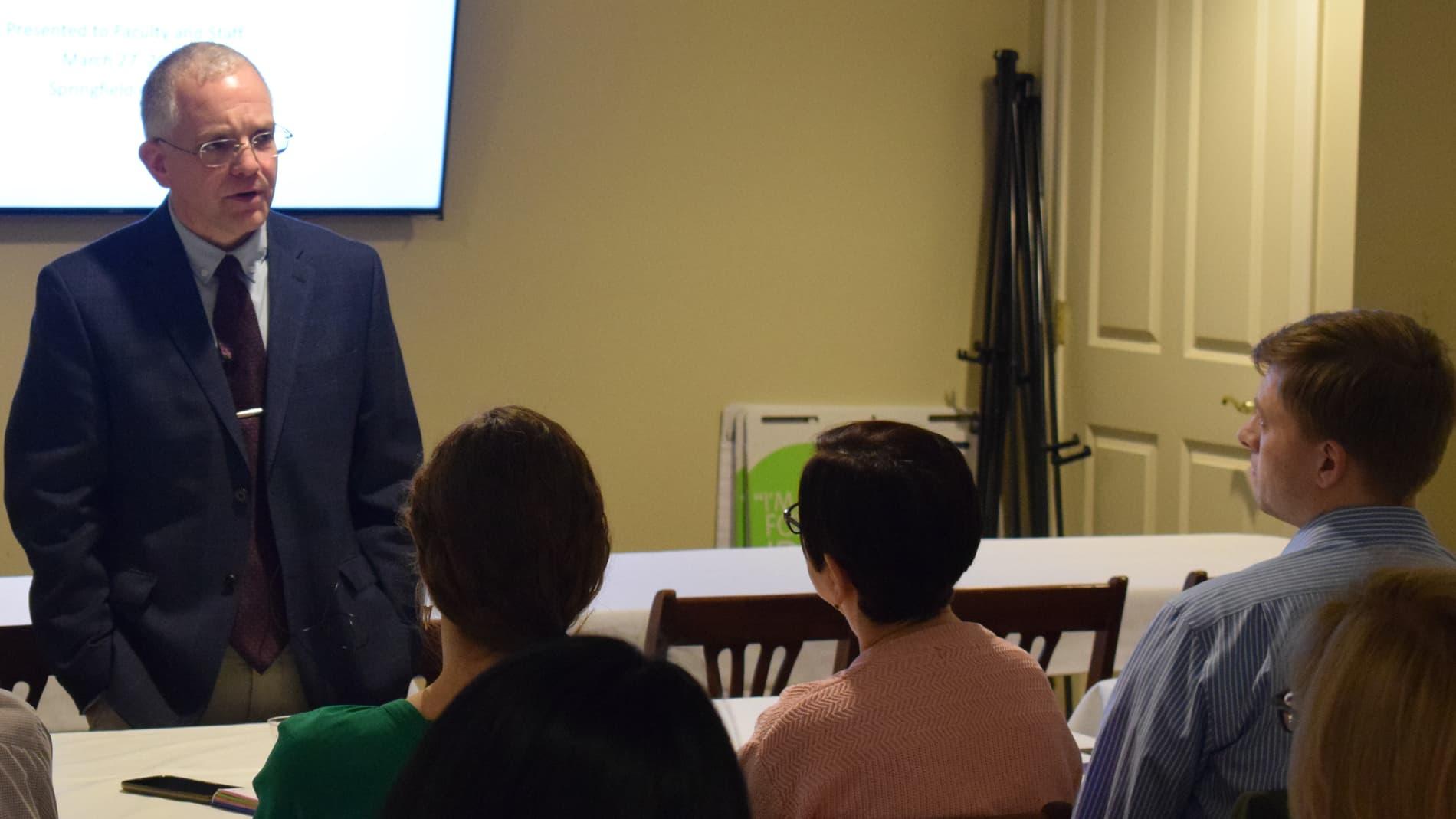 Tessa Rickart catches up with Chris Hakala, director of The Center for Excellence in Teaching, Learning and Scholarship.
What is the Center for Excellence in Teaching, Learning, and Scholarship (CETLS)?
The Center for Excellence in Teaching, Learning and Scholarship was developed to serve the needs of the faculty and students at Springfield College. The idea was to create a team that helps faculty understand learning from a foundational level and connect them with the knowledge and resources they need that will help take their teaching to a level that is truly excellent... Often, faculty are content experts, but they come to teach at a college with little to no experience or training in actually teaching. The Center provides workshops, keynote events, classroom visits, individual consultations, and an evolving list of services to help them navigate the teaching/learning process.
How does CETLS benefit students?
Impacting students, whether directly or indirectly, is always our end goal. It is why we are here. We want to make both teaching and learning a better experience for everyone. The Center does this by helping faculty develop strategies using what we know about how humans learn from both a scientific and practical perspective. We really bring together those two worlds to find what works in a realistic setting that is individualized. Faculty can come to The Center to learn about new and innovative ways to work with students, develop strong assessment methods, and to learn how to best interact both inside and outside of the classroom. In addition, The Center plans to offer events that are open and inclusive to both faculty and students. We want to ensure that all voices are heard when we talk about student learning and that we approach these discussion with full knowledge concerning what students want and need for excellence in their education.
How does Springfield College's focus on CETLS differ from other schools?
We know that at Springfield College our heart and soul is really the educator in the classroom. Rather than just talking about teaching excellence as this abstract concept, Springfield College has devoted resources, time, and experts to create this amazing Center that will benefit students and faculty alike. The best part? The Center will practice what it preaches. Workshops will be run using the most current and innovative approaches for teaching and learning. We will be constantly evaluating and assessing our services to make sure we are continuing to improve and meet the specific needs of Springfield College. While many Centers of Teaching rely solely on satisfaction surveys to determine the value of a workshop, Springfield College's Center for Excellence will turn our attention to how our workshops are actually influencing the classrooms and how these strategies are actually being utilized.
What are examples of programs/workshops you are hoping to bring to Springfield College?
The Center has been hosting a plethora of workshops centering on our new Learning Management System, D2L Brightspace. We're also looking at hosting a number of events discussing and applying the science of learning, innovative strategies for teaching, assessment, course design, rubric development, reading strategies, as well as workshops that include student voices, such as assignment design, writing strategies, etc. Part of what makes our Center unique is that we'll be continuously changing our calendar to reflect the current needs of the campus so that list will only grow and change as we evolve.
Based on your own professional experience, what are some benefits that you will bring to this role?
I have background in Experimental/Cognitive Psychology, including a Ph.D. from the University of New Hampshire, where I also was enrolled in their Preparing Future Faculty Program. I have run two other Centers for Teaching prior to our Springfield College Center for Excellence (one at Western New England University and one at Quinnipiac University), and believe that I have learned a tremendous amount from both experiences. In addition, I have also been a college/university faculty member for over 25 years and have taught dozens of courses to all levels of students. However, all of that academic background, though entirely relevant, is also dwarfed by the strong passion I have for teaching and learning. I research, read, and write about this topic extensively on this and I plan to continue to do so.
And finally, what aspect of Springfield College life are you most looking forward to being a part of?
Having lived in Western Mass for over 18 years, Springfield College is a name you can't miss. From our high quality education to the level of involvement and interaction with students, we really are a unique college experience. I am excited to be a part of that tradition. I hope to work with the excellent faculty and outstanding students at Springfield College to help impact the future of our institution. In addition, all of what I have talked about is irrelevant if we lose what makes Springfield College unique: the tradition of service to others that is embodied in the motto, Mind, Body, Spirit. To that end, everything that is described above will be couched in terms of educating the entire student so that he or she can develop the academic, personal, and professional skills that will serve them, and ultimately, our society, most effectively. Whether a student is pursuing physical therapy, sports management, education, psychology, etc., students at Springfield College recognize the tradition of the institution, and the Center is so pleased to be able to contribute to it by helping faculty develop the skills and strategies to assist students in their journey.