Transfer Admissions and Aid
A Message from Transfer Coordinator Kate Stano, EdD G'04:
Come to the Transfer Admissions Office Hours to get your transfer questions answered! We're able to answer questions about the application process, academic programs, campus life, transfer credit evaluation, financial aid, and much more!

You can visit campus in person for your office hour appointment, or speak with Transfer Admissions via zoom or phone. More details can be found in the email confirmation sent once you sign up for an appointment. (Please check your spam!)
Reach out to transfer@springfield.edu if you have any questions or would like to schedule an appointment with Kate at a different time.
Schedule a virtual transfer appointment
Transfer Office Hours, Fall 2022
Drop in zoom office hours start on Sept. 26 and end on Dec. 16. Click on the links below to drop into Zoom office hours.
We also offer a Virtual Information Session most Tuesdays from 2-3 p.m., and in-person tours on weekdays and select weekends in the fall. Please click here to register for these events.
Meet a Springfield College Student:
Rachel Brown was a transfer student who talks about the "best decision she ever made." She talks about her experiences with work-study and how grateful she is for the relationships she has been able to form while being a part of this community.
Accepted?
Our checklist for undergraduate transfer students is a great resource to make sure you have everything you need before your journey begins.
What's it like to transfer?
Communications/sports journalism major Ben Diamond shares what his experience was like when he transferred to Springfield College, including what propelled him to serve as a leader to help other students who are transferring.
Phi Theta Kappa 2022 Transfer Honor Roll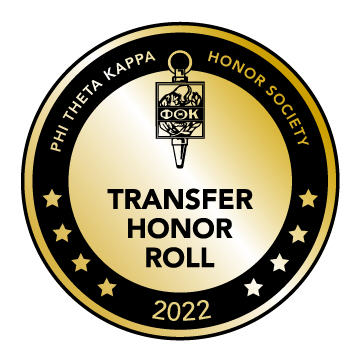 We're excited to share that we've been named to the Phi Theta Kappa 2022 Transfer Honor Roll for the seventh consecutive year. This designation recognizes excellence in community college transfer pathways based on engagement, collaboration, impact, and achievement.
As one of only 150 colleges and universities across the country to be selected, we look forward to continuing to make the transfer process seamless for students, like you, who are interested in joining us at Springfield College.
Our Director of Transfer Admissions Kate Stano is a great resource to help guide you through the admissions process as a transfer student.
Non-discrimination Policy
Springfield College does not discriminate against any person on the basis of race, color, religion, national or ethnic origin, age, sex, sexual orientation, gender identity or expression, disability, veteran status, or any other legally protected basis in admission and access to, and employment and treatment in, its programs and activities. Read the full notice.
NCAA DIII Eligibility
Student-athletes who have earned a bachelor's degree from a DIII institution and have remaining NCAA DIII eligibility are now able to use that eligibility to play while enrolled as a graduate student at another DIII institution. Learn about Athletics at Springfield College.
Spring 2020 Update: The NCAA Division Administrative Committee has granted an additional season/semester of eligibility for student-athletes participating in spring sports. At Springfield College, we are pleased to be able to offer our athletes a chance to play during their graduate studies here.