Dawn Roberts
Associate Professor of Physical Therapy
Office
Room 127




Health Sciences Center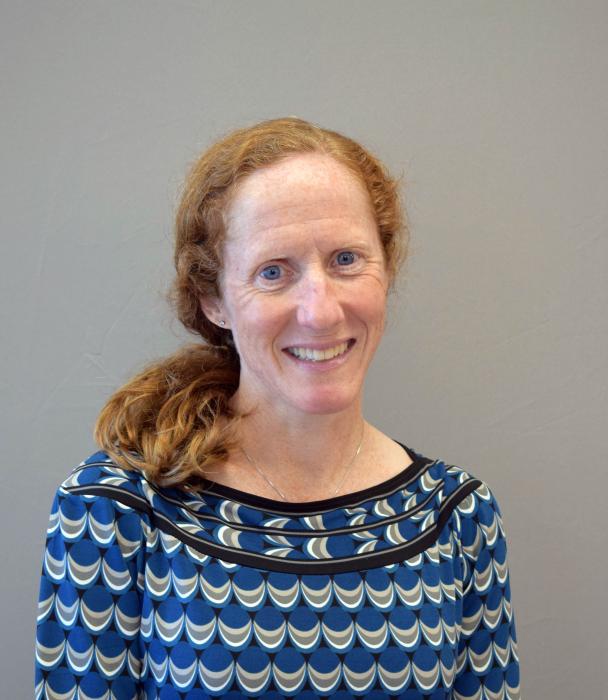 Doctor of Philosophy, University of Massachusetts, Amherst, Mass., 2006
Master of Science, University of Massachusetts, Lowell, Mass., 1995
Bachelor of Science, University of Massachusetts, Lowell, Mass., 1993
Dr. Roberts has practiced clinically in pediatrics, orthopedics, and has a special interest in working with children and adults with developmental and neuromuscular disabilities. She has published and presented works studying the effect of physical activity and exercise interventions on individuals with chronic health conditions. She is a member of the American Physical Therapy Association and the Academy of Pediatrics. She teaches both foundational and clinical courses and is committed to service-learning projects that engage the local community. 
Research Interests
Pediatric assessment and interventions

Physical activity and exercise interventions in chronic health conditions
Courses Taught
PHTH 530 Neuroscience

PHTH 636 Integrated Clinical Experience II

PHTH 613 Therapeutic Interventions

PHTH 662 Management of the Pediatric Patient

PHTH 658 Integrated Clinical Experience IV

PHTH 645 PT Management of Musculoskeletal Conditions I

PHTH 656 Applied Research I

PHTH 726 Applied Research II
Certifications/Memberships
American Physical Therapy Association, Massachusetts Chapter, Academy of Pediatrics member
Selected Works
Presentations
Roberts, DE, E. Hurley, G. Krovitz, R. Mudway, S. Smith. Does External Sensory Stimulation Change Gait in Children with Idiopathic Toe Walking? Academy of Pediatric
Physical Therapy Annual Conference, Virtual Fall 2022.

Roberts DE, Letendre, D, Kaufman, R. Does participation in an 8-week comprehensive exercise program improve quality of life in individuals with chronic stroke? APTA Virtual Regional Conference, Fall 2020.

Roberts, DE, Hanks, A, Inglese, I, Jent, D, Rockwood, S. Does respiratory muscle training improve pulmonary function in children with spastic cerebral palsy? Academy of Pediatric Physical Therapy Annual Conference, Virtual 2020.

Rainville, E, McAnulty, E, Roberts, DE. Learning together: How learners experience interprofessional education. Poster presented at AOTA Annual Conference, Salt Lake City, UT, April 2018.

Kaufman, R, Roberts, DE, A curricular model of community engagement. 7th Annual Community Engagement and Research Symposium.Center for Clinical and Translational Science, University of Massachusetts Amherst, Amherst, MA, March 2018.

Roberts, DE, McAnulty, E, Rainville, E. Designing interprofessional pediatric educational experiences in allied health. Poster presentation at ASAHP, San Antonio, TX October 2017.
Publications
Roberts, DE, Futrell, EE, Toole, E. Submaximal Walking Tests: A review of clinical utility. J Clin Exer Physiol. 2022 June, In Press

Futrell EE, Roberts D, Toole E. The effects of intrinsic foot muscle strengthening on functional mobility in older adults: A systematic review. J Am Geriatr Soc. 2022 Feb;70(2):531-540. doi: 10.1111/jgs.17541. Epub 2021 Oct 30. PMID: 34716700.

Gannotti, ME, Fuchs, RK, Roberts, DE, Hobbs, N, Cannon, IM. Health benefits of seated speed, resistance, and power training for an individual with spastic quadriplegic cerebral palsy: A case report. J Ped Rehab Med. 2015; 8(3): 251-7. doi: 10.3233/PRM-150336.

Chevan, J, Roberts, DE. No savings in health expenditures for the most physically active adults. Prev Med. 2014; (63): 1-5. doi: 10.1016/j.ypmed.2014.02.020.

Roberts, DE, Veneri, D, Decker, R, Gannotti, M. Weight Status and Gross Motor Skill in Kindergarten Children. Ped Phys Ther. 2012; 24(4): 353-360. doi: 10.1097/PEP.0b013e3182680f19.