Department of Math, Physics, and Computer Science Colloquiums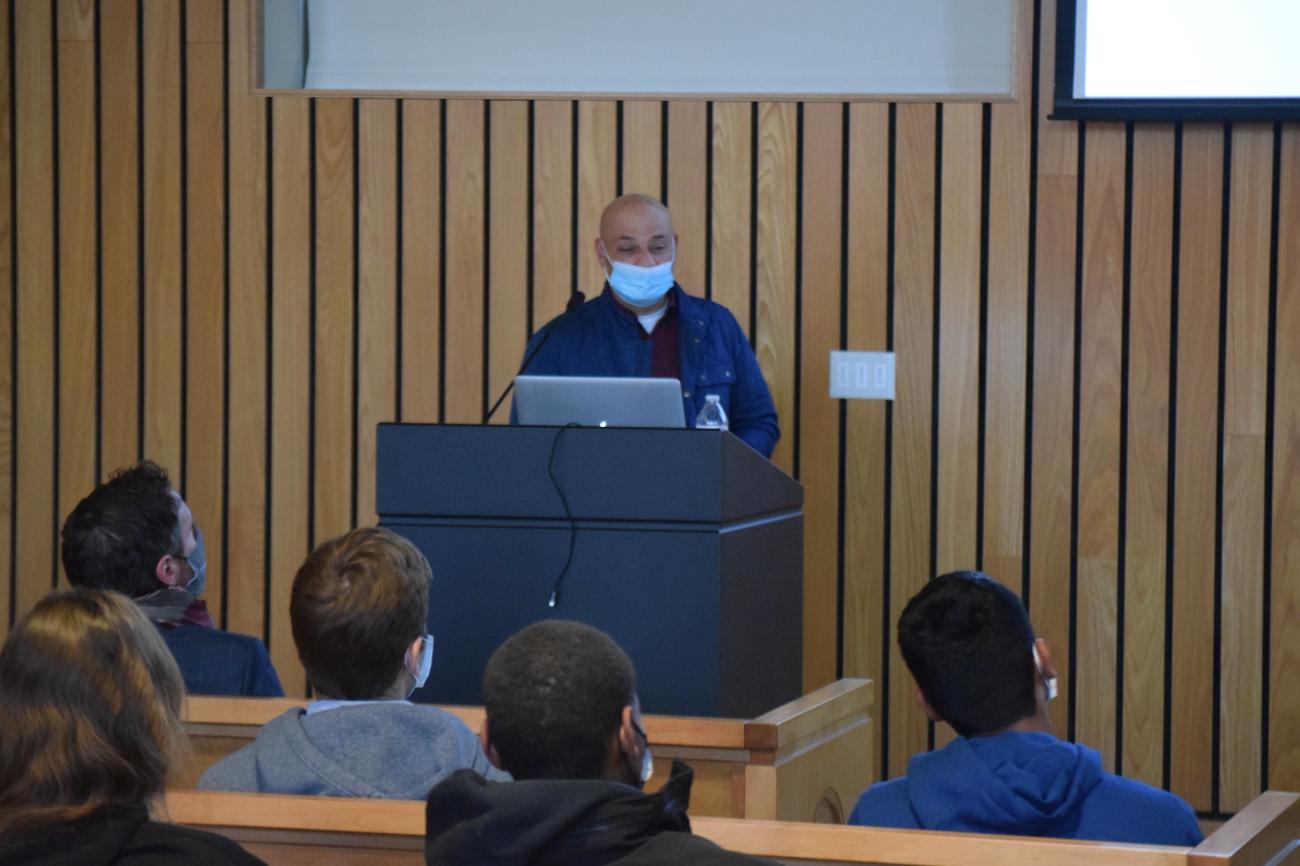 The Springfield College Department of Math, Physics, and Computer Science hosted a pair of colloquiums for the campus community. On Nov. 19, Senior Training Engineer at MathWorks Omair Zubairi, PhD, hosted a lecture on "Applications of Data Science in Neutron Star Models." On Dec. 8, Springfield College Assistant Professor of Computer Science Jeremy Castagno, PhD, presented on "Parallel Computing: The Why and the How."
Zubairi is a senior training engineer at MathWorks and also is affiliated with the Computational Science Research Center at San Diego State University as a research associate. The presentation focused on Data science as an emerging field that has applications in a variety of domains ranging from finance and economics to engineering and physics. Zubairi talked about how Data scientists use a combination of computer science techniques, mathematical models, and statistical methods to analyze their data. In his presentation, Zubairi discussed that by understanding your data at a deeper level, valuable insight can be gained for your applications. This is particularly true for neutron star astrophysics.

In addition, Zubairi recapped how Neutron stars are compact objects formed in cataclysmic astrophysical events known as supernovae. They have masses about twice that of the sun and radii of approximately 10 to 15 kilometers resulting in densities on the nuclear scale. They have high temperatures and large magnetic fields up 15-20 orders of magnitude greater than our sun. With such extreme conditions, neutron stars make excellent laboratories for nuclear, particle, and astrophysics.

Traditional models (over the last 80 years) of non-rotating neutron stars assume that these objects are perfectly spherically symmetric; however, this may not be true if high magnetic fields are present. In this talk, Zubairi discussed various data science and visualization techniques used to model the stellar structure of highly magnetized neutron stars and how the results give invaluable insight into a connection to gravitational waves.
On Dec. 8, Springfield College Assistant Professor of Computer Science Jeremy Castagno, PhD, presented on "Parallel Computing: The Why and the How."
Castagno discussed how our generation is greatly enriched by digital technology that is driven by computational power. Over the decades, Moore's law has correctly predicted the exponential increase in processing power needed to fuel our innovations. However, we are now at or near the limit of clock speed and transistor size and the curve has sharply flattened. The world has now turned to parallel computing: the process of performing multiple calculations simultaneously, to fulfill computational demand.
In his talk, Castagno discussed the key concepts in parallel computing and the tools scientists and software engineers alike use in practice. He discussed the fundamental challenges of turning a serial algorithm into a parallel one, but demonstrated the immense benefits when we succeed.
Castagno is an engineer, computer scientist, and roboticist. His area of expertise is in machine learning, simulation/modeling, and developing robust decision-making strategies. His research focuses on new techniques for robot mapping and collaboration. Castagno has won numerous awards in machine learning and artificial intelligence competitions hosted by the Air Force Research Laboratory, the National Security Innovation Network, and the British Royal Navy.