Inner City Baseball Showcased at Springfield College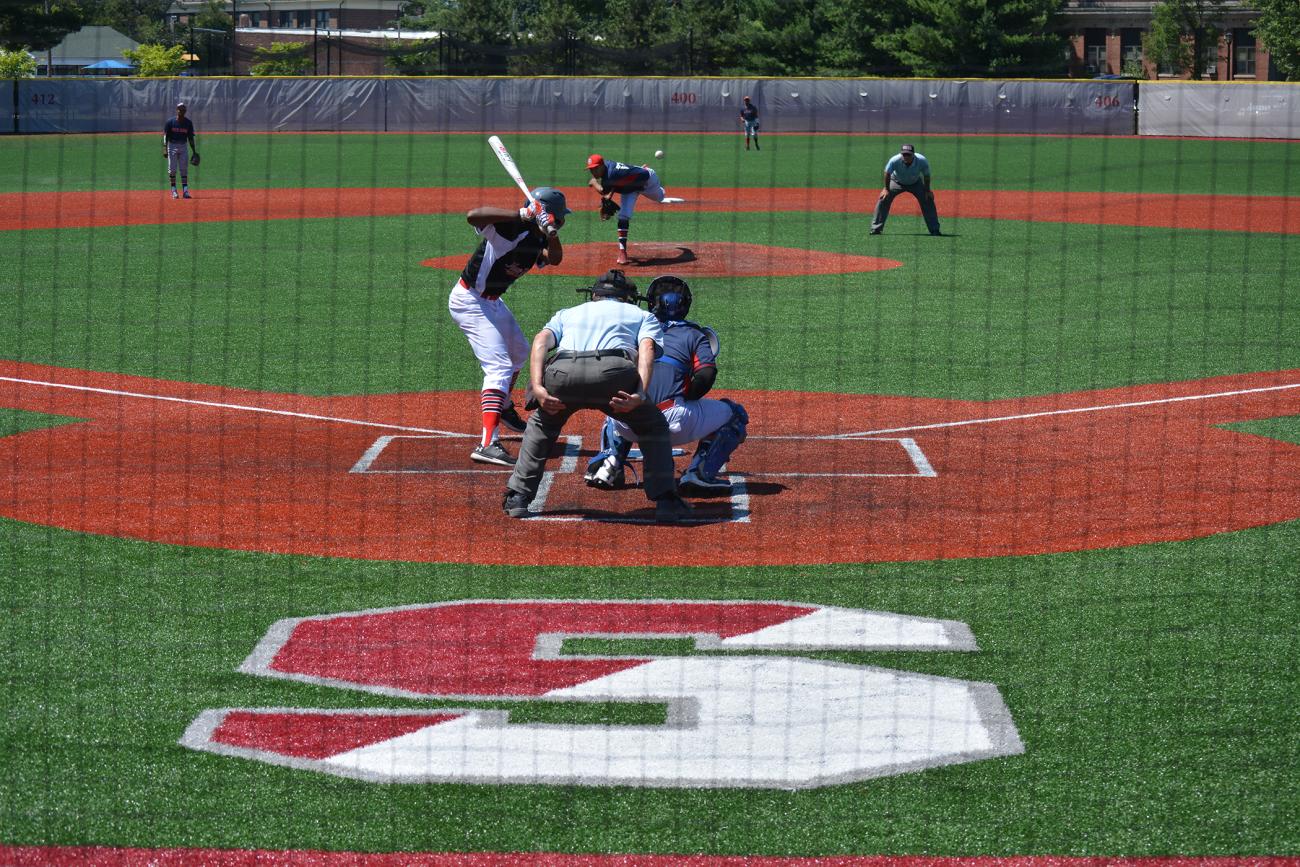 By MARTY DOBROW
It was 8 a.m and Wilfrido Valenzuela was already throwing heat.
The 18-year-old starting pitcher for the Paterson, N.J. RBI (Reviving Baseball in Inner Cities) team, Valenzuela kicked off the 3-day regional championships at Archie Allen Field at Springfield College on a sunny Friday morning. District champions for junior (13-15) and senior (16-18) baseball divisions and a 15-18 year-old softball division came from places like Paterson, the Bronx and Harlem, N.Y., and Pawtucket, R.I. to compete for a chance at the RBI World Series in Minnesota next month.
The Paterson team cruised to a 12-2 victory over the Jackie Robinson RBI team from Jersey City in the opening game.
Though he is no relation to the legendary Dodgers' lefty Fernando Valenzuela, Wilfrido has some similar goals. "I want to be drafted," he said. "I know I have the potential. I've got to learn more. I've got to work more."
His ambition is consistent with the achievements of others who have come through the now 29-year-old RBI program. Last year's Paterson team, which lost in the national championship game, had a pitcher named Francisco Justo, who was selected by the St. Louis Cardinals in the 12th round of the 2018 draft. He currently has a 0.73 ERA for the Gulf Coast Cardinals, a Rookie League team in Florida.
Other notable RBI graduates include Pedro Martinez, Jr., a third baseman signed by Detroit Tigers last year, and former Sports Illustrated cover boy Hunter Greene, the 2nd pick in last year's draft by the Cincinnati Reds.
The RBI program began in 1989, the brainchild of former Major Leaguer John Young, who grew up in South Central Los Angeles. It currently serves some 120,000 boys and girls in 185 different cities. The program, which also features academic and life skills training, is sponsored by Major League Baseball. Two of its primary boosters are children of Hall of Famers who had profound social impact: Roberto Clemente Jr. (son of the Pirates' legend who died delivering earthquake relief to Nicaragua in 1972) and Sharon Robinson, daughter of Jackie Robinson, who broke the color line with the Brooklyn Dodgers in 1947.
The manager for the Jersey City team (which rallied for a 9-3 win over Harlem in the second game) proudly wears the No. 42 in Robinson's honor. Ron Hayward is a passionate believer in the importance of the RBI program. He has lived the challenges and rewards of baseball in the inner city for almost all of his 37 years.
Hayward describes himself as having been "born and raised and struggled" in Jersey City. He was drafted by the Cincinnati Reds in the 30th round of the 2000 Major League draft. He didn't sign, though, because of the deaths at the time of his mother ("drug issues") and his younger brother Elliott ("street violence"). He also had a son that year and decided "I wanted to be a father and a coach."
Hayward played college ball and then launched a very successful high school coaching career at his alma mater, Marist High, sending a number of players on to Div. 1 ball and three into the pro ranks. He later coached at St. Anthony High (famous for its basketball under Bob Hurley Sr.). He has been heavily involved in summer league coaching, including the RBI program for the last 14 years. His teams have won two national championships in 2012 and 2014.
Hayward believes that inner city kids are often not given the same opportunities by college coaches. "People ignore us. I get aggravated thinking about it because these are great kids," he said. "But coaches don't give them the looks. Is it because of their color? Is it because of where they're from?"
Wearing the No. 42 has special significance to Hayward. "I love the guy," he said. "I wish I would have met him."
He has, however, met Sharon Robinson on several occasions. She was there to congratulate him when he won the RBI national titles. "She treats me like a son," he said.
His own son, Elliott--named, of course, after his late brother--is the starting center fielder for the Jersey City team. He is a 17-year-old who, according to his father, is a definite pro prospect.